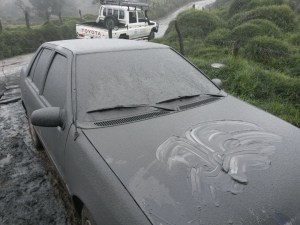 The Turrialba Volcano erupted again Monday evening, launching even more ash into the air than the Oct. 30 eruption that triggered a Yellow Alert across five cantons, according to volcanologists at the University of Costa Rica's National Seismological Network. A Yellow Alert is still in effect for the cantons of Turrialba and Alvarado, according to a statement from the National Emergency Commission (CNE) on Tuesday.
RSN volcanologist Carlos Ramírez told The Tico Times that twice as much ash fell in the eruption at 9:24 p.m. Monday than during the Oct. 29 and 30 eruptions. Those initial eruptions caused part of the crater wall to collapse into the mouth of the volcano, loosening rock and ash that would later fall on livestock, cars and homes nearby. CNE reported that winds carried ash as far west as Tres Ríos and Desamparados within the San José Greater Metropolitan Area. The Turrialba Volcano is located some 60 kilometers northeast of San José.
Ramírez said that it was unlikely that there was any connection between Monday evening's eruption and the recent smattering of earthquakes felt in the capital recently, including a magnitude-6.8 temblor that shook the country's southwestern region in the early hours of Monday.
The volcanologist said a team is surveying the crater Tuesday morning to determine if additional precautions are warranted.
The story is developing. Follow wordpress-257819-2837440.cloudwaysapps.com for updates.
See also: Unlicensed guides are risking tourists' lives by taking them too close to Costa Rica's active volcanoes