Costa Rica's National Emergency Commission (CNE) on Thursday raised its alert status from green to yellow – the second highest advisory level – in the Cartago cantons of Turrialba, Jiménez, Alvarado, Oreamuno and Cartago Central following increased activity at the Turrialba Volcano on Wednesday night.
Officials from CNE's Emergency Operations Center recommended the Education Ministry to suspend classes in all public schools in those cantons and asked the National System of Conservation Areas to temporarily close the Irazú Volcano National Park, located north of Cartago and 22 kilometers from the capital, San José.
The Turrialba Volcano continued ejecting gas and ash consistently throughout the day Thursday. Experts from the National University and the University of Costa Rica are studying expelled material to determine if it originated on the crater's surface or from within the volcano's depths.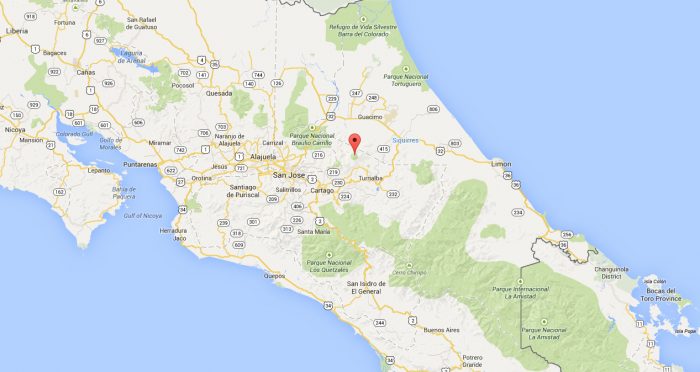 Turrialba Volcano National Park had remained closed under a green alert since increased activity began in 2010. Experts from the National Seismological Network and Volcanological and Seismological Observatory of Costa Rica had determined back then that the gases could be harmful for visitors.
This week's biggest eruption so far was recorded at 11:10 p.m. on Wednesday and lasted approximately 25 minutes. Vulcanologists recorded several other explosions that spread ash from Turrialba's crater to several communities in the provinces of Cartago, San José, Heredia and Alajuela.
The heightened activity, however, has not affected tourism in Turrialba, the National Tourism Chamber (CANATUR) and the Turrialba Tourism Chamber reported on Thursday afternoon.
"We've been in contact with local chamber members and several business owners who said they are operating normally,"  CANATUR President Pablo Abarca said on Thursday evening.
The Turrialba canton is a major tourist destination, and local hotels and businesses attract visitors mostly interested in adventure activities such as rafting, ziplining, canyoning, bird watching and scientific and agricultural tourism.
Massi Devoto, a member of the local tourism chamber, said volcano ashes have not affected tourist destinations because the volcano's location — north of the canton — and wind conditions are drifting ash to the northwest towards the capital and the other provinces.
The canton also has significant farming. Officials from the Agriculture and Livestock Ministry and the National Animal Health Service (SENASA) are conducting inspections of farms on the outskirst of the volcano to assess potential damage to crops and animals from the ashes and gases.
SENASA urged farmers to keep cattle inside barns and to wash the animals' eyes, skin and mouths to remove ash. The group also recommended that residents keep pets indoors and protect water sources.