Costa Rica confirmed 24 new cases of the coronavirus over the past day, totaling 1,342 cumulative known cases, the Health Ministry announced Monday afternoon.
Eight more people have recovered from COVID-19, leaving Costa Rica with 712 total recoveries and 620 known active cases.
Ten people have died after contracting the coronavirus. Nineteen people are hospitalized with COVID-19; five people are in intensive care.
Costa Rica facing second wave
Referencing the increase in active coronavirus cases over the last several days, Health Minister Daniel Salas acknowledged Costa Rica is facing a second pandemic wave.
In June, known active cases have increased to 620 from less than 400.
"Recent numbers have caused alarm — and they should," Salas said. "We're in a second wave."
Salas said the recent increase has primarily impacted more vulnerable communities in Costa Rica — including workers in the agriculture and construction sectors, and related to international migration. The surge has also largely been contained to northern districts which are now under stricter measures.
Of Monday's 24 new cases, 20 people already had been issued home isolation orders, Salas said, demonstrating the Health Ministry's ability to track and slow spread.
"There are clusters, and until now we've had some control, which helps us minimize a possible magnification," Salas said.
Costa Rican authorities have acknowledged the risk the country faces due to neighboring Nicaragua, which is experiencing community transmission even as the government is accused of secrecy.
Salas on Monday noted the importance of border security and regional containment, but stressed the importance of avoiding xenophobia.
"We are all human; no one is more or less human," Salas said. "We understand that there is a difficult situation of community transmission in our neighboring country. That's not the fault of the population.
"We're trying to protect the work we've done and to protect our health. But we're doing it with the responsibility to dignify all human lives."
Testing numbers have not increased significantly
The recent increase in active coronavirus cases does not correspond with an increase in testing.
Since Costa Rica began reporting daily testing totals in mid-April, it has averaged 377 tests per day. The country has averaged 265 daily tests over the last five days.
Costa Rica has processed a total of 29,622 diagnostic tests for SARS-CoV-2 (173 more than Sunday).
The Health Ministry conducts contact tracing, monitors high-risk regions and tests wastewater in some areas to help target testing.
Active coronavirus cases in Costa Rica
Eight of Monday's new cases are located in the canton of San Carlos.
The below map has been updated through June 7, 2020:

The below chart was last updated June 8. We'll update it weekly: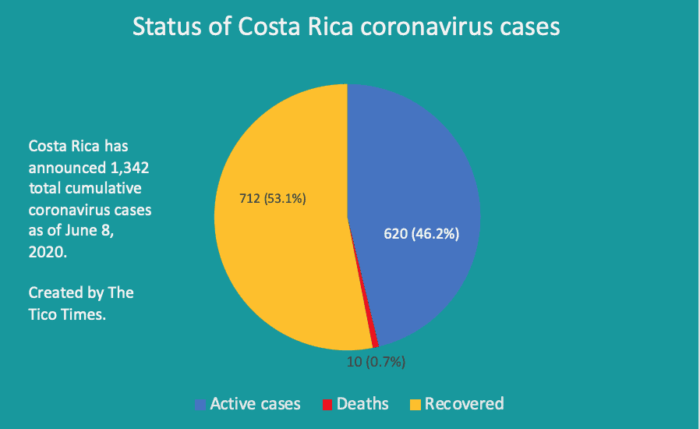 Timeline of COVID-19 in Costa Rica
Costa Rica is enforcing nationwide driving restrictions until June 20. Click here for full details.
If you believe you may have contracted the coronavirus or have questions regarding the virus, contact Costa Rican health authorities by dialing 1322.