Costa Rica confirmed 16 new cases of the coronavirus over the past day, totaling 1,000 cumulative known cases, the Health Ministry announced Thursday afternoon.
Of the new cases, five people had already been issued precautionary isolation orders after coming in contact with other positive cases, the Health Ministry said. Contact tracing is underway for the others.
Seven more people have recovered from COVID-19, leaving Costa Rica with 646 total recoveries and 344 known active cases.
Ten people have died after contracting the coronavirus. Twelve people are hospitalized with COVID-19; two people are in intensive care.
Costa Rica has processed a total of 24,897 diagnostic tests for SARS-CoV-2 (559 more than Wednesday), which corresponds to 4,871 tests per 1 million people. The country has averaged 304 daily tests over the last five days.
Ongoing coronavirus measures
Costa Rica is enforcing border restrictions, banning foreign visitors until June 15.
The government has announced a timeline for reopening the country; read the full plan here.
Health Minister Daniel Salas said authorities are evaluating this week what measures will be applied or lifted starting June 1.
"Let's be responsible, please," said the Minister of Public Security, Michael Soto, noting the amount of people who have flouted health recommendations. "You are risking your health, and also the health of your family and people around you."
If you believe you may have contracted the coronavirus or have questions regarding the virus, contact Costa Rican health authorities by dialing 1322.
Active coronavirus cases in Costa Rica
The biggest increases in known cases this week are in the cantons of San Ramón, Alajuela and Abangares, Guanacaste.
Click a blue marker for more information. This map has been updated through Thursday, May 28:

The below chart was last updated May 28: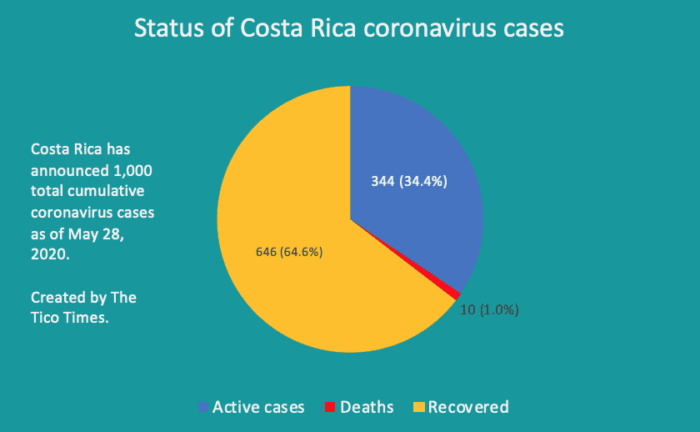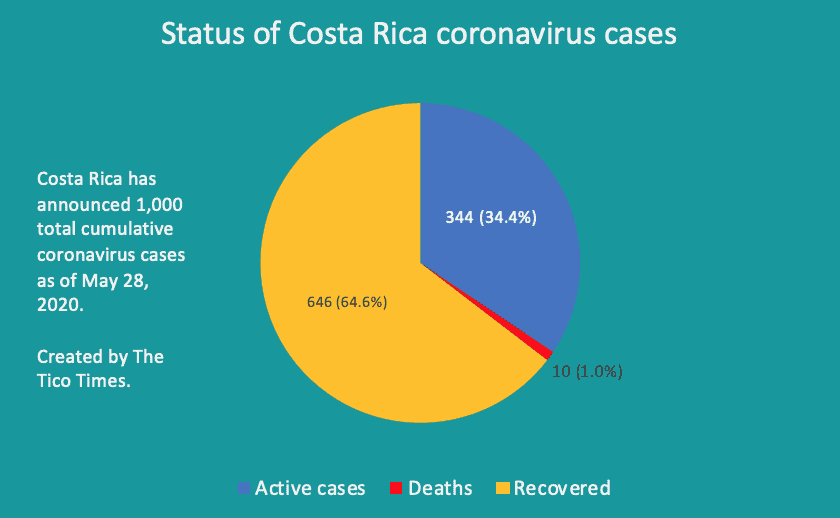 Timeline of COVID-19 in Costa Rica
Costa Rica is enforcing nationwide driving restrictions until June 1. Click here for full details.