The final whistle on Costa Rica's 0-0 tie with Paraguay in Saturday's Copa América opener seemed to come out of mercy, ending an ugly game that La Sele was fortunate to leave from with a tie.
"We didn't have control of the ball like we wanted and they really disrupted our rhythm," head coach Óscar Ramírez told television reporters after the game. "I wasn't happy to see that but Paraguay is a great team, too, and that's what we can expect from South American teams."
Costa Rica started the match off extremely slow as Paraguay controlled possession and pace for much of the first half. The Paraguayans should have scored twice in the 13th minute, once off a breakaway opportunity and then again off a set-piece header from captain Paulo da Silva that went just wide of the net.
In the 70th minute, Paraguay looked as if it was going to score again when the ball deflected off a corner kick and rolled towards goal, but keeper Patrick Pemberton made a diving save to keep his sheet clean.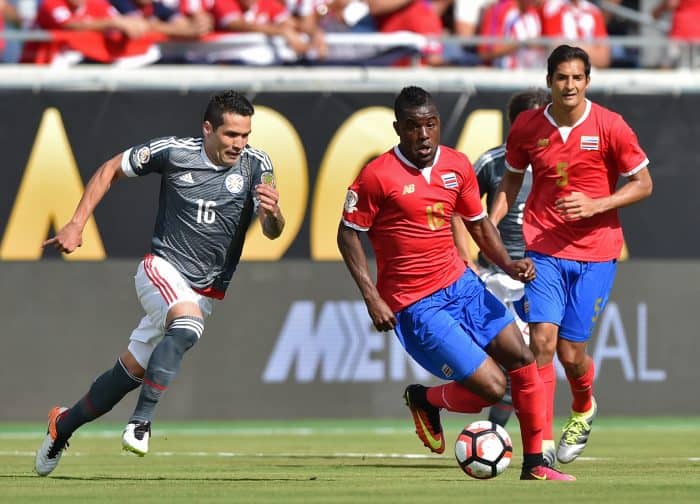 The loss of all-star goalie Keylor Navas only would have mattered if Navas was planning on lining up at forward for La Sele. Marco Ureña and Joel Campbell were completely erased from the game and failed to keep possessions going or threaten Paraguay's goal at all.
In the first half, Bryan Ruíz put a header on goal but it went right to the stomach of keeper Justo Villar. Costa Rica barely put a scare into Paraguay's defense again until the 78th minute when defender Kendall Waston came close to putting in a goal.
Wing defenders Ronald Matarrita and Cristian Gamboa were the only players showing consistent activity for La Sele, as they did well in funnelling the ball up field.
Fellow defenseman Waston was thrown out of the game with a red card in extra time, but Paraguay didn't have enough chances left by that point to take advantage of being one man up. Waston will now be suspended for the next game against the United States, leaving a huge hole for The Ticos to fill at the center back position.
With the tie, Costa Rica earns one point in Group A. La Sele is now tied with Paraguay for second place in the group after Colombia beat the U.S. 2-0 on Friday.
Costa Rica will now travel to Chicago where it takes on the home team United States this Tuesday with kick off at 5 p.m. Costa Rica time.