Guanacaste's Annexation Celebrations
Every July 25, Costa Rica celebrates the anniversary of the day the Partido de Nicoya, now known as Guanacaste, became a part of Costa Rica. This year's event will offer folkloric dance performances, "bombas" recitation contests, traditional "cimarrona" and masquerades, a mechanical bull, live music and food sales.
Official events kick off July 25 at 8 a.m. in the provincial capital of Nicoya. Check out our preview with event schedules and locations around the country.
Hands-On: Traditional Maskmaking Workshop
Inspired by the Anexión mascaradas? Learn how to stage your own and make traditional masks at the hands of experts.
"Mascarada Tradicional" will take place every Saturday from July 25 until October 17 at Museo de Cultura Popular, Universidad Nacional, Heredia. Free. More info at 2260-1619.
Theater: "Take a Look at Frida"
In commemoration of the 61 years since the death of the Mexican painter and poet Frida Kahlo, this performance tells the story of her work and her difficult life.
"Échale un ojo a Frida" takes place July 30 at Instituto de México, Los Yoses, San José, 41st Street. 7 p.m. Free. More info: Échale un ojo a Frida Facebook page or 2283-2333.
Opera: "Orpheus and Eurydice"
Curso Opera Nova Costa Rica brings Costa Rican and U.S. music students together every year to perform operas; this year's production is "Orfeo ed Euridice," written by German composer Christoph Willibald von Gluck in 1762 and based on mythical Orpheus, the musician who could charm all living things and even stones with his music. Get swept away.
"Orfeo ed Euridice" will be performsed July 24–25 at La Palestra Theater, Ciudad Colón, San José. 8p.m. ¢4,000 ($8). More info at operanova@operanovacr.com or 8836-4920  
Theater: "The Credit"
The 2013 play "The Credit" tells the story of Antonio, an honest man who is forced to ask the bank for a loan. Because he has nothing else to offer as collateral, he is forced to do something that will destroy his family.
"El Crédito" continues through August 30 at the National Theater, downtown San José. Thursdays, Fridays and Saturdays at 8 p.m. and Sundays at 5 p.m. ₡2,500 – 5,500 ($5 – 11). More info: National Theater website.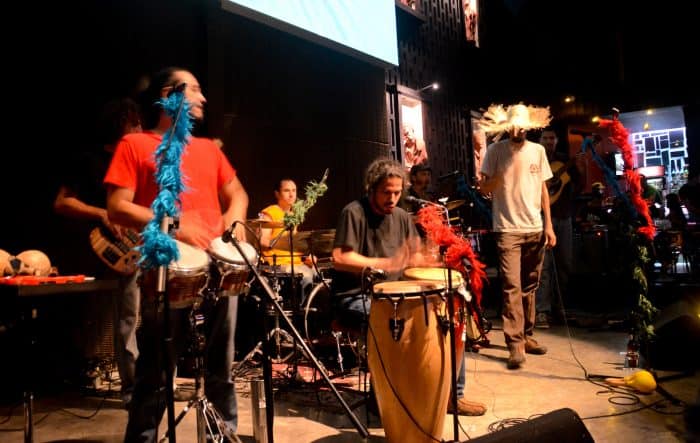 Weekend Concerts:
"Concierto a la Tica" –  To celebrate Guanacaste's Annexation, the Philarmonic Orchestra will perform a tribute to Costa Rican music with special guests "Los de la Bajura." July 25 at 8p.m. and July 26 at 10:30a.m. and 2p.m. at Melico Salazar Theater, downtown San José. ₡15.000 – 25.000 ($30-50). More info at Special Ticket Website or 2206-7770. 
The Caramels – The all-women rock band takes San Pedro. July 24 at MundoLoco El Chante, San Pedro, San José. 9:30p.m. ₡3,000($6). More info at 2253-4125
"The Family Gets Together: Sonámbulo + Un Rojo" – Two of the most recognized Costa Rican reggae bands, which fuse African, American, Latin American and traditional rhythms, predominating rhythms, offera special concert in celebration of the 25th anniversary of Jaulares Mountain Restaurant/Hotel. July 25 at Jaulares, Alajuela. 9p.m. ₡5,000 ($10). More info at 2482-2155.
Intensive AcroYoga Workshop
AcroYoga Inc. School and AcroYoga Montreal School are organizing a five-day AcroYoga workshop with international teachers. Participants will experience Lunar healing, therapeutic aspects of AcroYoga and Solar acrobatics, such as inversions, partner acrobatics and standing acrobatics. Neither partner nor experience needed.
"Taller Intensivo de AcroYoga" takes place from August 1-5 at Yoga Mandir Academy in San Pedro, San José. For schedules visit their Facebook page or contact info@yoga-mandir.com or 2524-1843.
Dance: "The Elixir of Love"
A comic opera, first staged in 1832, tells the story of what would be a world full of vices and defects if it weren't for a noble peasant with only one thing to offer: true love.
"El elixir del amor" takes place July 26-28 and 30-31 and August 3-4 and 6-7 at the National Theater, downtown San José. ₡2,000 – 30,000 ($4-60). 7:30p.m. More info: National Theater Website.
Theater: "Good Night, Idiot!"
"Good Night, Idiot" is an example of "journalism theater," which seeks to encourage critical views of life in Costa Rica among young audiences in an interactive way. The play has a news-inspired format with scenes from 2 to 10 minutes where news protagonists come to life to open the eyes of the public with colloquial and somewhat sarcastic language. It will be presented as a tour at 15 different spots around San José.
Upcoming dates include: La Nave July 24, Teatro Giratablas July 25, Universidad Creativa July 30, Baul Blanco 31 and Casa Teatro August 1. ₡3,000 – 4,000 ($6 – 8) at 8 p.m.
Film: Sala Gómez Miravalles
The Sala Gomez Miravalles, Centro de Cine, San José, Av.9. (2542-5200) will show the following free films:
"Scott Pilgrim vs. The World" (July 24, 7 p.m.): A guy falls for a new girl in town, but there's a catch. If he wants to date her, he must fight her seven evil ex-boyfriends.
"All About the Feathers" (July 25, 4 p.m.): A Costa Rican movie, released in 2013. A security guard gets a rooster for illegal cock fighting, but when he finally gets it, he discovers he now longers wants it to fight, and they develop a very interesting relationship.
"Collateral" (July 25, 4 p.m.): Tom Cruise hops into Jamie Foxx's taxi, but he has a surprise in mind for the driver: a trip full of murder and mayhem.