On Saturday, the people of Costa Rica's northwestern province of Guanacaste will dust off their cowboy boots and head out for a traditional Tico celebration at the annual Annexation of the Partido de Nicoya Festival. Held every July 25, this year's festival commemorates the 191st anniversary of the day when the Partido de Nicoya, today known as Guanacaste, became a part of Costa Rica in 1824. Before you head out for bullfights and meat on a stick, here is what you should know about the festival.
1. The festival does not commemorate a battle
The Annexation Festival is not a celebration of a violent takeover, but rather the commemoration of an autonomous canton's peaceful decision to join the Costa Rican nation.
In 1812, Spain divided what is now Central America into separate territories. One of these territories was the Partido de Nicoya, which was the territory between La Flor River and Lake Nicaragua to the northeast, and the Gulf of Nicoya, Tempisque River and Salto River to the south. When Central America declared independence from Spain in 1821, the region began to reconstitute itself into new countries.
The Partido de Nicoya remained independent, but maintained a friendly relationship with Costa Rica. Costa Rica later invited the Partido de Nicoya to join the country by sending an invitation to the territory's leader, Cupertino Briceño. On July 25, 1824, the annexation became official.
2. Guanacaste culture is all about the sabaneros
Before Guanacaste beaches became renowned travel destinations, the region was known for its farms and ranches. Today, the iconic Guanacaste cowboy — or sabanero — continues to exert a huge influence on local culture.
Cowboy hats and blue jeans are the requisite attire for a Guanacaste celebration, and Tico-style bullfights — where the bull is not killed, but ridden and then taunted by a giant crowd — are a fixture in the region.
It's also not uncommon to see Ticos celebrating on horseback. Don't be surprised to roll up to a local taberna and find a bunch of cowboys parked out front on their horses, living it up.
3. Protests are usually part of the celebrations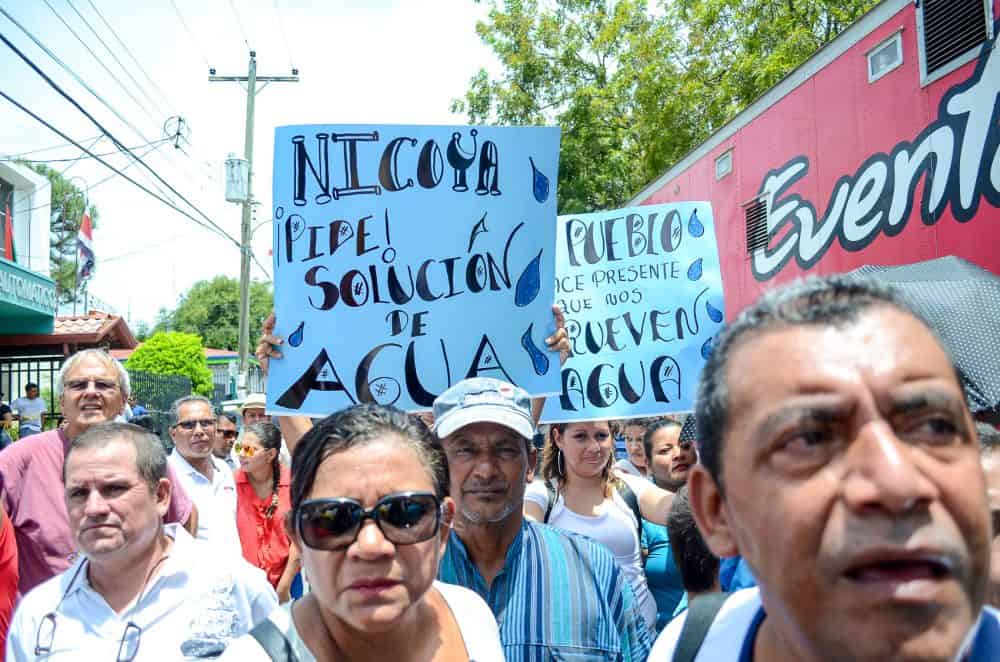 Despite the vacation resorts that have cropped up along Guanacaste's beaches, poverty, access to clean drinking water, bad roads and infrastructure and other social issues remain problems in the region. As a result, Guanacastecos have begun taking advantage of the media attention and customary presidential visit for the Annexation Festival to protest.
In 2013, approximately 500 protesters marched in Nicoya demanding everything from improved health care to better road infrastructure. Most significantly, demonstrators asked the government to address the region's problems with high levels of arsenic in the drinking water.
This year, the protests will again be centered on water, namely the lack of H2O and the government's response to the region's long-running drought. A march is planned for Saturday morning in Nicoya, and President Luis Guillermo Solís has already heard an earful from thirsty constituents during his weeklong tour of Guanacaste.
4. Nicaragua's President Ortega likes to threaten to 'reclaim' Guanacaste
Nicaraguan President Daniel Ortega has been known to assert that his country could sue Costa Rica in the International Court of Justice at The Hague to "reclaim" the province of Guanacaste.
"Costa Rica did not win that territory in an international court, but rather by force, with arms," Ortega said at a military ceremony in 2013. "Nicaragua has been ousted from its territory by expansionist policies of nations such as Costa Rica."
Ortega's statements severely damaged the already tenuous relations between Costa Rica and Nicaragua, spurring a passionate outcry from Costa Rica's leaders. Then-President of the Legislative Assembly Fernando Mendoza, a lawmaker for the ruling National Liberation Party from Cañas, Guancaste, told the crowd last year that they would defend their sovereignty with kicks and punches.
"We Guanacastecans defend the province's sovereignty every day, no matter the time, 24 hours a day, 365 days a year; we defend our sovereignty!" he cried.
5. The party is countrywide
Guanacastecos already started partying earlier this week, but today, annexation events will begin throughout the entire country. Government offices will close for the national holiday and so will many businesses. Schools across Costa Rica will host cultural events in the morning, with children dressed in traditional Guanacaste sabanero outfits for dance performances. Almost every town will have their own celebrations, but the following are a few of the larger events where you can get into the sabanero spirit.
Take part of the celebrations:
July 25:
Official Ceremony and festivities in Nicoya, Guanacaste:
8 a.m.: Civic Act in front of the Cabildo with President Luis Guillermo Solís and other goverment officials.
12 p.m.: Solemn Session of the City Council of Nicoya (Recaredo Briceño Park).
1:30 p.m.: Marimba Concert
2 p.m.: Club de Leones parade.
2:30 p.m.: Folkloric Group Herencia Criolla and Group Hombres del Maíz.
3 p.m.: Tope of the Annexation (ASOCANI).
4 p.m.: Gala Concert: Symphony Orchestra (at the new church).
7:15 p.m.: International Dance Festival CIOFF – NICOYARTE and Folkloric dance groups (Folk Necoc Yahotl company, Republic of Ukraine, Republic of Peru, Republic of Panama, Republic of Lebanon).
"Festival El Sabor de Guanacaste" – Dance performances, traditional music and exhibitions. At La Plaza, Playa Flamingo, 10 a.m.-9 p.m.
"Festival Nacional de Marimbas" – Traditional food, exhibitions and sale of handicrafts and marimba music. Takes place July 25-26 at 2 p.m. at Plaza Limonal, Abangares.
"Tope de caballistas" – This year the traditional "tope," or horse parade, brings 40 riders from Nicaragua and approximately 800 riders from Guanacaste, Alajuela, San José, Cartago and Guápiles. It starts at Barrio Santa Lucía, Nicoya. 4 p.m.
"ExpoLiberia" – Riders compete at 8 a.m. and a bullfight takes place at 7 p.m. (More info 2666-3219 or 2666-2469.) Liberia.
"Traditional Masquerade Workshop" –  Learn mask-making techniques at the hands of the experts. Every Saturday from July 25-October 17 at the Museo de Cultura Popular, Universidad Nacional, Heredia. Free. More info at 2260-1619.
July 26:
"ExpoLiberia" – Iberoamerican horses compete at 8 a.m. and a bullfight takes place at 7 p.m. (More info 2666-3219 or 2666-2469.) Liberia.
Annexation Festivities in Heredia – The fair offers folkloric dance performances, a "bombas" recitation contest, traditional "cimarrona" and masquerades, a mechanical bull, live music and food sales at Salón Comunal Asunción, Belén, Heredia. Free. More info at 2587-0290.
"Festival Puro Guanacaste" – traditional food, dance performances from Grupo Folclórico La Trinida, music of Banda de Conciertos of San José and the show "Puro Guanacaste" with Ballet Folclórico Naiones, marimbas and the tipical "cimarrona," at the National Museum, San José. 9 a.m. Free. More info 2256-8643 or [email protected].