It's all fun and games – until you get arrested by Central American authorities for shoplifting a metric ton of saltines. Costa Rica has no shortage of eccentrics, but only a chosen few make headlines for bizarre behavior. In a largely positive year for the country, 2014 still had its share of weirdness. Here are some surreal standouts from the past 12 months.
1. German tourist caught at airport with 400 concealed animals
How Maciej Oksrora thought he would sneak through security at Juan Santamaría International Airport without anyone noticing the hundreds of live amphibians in his luggage, we'll never know, but the alleged biologist got more than he bargained for. Once Oksrora made embarrassing headlines in September, he pleaded guilty in a flagrancy court and got off without so much as a fine. Indeed, the only reason he was deported back to Germany was his expired tourist visa.
2. Carjackers attempt to steal truck they can't drive
It seemed like the perfect crime: Open the unlocked door of a truck, slip inside, then drive off into the sunset. Just a few problems. The alleged perpetrator, one Sr. Zelaya, didn't have a driver's license. And he didn't know how to drive. And he loudly struggled to start the ignition within earshot of police. Zelaya was caught red-handed last October, and an alleged accomplice was apprehended soon after. Stalled!
3. Man devoured by crocodiles
No one knows exactly what happened that fateful April afternoon – whether the mysterious man took a swim in the Tárcoles River, or jumped from a bridge, or fell by accident. But somehow he ended up in a crocodile-infested river, and the outcome was as expected. Less enigmatic was the case of the wildlife expert mauled by a croc on the same river in October, although he fortunately survived.
4. Local expat to hike Pacific Crest Trail to build stone temple
After a vision quest in the Amazon, U.S. expat Joe Hudson decided to build a stone temple on his Dominical property. How to finance it? He announced in May that he would hike the Pacific Crest Trail and raise awareness for his shrine-building aspirations.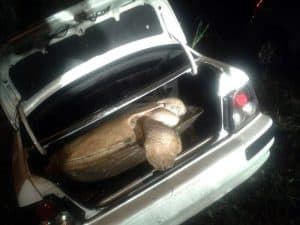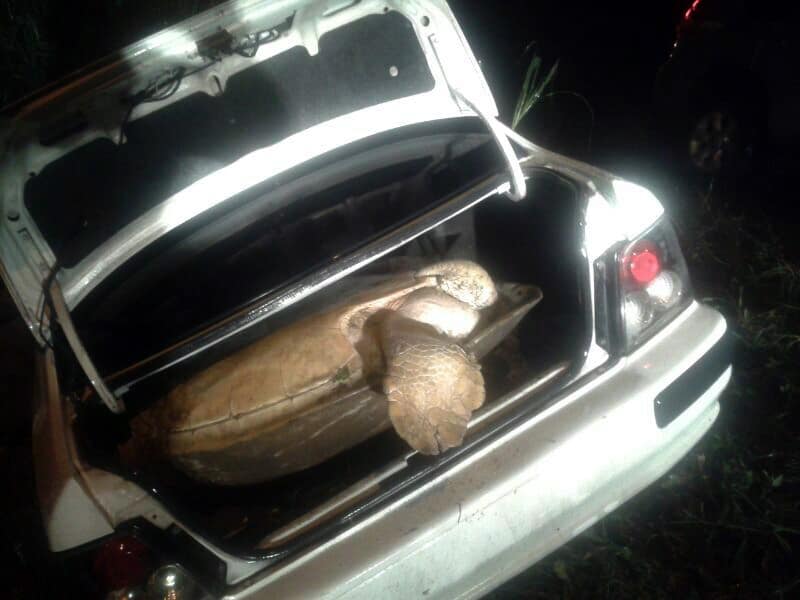 5. Sea turtle discovered in trunk of car after shootout
At a checkpoint in Puerto Limón in July, the drivers of a car started shooting at police, which prompted a high-speed chase. Police pulled the car over and discovered a green sea turtle in the trunk, which was luckily still alive. That wasn't the only chase to result in stashed reptiles this year: One driver was apprehended with 9,400 sea turtle eggs in Nicoya.
6. Detained U.S. tourist starts fire in Tamarindo police station
Arrested for an unrelated crime in June, a U.S. man surnamed Kelarakus proceeded to start a trash can fire inside the precinct. Whether this was an escape plan or a willful act of protest is hard to say, but police at the scene described him as trying to "burn down the police station." We can assume he was not let off on good behavior.
7. Police attempt to cover up accidental shooting of police officer by another police officer

Everybody makes mistakes, although this one was a doozy: In July, a police officer accidentally shot his partner in the leg while sitting in a squad car. Embarrassing as the incident already was, the cops made it worse by claiming that two assailants drove alongside their car on a motorcycle and opened fire. Since they were stationed near the house of Costa Rican President Luis Guillermo Solís, the original police report raised concerns about the president's safety – until investigators concluded that the gun had fired from inside the car. The scandal resulted in six firings, but the question remains: How do cops accidentally shoot each other when nothing is going on?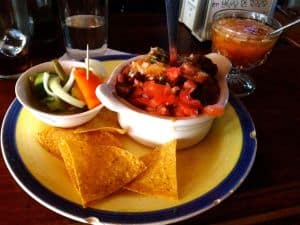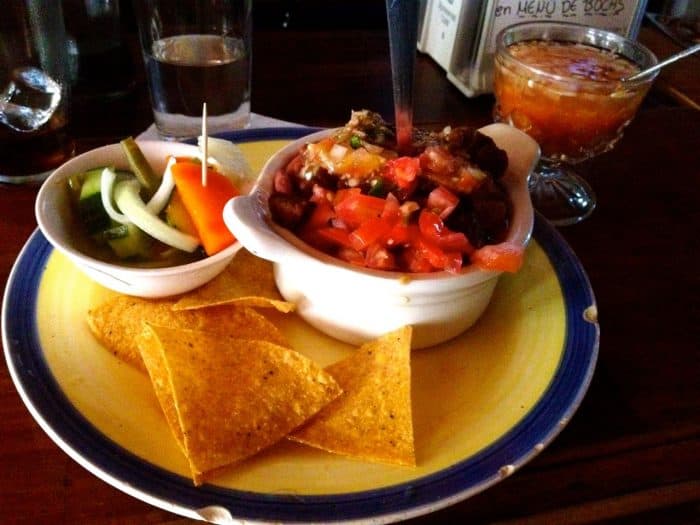 8. Alleged inventor of Chifrijo™ sues for $15 million

Claiming to have invented chifrijo, that savory stew of beans and pork rinds, Tibás restaurateur Miguel Cordero drafted a lawsuit in October against 49 businesses for $15 million in damages. The suit caused a media sensation, and many restaurants changed the name of their most popular bar food.
9. Robbers make off with 3,000 boxes of soda crackers
Four suspects were arrested in January for allegedly stealing a shipping container full of crackers from an Alajuela parking lot. While no one was hurt in the heist, one night watchman was held at gunpoint and tied up. More than two-thirds of the stash had disappeared by the time of arrest.
10. Costa Rican filmmaker to make retro apocalyptic horror movie
Surf warriors! Remote beaches! VHS tapes! Released in August, the teaser trailer for "Territorial Pissings" attracted a lot of attention for a movie that hasn't been made yet. Graphic designer Juancho Otalvaro has been in the process of directing his first feature film, which concerns bands of rival pirates in a dystopian future. Otalvaro has been shooting "Territorial Pissings" across Costa Rica and plans to release the film in 2015.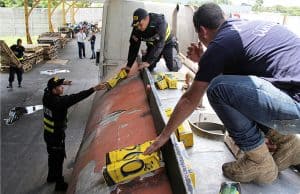 11. Police confiscate hooch truck
In a record-breaking year for drug seizures, police also confiscated a tanker truck full of 20,000 cans of beer and 4,000 bottles of liquor. Given the nature of the August bust, we are curious to know how the police celebrated.
12. Ex-Presidenta adopts bird
After a chaotic term in office, former Costa Rican President Laura Chinchilla took to Twitter in July with news that her family had adopted a baby chick. They named the fragile creature "Baby Charlie" and posted numerous photos of the newly hatched Charlie in action, mostly feeding and posing with La Sele gear.
Read more Year in Review 2014 stories here.