If you've ever wondered what a dystopian, 80s-style, surfing-based action movie filmed in Costa Rica would look like, consider the following:
What you have just witnessed is all that exists of "Territorial Pissings," but if a recent fundraising campaign is successful, this teaser will blossom into a feature-length B-movie by late 2015.
The project is the brainchild of Juancho Otalvaro, a graphic designer and self-taught filmmaker born and raised in Costa Rica.
"I was influenced by my two loves, horror and action films," Otalvaro wrote the other day to The Tico Times. "I started thinking: If I'm going to do a full feature film, I must do a genre that I love and [with] which I'm most comfortable."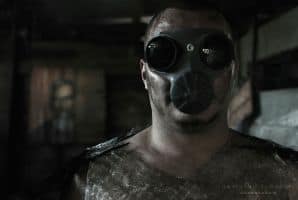 Over the past few years, Otalvaro has spent much of his free time producing short films with friends, learning film techniques and honing his cinematic skills. Otalvaro has worked for a marketing agency for many years during the day, though he often films surfers in Jacó as well. However, he has long wished to produce a longer project. As ideas gestated, Otalvaro learned that his friend was trying to build a kind of motorbike for surfers. The idea of the waterborne vehicle gave him a flash of inspiration: Why not combine surf gangs and motorbikes?
"The rest of the elements just started to snowball," he recalled. "Especially taking advantage of the beauty of Costa Rica's beaches and surf spots."
Otalvaro plans to film "Territorial Pissings" on both Caribbean and Pacific beaches, but he was particularly drawn to abandoned sections of Puntarenas, where the ruins of industry fed his post-apocalyptic imagination.
His master plan is remarkably ambitious: Otalvaro hopes to raise enough money by early 2015 to produce an 85-minute film that will be released later next year. The script will incorporate a variety of special effects, including elaborate makeup by Mariana García and futuristic costumes by Karla González and Pamela Gutiérrez. He is already collaborating with established film companies like Wipeout Films, which will handle surf shoots, and Orange Tree Studio for post-production. The band Hongo Fuu will compose an original, retro score.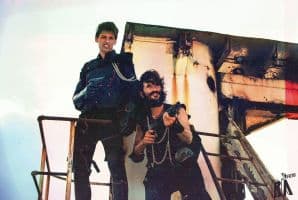 Like a backyard horror movie, this project relies mostly on friends Otalvaro has amassed during his years of shooting short films, but his dreams are far from amateur: Otalvaro hopes to use traditional distributors to bring the film to North America and Europe. (The script was written in English to broaden its audience and accommodate 80s slang.) Less conventionally, Otalvaro wants to tour Costa Rica to promote his work, cruising through beach towns and projecting the film in outdoor spaces.
The "pitch trailer" Otalvaro created required the assistance of 30 actors and crew members, and he anticipates a much larger group once he secures his budget. He has gone so far as to draw a post-apocalyptic map, based on the predictions of turn-of-the-century mystic Edgar Cayce, to illustrate the world his characters will inhabit.
A schlocky concept like "Territorial Pissings" seems hilarious by nature, but Otalvaro doesn't want to produce a full-on comedy. Otalvaro was a child during the 80s, so his exposure to 80s pop culture was made possible through VHS tapes during the 1990s. When he describes his homage to 80s actioners, his tone is reverent.
"I think the 80s' spirit should capture a gloomy, weird story that makes sense no matter how odd the characters or situations are," Otalvaro explained. "Additionally, it should have some rawness to it, show a bit of the crude reality that we don't want to see, but with a slight dark humor to pass the bitterness. Badass quotes for memorable characters and slight [criticism of] how the system works."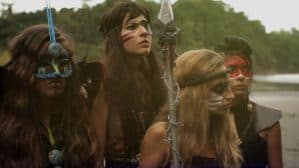 "My love of action films I owe to my dad," he added. "We could spend hours watching Steven Seagal breaking necks and arms on TV. We then would go buy every Bruce Willis movie and spend lots of money on Arnold's action films. But I think the day I decided I loved movies was my first time watching 'Demolition Man.' That movie just blew my mind. I couldn't sleep, thinking [about] how they could've done that movie."
So what about the glaring Nirvana reference?
"The story isn't related to the lyrics, nor did I use the band as a reference," Otalvaro wrote. "But those two words were so strong and they fit well with the story. I just couldn't resist using the same name. Gangs pissing on territories like dogs, that's like the whole premise of the film. It's just so badass!"