The news exploded this week: Miguel Cordero, a humble restaurateur, plans to sue 49 different establishments across Costa Rica, including hotels and even some chain restaurants like KFC and Spoon. Cordero is demanding a total of $15 million in damages for one reason: He says he invented chifrijo, and everybody else has been cashing in on his creation.
Yes, chifrijo – that hearty bowl of pork and beans available in nearly every bar and restaurant in Costa Rica. Chifrijo, that savory boca, that divine comfort food, the meal that demands a bottle of Imperial and a handful of tortilla chips. Like gallo pinto and tamales, it's hard to imagine chifrijo having a specific origin. Unlike gallo pinto and tamales, chifrijo does, according to Cordero, have a specific origin: his kitchen.
According to the suit, Cordero officially registered the recipe and its name in 2002, much the way McDonald's trademarked "Big Mac" and Starbucks the "Frappuccino." The stoic-looking Cordero went on a media tour this past week with his daughter Lilliana Cordero and their attorney, Ariana Araya, explaining why they deserved the vertigo-inducing sum of ₡8 billion.
The name "chifrijo" is a portmanteau of "chicharrones" (pork rinds) and "frijoles" (beans). As recounted in an old blog post written for the restaurant, Cordero had a craving one afternoon in 1979 and decided to the raid the kitchen for ingredients. The resulting dish has become ubiquitous on Costa Rican menus. Chifrijo is so popular that the U.S.-based Food Network provides cooking instructions on its website. (The instructions are clearly tailored to Norteamericanos, since they are compelled to explain what Salsa Lizano is.)
Despite the media frenzy over the Corderos' claim – which earned close attention from La Nación and Teletica, among others – it's too soon to predict where the suit will lead, but defendants include Four Season Hotel, DoubleTree Cariari by Hilton, and Hooters.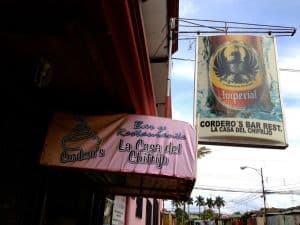 In the meantime, The Tico Times took the opportunity to visit Cordero's Bar and Restaurant in Tibás, a quiet cantón north of downtown San José. The venue is well-hidden on a sleepy residential street. Small and dimly lit, Cordero's is absolutely packed with chachkes (ahem, chunches), from little statuettes to old photographs and novelty items. The place has a cowboy feel, more Guanacaste than Central Valley, and at 1 p.m., the dining room was already packed with patrons. Some folks were ordering shots of tequila. Others came with their families and sat beneath a wooden sign reading, "Salon Familiar."
Every time a sign or menu at Cordero's mentions chifrijo in print, it adds the word "original," lest a guest deign to think chifrijo was first concocted somewhere else. A smiley bartender set down a steaming bowl nearly overflowing with beans and meat, plus a side of chopped, pickled veggies that were delightfully sour. Chifrijo is basically a dish full of pure protein and salt – unlike most other chifrijos, the Cordero's creation does not include rice – almost Argentinean in temperament and a nutritionist's personal nightmare. It is described almost universally as the perfect pub food.
It's hard to anticipate what the Corderos would do with $15 million, nor whether a flash of genius 35 years ago is worth that sum, but one can only hope their mythic little restaurant stays intact. Like chifrijo itself, Cordero's Bar isn't fancy, but it's perfect the way it is.