I've already highlighted what I think are the top three chifrijos in Costa Rica. Doing so was one of my first orders of business when I started this column.
At the end of the day, chifrijo is the shining star of Costa Rica cuisine. My hunger for it will never be fully satisfied. The search for the best one in Costa Rica will always continue.
But this week, I might have found its origin.
Before a soccer game at the Ricardo Saprissa stadium last week in Tibas, I walked into the nearby Cordero's Bar with my boys. It looked like my kind of place: a small hole in the wall with a dimly lit bar – or cantina as they are referred to in Spanish.
The owner, Miguel Cordero, has been the owner of this family business since the very beginning and claims to have invented the chifrijo, right there, at Cordero's Bar.
I am not able to confirm that, but I don't doubt the guy. The story of the alleged chifrijo invention is on the first page of the five-page menu.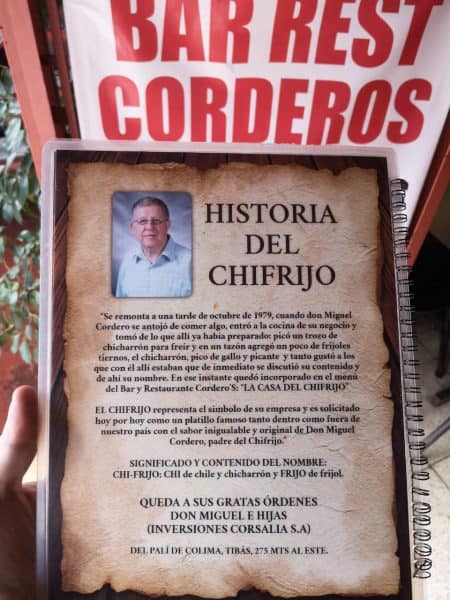 In summary, in October of 1979 while in the kitchen at his bar, Don Miguel mixed together a little of everything that he had on hand and served it in a single bowl. He enjoyed it so much that he made a second one for a customer. Obviously, the rest is history. The name chifrijo is a combination of Chi from chicharron, chile and chimuchirri and Frijo for frijoles.
The dish is now widely popular with many versions or "imitations" across the country. Most include a base of white rice and a topping of avocado as key ingredients. At Cordero's, their chifrijo has neither. That's how it should be, says Don Miguel.
The chifrijo at Cordero's Bar has perfectly cooked red beans, a generous amount of delicious fried pork, fresh tomato pico de gallo and a top-secret house sauce that they say makes all the difference.
They're very serious about the top-secret part too. I couldn't get a single ingredient out of them and am ashamed to admit, I was not successful in guessing either.
I literally have no idea what's in it, but it tastes good. As always, I like to top mine off with a brave serving of the house-made hot sauce or pickled chilis. It adds a welcome touch of spice. On the side, as always, are tortilla chips.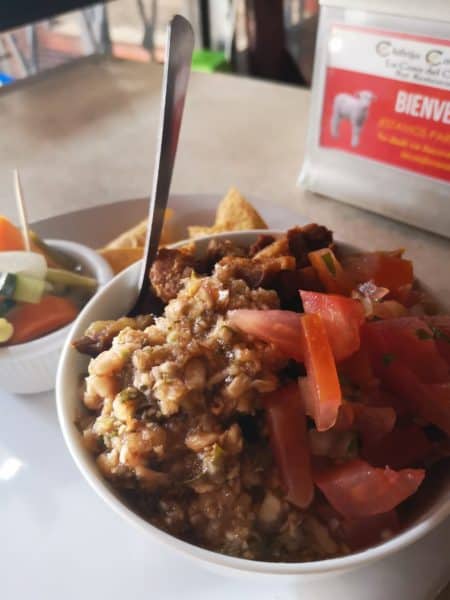 Don Miguel not only claims to have invented the chifrijo, but he also owns the trademark to the word. It's caused backlash for him after it became public knowledge that he had served a handful of other local bars with a legal notice for using it on their menus. I say if the man really did invent the dish and name it himself, then why not? More power to him.
Though this is 'the house of the chifrijo', the food menu at Cordero's Bar also highlights most other local bar food staples like olla de carne, ceviche, mondongo, and dados de queso. It also has as a selection of soups, rices, pastas, salads and desserts. For the place's small size, the menu is quite expansive. I never tried anything besides the chifrijo, I like to stick with what works.
Cordero's Bar also has antique relics covering the walls. It could almost double as a museum. It's been open for more than 30 years and has amassed quite a collection of old beer brand signage, as well as Coca-Cola glassware from every World Cup tournament dating back to the turn of the century.
Additionally, there are framed photos of La Sele squads from before I was born around the restaurant. There are also different black-and-white photos of the owner with various politicians. At least, I think they're politicians. Shame on me. I didn't recognize any of them.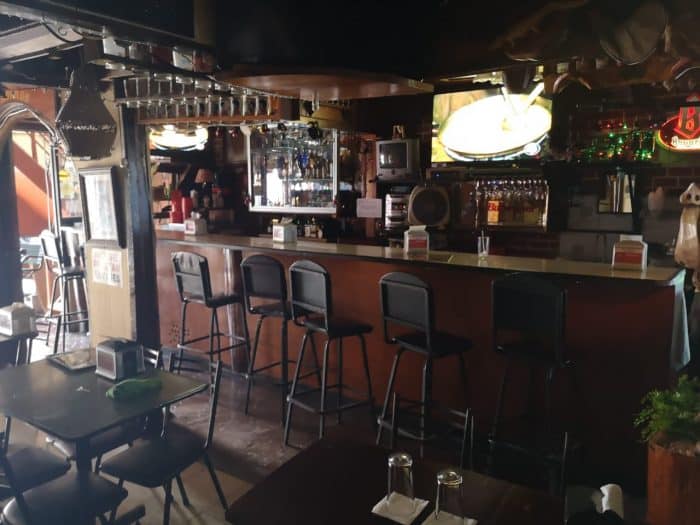 These collectibles give the bar a lot of charm. The dark wood finishing does too. For me, a bar like Cordero's is of historic significance, leftover from another time, and needs to be conserved.
Prices per plate of food average around 2,500 colones (about $4), with the chifrijo surprisingly being one of the more expensive options at 3,700 colones (about $6). Drinks are cheap here too, as expected, with an Imperial beer costing 1,200 colones (about $2). Prices include all taxes. Portions are smaller, bocas style. Major credit cards are accepted.
Cordero's Bar is open seven days a week, from 11 a.m. until midnight. They close earlier, at 8 p.m., on Sundays. The bar is located on Avenida 53, 275 meters east of Pali, in Colima de Tibas. Street parking is easily available. Search "Cordero's Bar" in Waze or Uber to arrive conveniently.
---
William Ayre is a Canadian born chef and restaurateur who has spent the last half of his life doing business in Costa Rica, where he now considers to be home. Inspired by Anthony Bourdain, Ayre's passion of experiencing different cultures through food has taken him to 35 different countries over five continents. Whether it's a 20-course meal at a fine dining restaurant in Toronto, or cantina hopping in search for the best chifrijo here in San José, he fits in just fine.