Told in one sentence, the story sounds surreal: A young man hears a mystical voice in the Amazon, so he decides to walk 2,650 miles to raise money to build a stone temple in the Costa Rican rainforest, all the while carrying a crystal skull from Peru.
Joe Hudson is the guy who is actually doing this. The California native spends much of his time in Costa Rica, where he owns property near Dominical on the southern Pacific coast. He's a seasoned surfer and a professional chef. He loves the outdoors and has regularly taken multi-week hikes in U.S. national parks. He prefers not to publish his age, but Hudson is fit and upbeat and looks 10 years younger than he is. With his West Coast cadence and dreamy delivery, Hudson sounds earnest about his bizarre plan.
"I always wanted to hike the Pacific Crest Trail," recalled Hudson over Skype the other day. "But I never really had a date set on it."
Known among hikers as the PCT, the Pacific Crest Trail is a network of paths that leads from the Mexican border to British Columbia, cutting through three U.S. states and bisecting the Rocky Mountains. Already popular among long-distance hikers, the PCT became even more famous with the publication of "Wild," Cheryl Strayed's 2012 memoir of walking the trail alone. The full transect is a massive undertaking and requires months of physical exertion, often at high elevations.
Divine Inspiration?
Hudson planned to take on the PCT about a year and a half ago, but he broke his foot and had to delay the trip indefinitely. He spent some time surfing, helping a friend with his farm and cooking part-time. "I was basically putting it off," Hudson now admits. Then, last March, Hudson decided to go to Peru, where he would visit Machu Picchu, take a boat to the Amazon, and try "plant medicine" with a local shaman.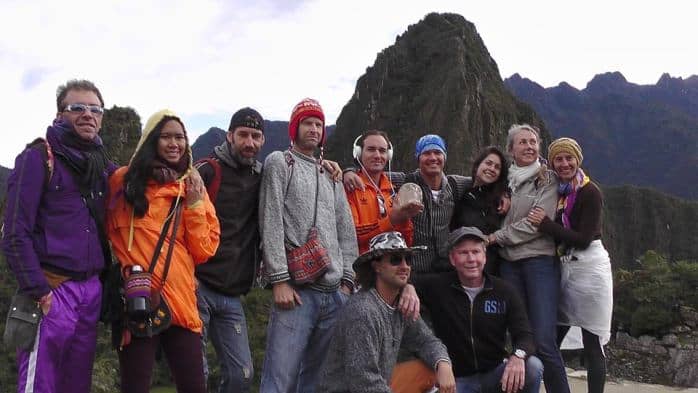 While Hudson didn't identify the plant in question, he was discriminating in his selection of spiritual rites: Hudson preferred an indigenous Amazonian village with an experienced, traditional shaman. He knew that the ritual might involve intense visions and emotional upheaval. Hudson was part of a group of travelers, and each responded to the ritual in different ways.
"I don't really hear things in my head or have crazy experiences," Hudson said. "But in my head I heard two words, really loud and clear: 'Get out.' And I was taken aback. I was like, 'What does that mean?' You're not really supposed to leave the temple during the ceremony. The temple is really protected. They don't really recommend you go outside. So I just sat on it."
Soon after, Hudson flew to Cuzco, and when he looked through his porthole window, he saw a single snowcapped mountain poking through the blanket of clouds. Hudson has trouble describing how these events affected him exactly, but he suddenly sensed an oncoming revelation.
"All of a sudden it just hit me: 'Go hike the Pacific Crest Trail. Don't wait,'" he recalled. "It was interesting, because this hasn't happened to me before. Usually I'm a planner. I think things through. But this just hit me."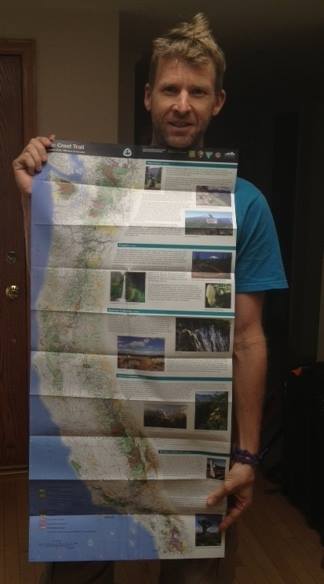 Set in Stone
Hudson says his Peru expedition had a profound effect, both on him and his companions. After seeing the ruins of Incan architecture, Hudson felt inspired to build his own stone temple on his Costa Rican plot. The result is the Pacific Crest Sun and Moon Project.
"I wanted something that would last for centuries, and not just decades," Hudson said. "My idea is to build something out of stone. I want people to say, 'You've got to check out this crazy temple this Gringo built in the valley.' We're not just going to build it randomly. We want to make sure it lines up with celestial events. I want this temple to be a cornerstone, so that the valley can grow. I can imagine in the next five or six years, we'll have a thriving community there."
Hudson is vague on details, but he imagines building greenhouses, creative spaces and healing centers. He wants to use alternative energy systems and sustainable infrastructure. He wants a nondenominational temple – "The word temple is used loosely" – but he has spiritual expectations for the site.
To raise funds for the temple and its satellite projects, Hudson is using his PCT pilgrimage as a fundraiser. He hopes to receive pledges on a per-mile basis. "If you sponsor me at 10 cents a mile," Hudson said, "that's 250 bucks." As it happens, the fundraiser has already made headway: Hudson has received pledges of 50 cents per mile from friends and fellow travelers. "Without taking one step, I've got about $6,000 committed. I think once I get five, six hundred miles in, people are going to see the commitment level and think about supporting. I think a lot of people won't know me, but they'll want to support a little micro-community in rural Costa Rica."
Hudson has garnered the support of numerous creative friends, including Carey Thompson, the artist who constructed a bamboo pyramid at the 2014 Envision Festival, among countless other projects. Thompson will help Hudson with the temple's design. Meanwhile, Hudson's friend Jonah Bolt, an experienced radio host and metaphysics guru, is helping to write grants for the project. His friend Vinni Perri has volunteered to drive along the PCT and resupply Hudson along the way. (Stopping for provisions burns an enormous amount of time). Finally, because Hudson will have limited access to internet while hiking the trail, his friend Caroline Palmer will document the trip through Facebook, Instagram, Twitter, and an official website.
While the journey may seem odd to some, Hudson is accustomed to eccentric undertakings: He once built a "surf pirate ship" with a friend, and he has walked across the entire state of Montana. Yet some of his more peculiar ideas have given way to practicality: Hudson hoped to bring a walking staff crafted in Peru, as well as a crystal skull.
"My original idea was to take the stick with me, but it ended up being really heavy, and the skull weighs about three pounds," Hudson said, chuckling. "As much as my mind wanted me to, I had to face the realization that it's all about weight."