August 11 is not the type of anniversary Roma and Luda Gimelfarb would wish for any parent. 
Five years have gone by and still there is no sign of the Gimelfarbs' son, David, who went missing on Aug. 11, 2009 at Costa Rica's Rincón de la Vieja National Park, in the northwestern province of Guanacaste.
David Gimelfarb, who was 28 when he disappeared, traveled to Costa Rica alone for a brief vacation before he was to return to his doctoral studies in psychology in the U.S. city of Chicago. On the morning of Tuesday, Aug. 11, 2009, David left his passport and other possessions in his Guanacaste hotel, drove a rental car to the national park, signed the park's logbook, and disappeared. No one has heard from or seen him since.
A three-week search of the park – which spans 14,000 hectares of rugged rain forest terrain – by Costa Rican Red Cross, National Police, foreign volunteers and even U.S. Blackhawk helicopters with infrared technology turned up no sign of David in 2009.
For the Gimelfarbs, the years may continue to pass, but the couple will never stop trying to find their son.
"Time doesn't heal you," Luda Gimelfarb said on Monday. "This year we're trying to remind people that we're still looking."
Last year, the Gimelfarbs traveled 1,370 kilometers (850 miles) across Costa Rica, from Rincón de la Vieja to the Panamanian border, and then down the Caribbean coast. Then, just before they were to fly back to the United States, they received threatening phone calls from someone claiming to have kidnapped David. The caller demanded $250,000, even sending a grainy and dark photo of a young man holding a copy of the daily newspaper La Teja. An FBI analysis of the photo was inconclusive, Roma Gimelfarb said, still not entirely convinced the photo wasn't his son.
Costa Rican investigators said the phone calls came from inside La Reforma prison, north of the capital. But they were unable to trace the calls to a specific cellphone or inmate, and no arrests were made. 
This year, the Gimelfarbs plan to focus on Costa Rica's border area with Nicaragua, where they will hand out the same missing person handbill as in years past, with a $100,000 reward offer for information leading to David's return to his family.
A spokeswoman for Costa Rica's Judicial Investigation Police, or OIJ, told The Tico Times the investigation is ongoing and the case remains open, but investigators have little new information to follow up.
"There is no new information to indicate what happened [to David]. There are no new people to interview regarding the case," OIJ spokeswoman Maricel Rodríguez said.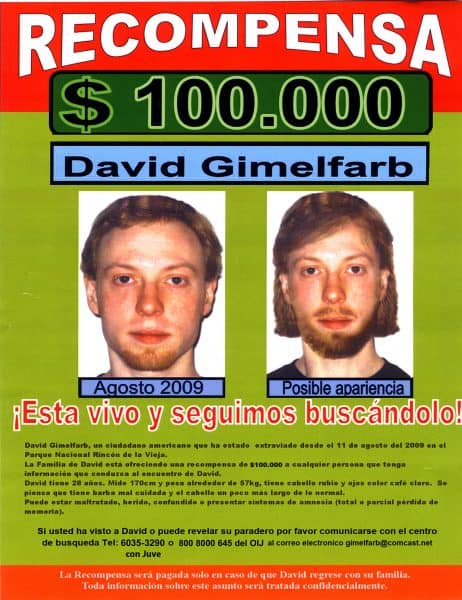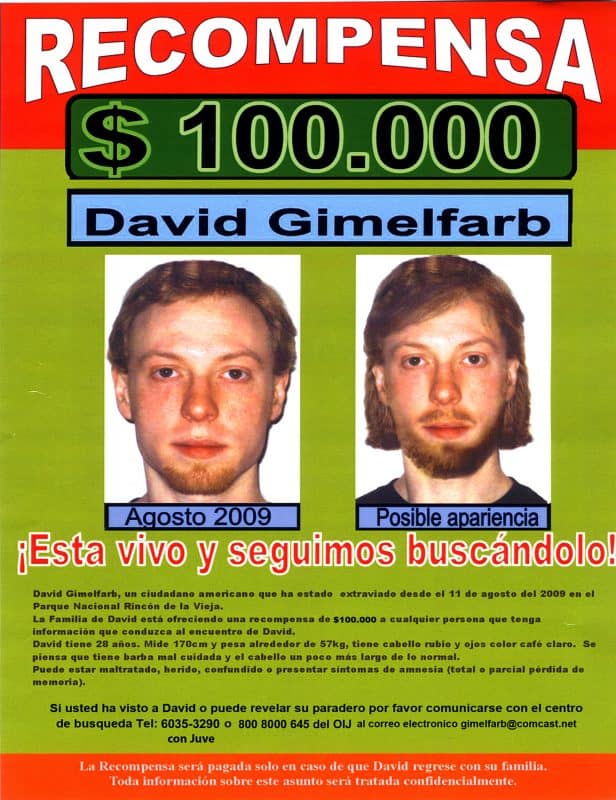 Please report any tips to the family by emailing gimelfarb@comcast.net or calling the OIJ at 800-8000-645.