Costa Rica confirmed 68 new cases of the coronavirus over the past day, totaling 1,939 cumulative known cases, the Health Ministry announced Thursday afternoon.
Thirty-eight more people have been classified as recovered under Costa Rica's new definitions that qualify certain patients based on time rather than a negative test.
Costa Rica has 990 active cases and 937 recoveries.
Twelve people have died in Costa Rica after contracting the coronavirus. Twenty-five people are hospitalized with COVID-19, three more than Wednesday. Three people remain in intensive care.
The data mean Costa Rica has 2.35 coronavirus deaths per 1 million people.
Costa Rica processed 498 tests for SARS-CoV-2 over the past day and 33,780 in total. It has averaged 403 tests over the past five days.
Active coronavirus cases in Costa Rica
The Health Ministry said earlier this week that approximately 90% of cases have had their epidemiological nexus identified.
We will update this section when the Health Ministry provides the detailed breakdown for the day. This is expected at 3 p.m.
The below map has been updated through June 17, 2020: 

`The below chart was last updated June 18.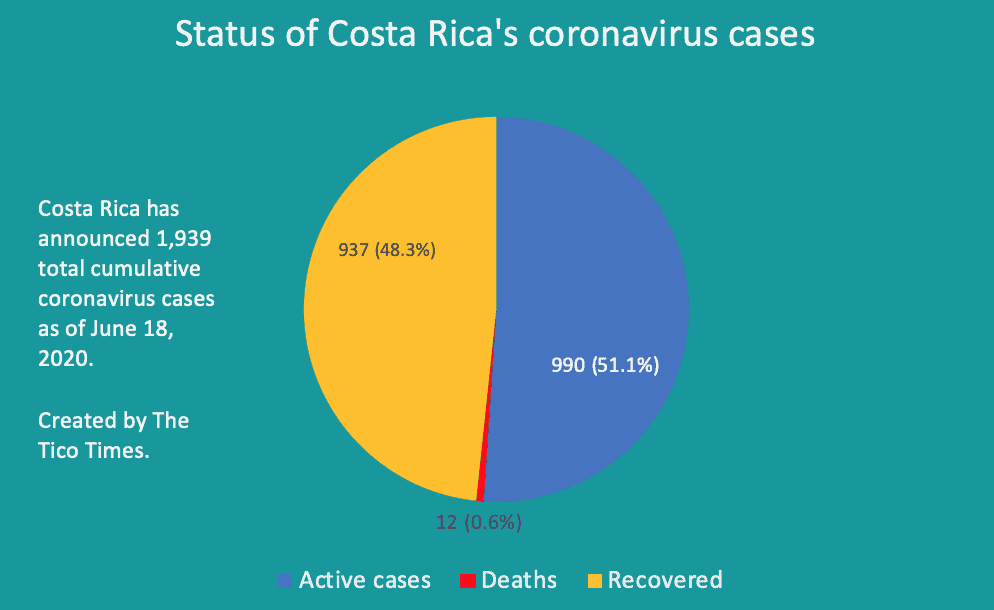 Timeline of COVID-19 in Costa Rica
Costa Rica is enforcing nationwide driving restrictions until at least June 20. Click here for full details.
If you believe you may have contracted the coronavirus or have questions regarding the virus, contact Costa Rican health authorities by dialing 1322.