Costa Rica confirmed 50 new cases of the coronavirus over the past day, totaling 1,662 cumulative known cases, the Health Ministry announced Saturday afternoon.
Twelve more people have been classified as recovered, leaving Costa Rica with 743 total recoveries and 907 known active cases.
Twelve people have died after contracting the coronavirus. Nineteen people are hospitalized with COVID-19; three people are in intensive care.
"For the moment, we haven't had that impact [of hospitalizations], but that's not saying that there couldn't be an impact in the coming days," said Health Minister Daniel Salas.
455 new tests processed today
Since Costa Rica began reporting daily testing totals in mid-April, it has averaged 378 tests per day. The country has averaged 428 daily tests over the last five days.
Costa Rica has processed a total of 31,763 diagnostic tests for SARS-CoV-2 (455 more than Friday).
The country has approximately 38,000 available PCR tests, the Health Ministry said Friday.
The Health Ministry conducts contact tracing, monitors high-risk regions and tests wastewater in some areas to help track outbreaks.
In addition, the National Emergency Committee has evacuated some high-risk communities to shelters, it said Wednesday.
Active coronavirus cases in Costa Rica
The cantons with the most new cases Saturday are Escazú (8), San José (7) and San Carlos (6).
Actualización de datos sobre el COVID-19, correspondiente al 13 de junio de 2020.
Somos fuente oficial de información. pic.twitter.com/KEbWfdSkIT

— Ministerio de Salud de Costa Rica (@msaludcr) June 13, 2020

The below map has been updated through June 10, 2020: 

`The below chart was last updated June 10.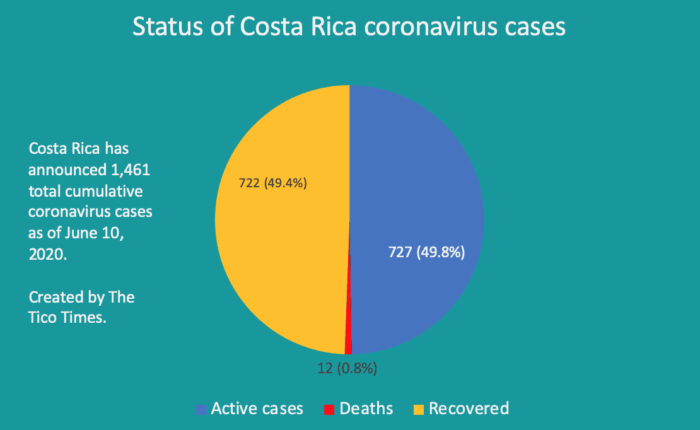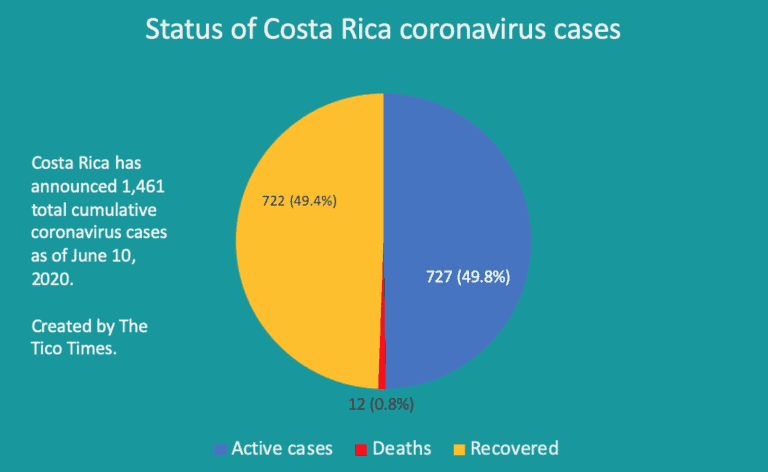 Timeline of COVID-19 in Costa Rica
Costa Rica is enforcing nationwide driving restrictions until June 20. Click here for full details.
If you believe you may have contracted the coronavirus or have questions regarding the virus, contact Costa Rican health authorities by dialing 1322.