It feels amazing to truly get away from civilization — way off the beaten path. The peace, the quiet at night, no radios, no TV, no traffic noises. Time to reflect, time to think, time to dream.
The best of all worlds
People away from towns and cities seemed glad to see someone enjoying their little piece of heaven. They honked and waved when they drove past us, giving thumbs-up and encouragement.  Sometimes they offered a cold drink or asked where we were going, thinking that we must be lost.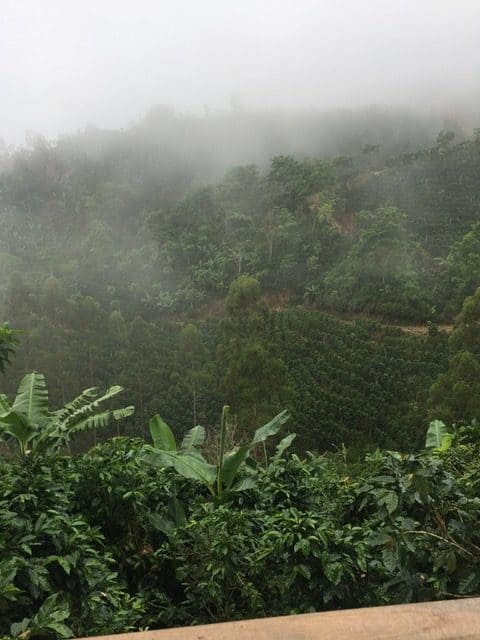 I enjoyed all sections of El Camino, and it's hard to pick a favorite, because they all had elements I loved. But if forced to choose one, I would pick high in the mountains — coffee plantation country.
The air is dry and cool, perfect for hiking.  The people are the friendliest, because they rarely get travelers in that area. The mornings usually off start with a mist gently watering the coffee that burns off to a crystal-clear day where you feel you are on top of the world and can see forever.  Often, we walked along a road cut into the top edge of a ridge which allowed 360-degree views for miles and miles.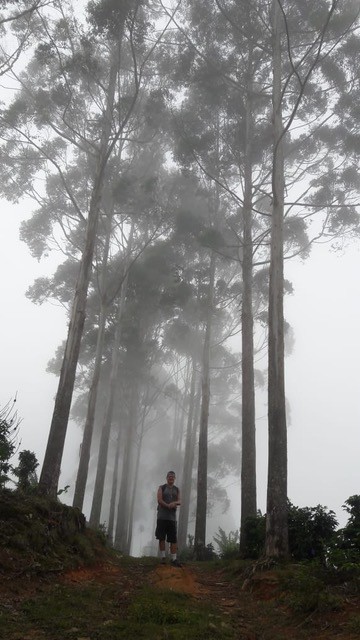 My favorite picture was this one (taken by our great guide Jorleny, who has completed El Camino five times in the last 13 months), taken mid-morning at about 6,000 ft.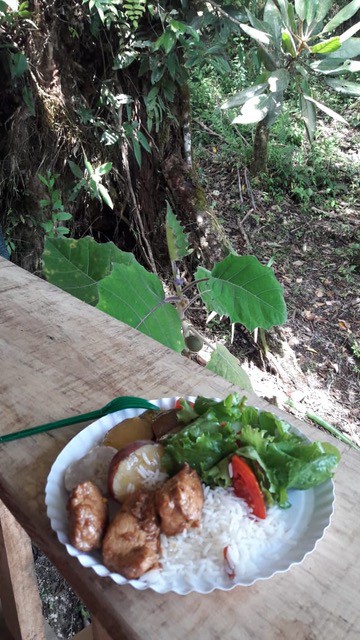 My favorite lunch was this one, put together by Jose, our jungle guide, after a three-hour slog uphill in muddy conditions. Curried chicken, rice, salad, and root vegetables. It was so welcome as well as delicious. We were all famished after that morning!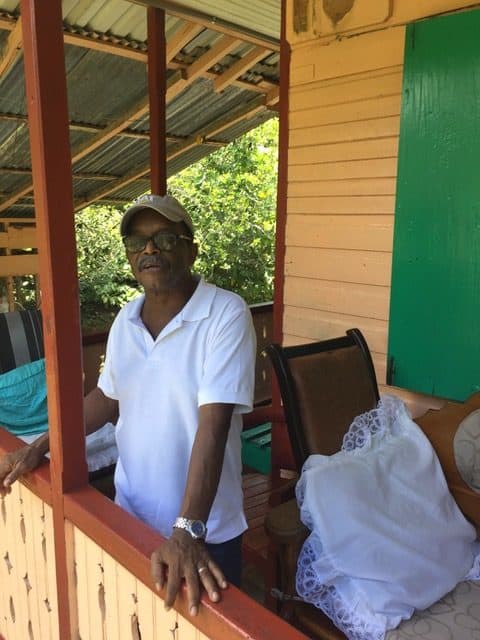 I appreciated meeting Bradley, pictured here standing on his porch. I stopped to say hello as I passed his beautifully crafted Caribe home. He proceeded to give me the story of how his father had purchased it 75 years ago and how Bradley (now 74) had grown up in it. His mother still lives there.
Bradley was wonderful to talk to, and he insisted that I take home some of the nutmeg he grows on the property, which he was drying that day. Interactions like this absolutely make the Camino the amazing trip it is.
My favorite sighting was watching an adult male Resplendent Quetzel preen itself for 10 minutes at the top of a tree in the jungle.  Our guide, Sergio, spotted it through a small hole in the canopy. I'll never figure out how he did it, but wow!
No shortage of memories were stored away from this hike. Memories to last a lifetime.
Earlier this year, we told you about Camino de Costa Rica, a 280-km hike from Costa Rica's Atlantic to its Pacific coast. 
Garry Wallace recently completed the Camino de Costa Rica, and he wrote a series of stories recounting the experience.
Garry Wallace is a managing partner at Serenity Boutique Hotel in Quepos, Puntarenas.  Learn more at www.serenityhotelcostarica.com.