One of the biggest reasons I was motivated to hike El Camino was the chance to visit indigenous communities, better understand the daily challenges they face and in some small way help make their lives better. Getting to the village of Tsiobata, located in Nairi Awari Indigenous Land, was no easy task but well worth the effort.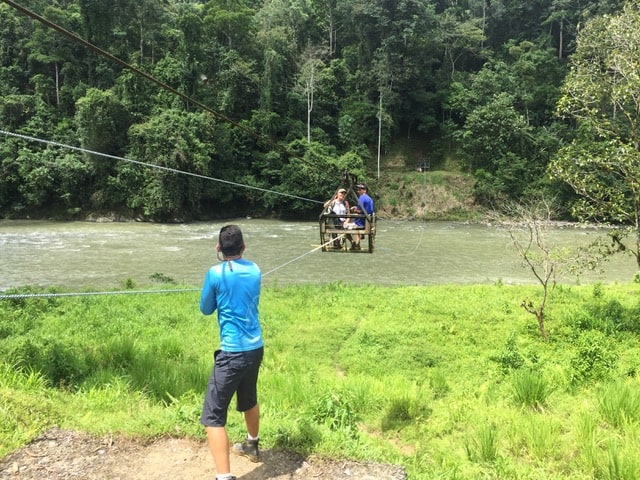 El Camino De Costa Rica Trail and its relationship to the indigenous peoples
The village has no road access, so we had to hand pulley our way across the Pecuare River in small basket, then negotiate our way up a muddy and steep hill for more than a kilometer just to reach the path that led to the village.
Tsiobata is a two-hour hike away from the closest access point. Knowing that the villagers do this trek once or twice a week to get supplies they couldn't produce themselves was sobering. They often do the four-hour round trip carrying 25 kilos on the return (sugar, rice, flour, etc).
Education is an important part of the village life. Students often come long distances every day to attend.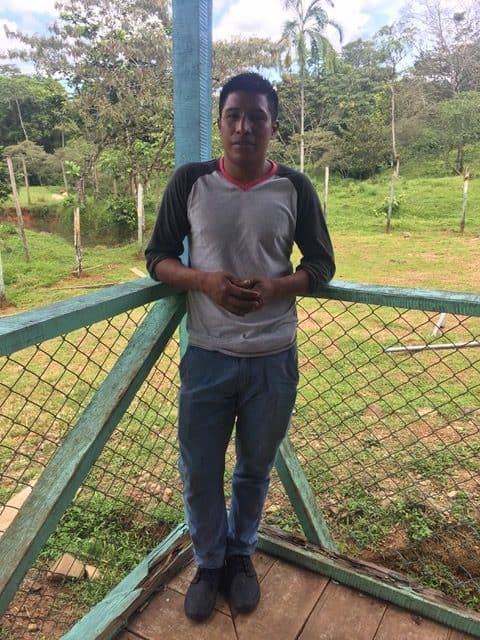 The class of 16 students is composed of multiple grades, all taught in one classroom, with senior grades often assisting to teach junior students. Jose Morales Sanabria, their teacher, walks seven hours a week to bring education to two different indigenous communities. Heavy rains in the jungle can make his weekly journeys extremely difficult, but he is so proud of what he brings to the children that nothing stops him.
A small amount of revenue comes into the village as every group visiting does so guided by an indigenous guide. But the community has bigger plans to offer outsiders a more comprehensive traditional experience.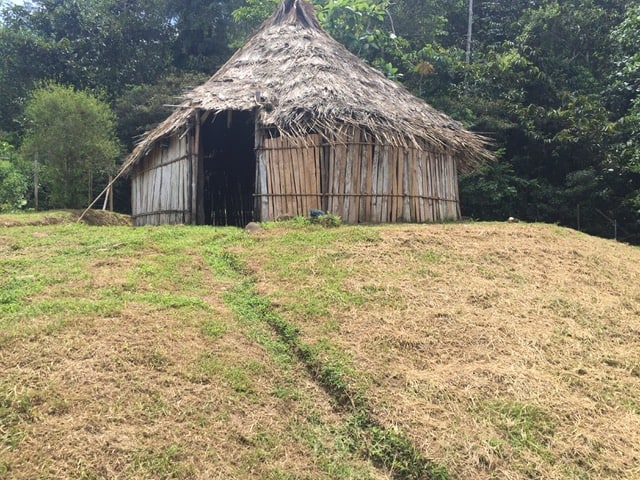 They built a traditional ceremonial hut for hikers to visit and see demonstrations/rituals in.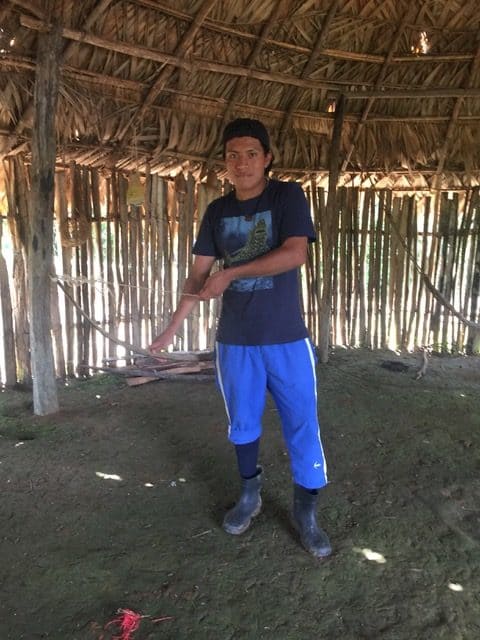 Leo, the village's eco-tourism project leader, tests out a traditional bow and arrow made from jungle vines and wood.
Upcoming projects include providing group lunches of traditional foods and making jewelry crafted from jungle seeds and vines. All this will bring more revenue to this remote part of Costa Rica and these wonderfully warm people.
El Camino is seeking other ways to assist indigenous communities. They are currently in pursuit of an international grant that will fund a construction project to make the path up from the river safer and easier.
Clearly, that's a win for the Camino de Costa Rica hikers, but more importantly, for the people who use it daily and rely on it as a lifeline. There are several joint projects such as this in the works between indigenous communities across Costa Rica and El Camino organizers. Volunteers, anyone?
Today was an incredible opportunity to interact with some truly amazing people who have chosen to protect their generations-old lifestyle and live without many modern conveniences in order to cherish their traditions.
Earlier this year, we told you about Camino de Costa Rica, a 280-km hike from Costa Rica's Atlantic to its Pacific coast.
Garry Wallace recently completed the Camino de Costa Rica, and he wrote a series of stories recounting the experience.
Here is Part 3 of hiking the Camino de Costa Rica
Garry Wallace is a managing partner at Serenity Boutique Hotel in Quepos, Puntarenas. Learn more at www.serenityhotelcostarica.com.