Today marks one week since unions around Costa Rica called for an indefinite strike to protest a proposed tax-reform bill. Carolina Hidalgo, president of the Legislative Assembly, called on lawmakers to start debating the bill today as protests enter their second week.
The general strike kicked off on Sept. 10, with a march that started at La Merced Park in San José and finished at the Legislative Assembly. Heavy rains then dispersed protesters at about 1 p.m.
Protests continued throughout the week and there were sparks of violence on the third day. Protesters took down a metal barricade that police had set up around the Legislative Assembly and riot police had to come and reinforce the building while legislators barricaded themselves in the building. University students and police also clashed later that night at the University of Costa Rica.
Sigue cayendo el hackeo masivo de videos de las protestas (ya violentas) en Costa Rica.

Y la @OEA_oficial ?? Y la @ONU_es ? Donde esta?#NicaraguaQuierePaz #SeptiembreVictorioso #HuelgaCR #PLOMO19 #12Sep pic.twitter.com/ayODzrMLVy

— El Buitre (@ElBuitreNica) September 12, 2018
One journalist was assaulted by police during the encounter.
La Fuerza Pública arremetió a golpes contra los estudiantes que bloqueaban la calle principal en San Pedro. En una acción innecesaria, ya que los estudiantes ya se habían retirado, la policía capturó y golpeó a varios de ellos. pic.twitter.com/LPwIPSV413

— Semanario Universidad (@SemanarioU) September 13, 2018
Protesters have also shouted and blocked journalists, accusing them of "selling out."
There have also been confrontations in the coastal provinces. A truck was set ablaze in Limon and an employee of the national refinery, RECOPE, was arrested for sabotaging the institution's electrical grid.
Protesters in Barranca, Puntarenas blocked traffic on multiple days, delaying people traveling to and from the coast for hours. Police officials said they're intent on keeping highways opened, but roadblocks have persisted.
A cruise ship from Mexico with 3,000 passengers cancelled their scheduled stop in Puntarenas today due to the strike.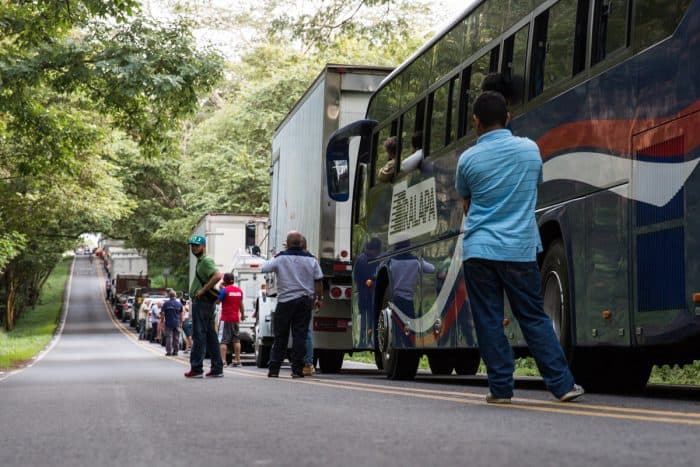 There was also a pipeline spill in Puntarenas last night. More than 1,500 gallons of diesel spilled from a pipeline and the government is accusing protesters of "sabotage." Alejandro Muñoz, president of RECOPE, said that the pipeline was deliberately perforated to spill diesel onto the highway.
"This was premeditated, they sabotaged the pipeline," Muñoz said.
Roadblocks in Guanacaste and Cartago also interrupted Independence Day celebrations. Protesters blocked the Independence Torch, which travels through Central America to commemorate the region's independence, in different parts of the country. The torch eventually had to be airlifted to Cartago, it was the first time its path in Costa Rica was interrupted.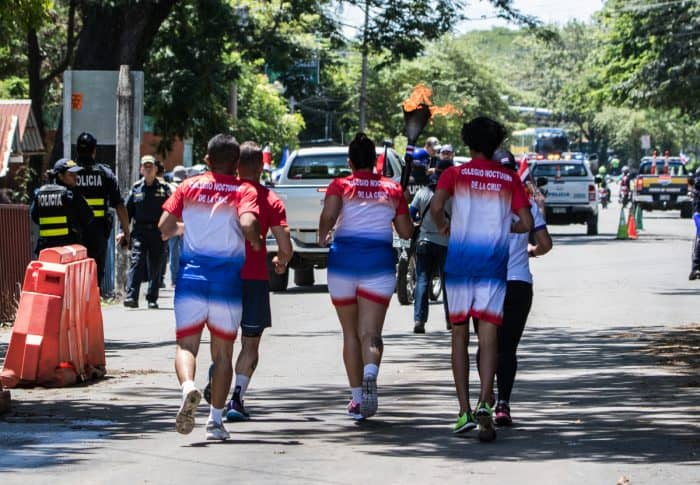 President Carlos Alvarado has expressed his willingness to talk with union leaders, but the government has also declared the strike illegal. Lawmakers will continue distart scussing the proposed tax-reform bill today and more protests and roadblocks are expected.
We recommend following TicoTrafico on Twitter. They've been crowdsourcing reports from Twitter users on which roads are blocked. You can also follow the #HuelgaCR hashtag on Twitter for more updates.
We also recommend using Waze to look up your route beforehand and see if there are any reported stoppages or unusually high levels of traffic.