Dozens of people waited for the independence torch in Peñas Blancas, the Costa Rican town on the border with Nicaragua. There, the two countries are divided by a diagonal line where Costa Rican asphalt meets Nicaraguan cement.
There are two huts, just a few meters apart where police from different nations stand guard all day. It's exactly there where dozens of people await the torch, which has traveled the same path for more than fifty years.
But this time's different.
For days, the torch moved through a Central America submerged in protests, repression, assassinations, and violence. In the early hours of Sept. 13, it passed through that asphalt line at Peñas Blancas and through an implicit enmity between Ticos and Nicaraguans, which has been stronger in recent months.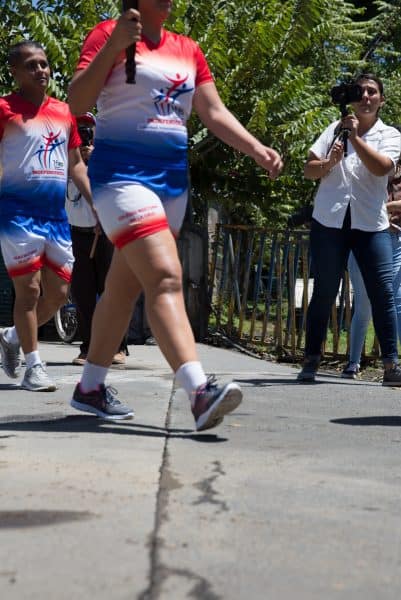 There are serious and angry faces in the north. Flags of the Frente Sandinista de Liberación Nacional (FSLN) fly above the Nicaraguan one. A giant sign with the faces of Daniel Ortega and Rosario Murillo welcoming you or saying goodbye looms over travelers. Soldiers with military weapons roam the place with an air of despair and distrust.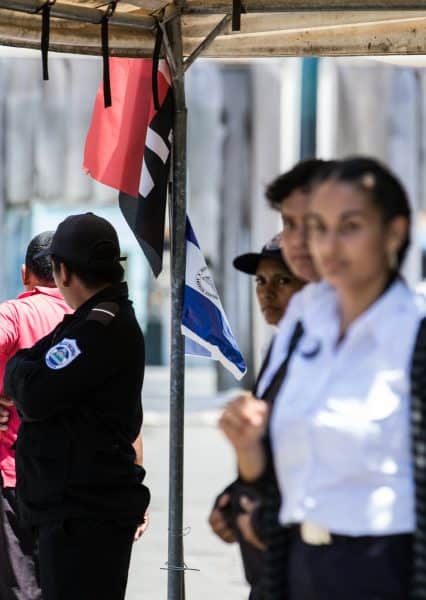 Some Costa Rican police spoke among themselves:
"Do you realize that the torch is moving from North Korea to South Korea?" one immigration officer said.
Nicaragua's partisan alienation and political radicalization has made it worthy of comparison with the enigmatic Asian nation.
"Don't you read the news? It's not perfect here. There are protests too," his partner said.
Costa Rica has been enveloped in protests against a proposed tax-reform law since Monday. It was a central part of Carlos Alvarado's campaign but now unions, public sector employees, students, and political groups opposed to the ruling party have hit the streets to oppose it.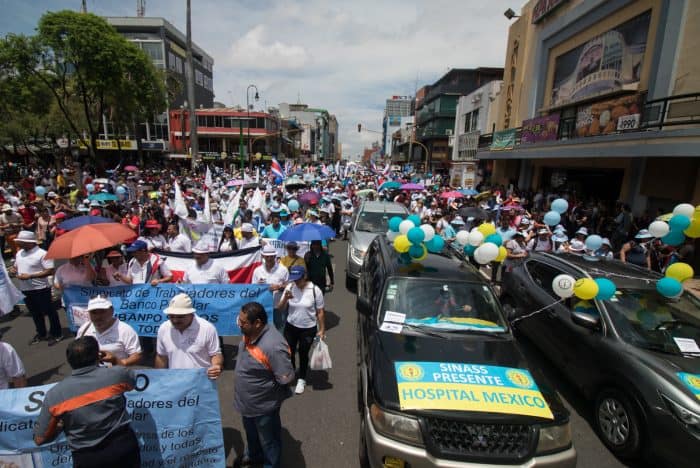 The protests stopped Édgar Mora, Minister of Public Education (MEP) from attending the torch handover at the border. Vice Minister Rosa Odolio had to take his place.
It's ironic to think that this symbol of international freedom and liberty passed through Daniel Ortega's hands a day earlier. The same man who the United Nations (UN) says does not provide an environment of peace and freedom for his people.
Costa Rican journalists and government officials who hadn't signed up beforehand weren't allowed to cross the border to document the delivery. I asked one of the Costa Rican immigration authorities if it is common to see the scene.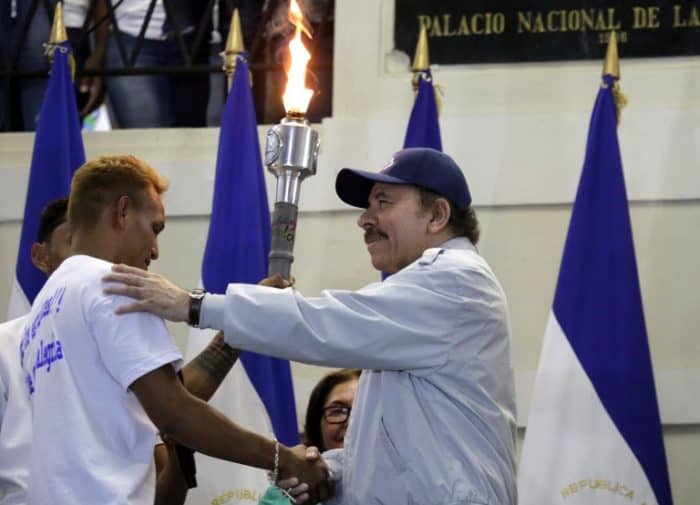 "[The Nicaraguan immigration police] are like that. That doesn't surprise me. You'll get used to it," he said.
According to reports from the MEP, the delivery between countries only had a few formalities from Nicaragua and the notes of the Costa Rican hymn were played. It was something small, simple.
In her speech, Miriam Raudez, Sandinista Minister of Education, insisted that in "Nicaragua everything was normal and peaceful," contrary to reports from the Organization of American States (OEA) that say there is a serious state of repression in Nicaragua. Raudez affirmed that there wasn't any type of crisis.
"A victorious greeting from the president Daniel Ortega and Vice President Rosario Murillo. We are not a people that get scared, we are a people of peace, we want peace. This country has been able to transcend any plan to destabilize and break peace in Nicaragua, they couldn't and they won't. These heroic people work for peace," said the minister, according to La Nación.
Later the torch was taken by Deylin Ugarte, a student at of La Cruz's night school.
Six years ago, Deylin, tall and imposing, had to leave school because she got pregnant. This year she was chosen as the best student of her school and was in charge of crossing this symbol between the two borders.
The torch, which has been recognized as a Costa Rican patriotic symbol since 2005, entered Costa Rica late. It was held up in Liberia because of strikes and delayed more due to blockades in Guanacaste and Puntarenas.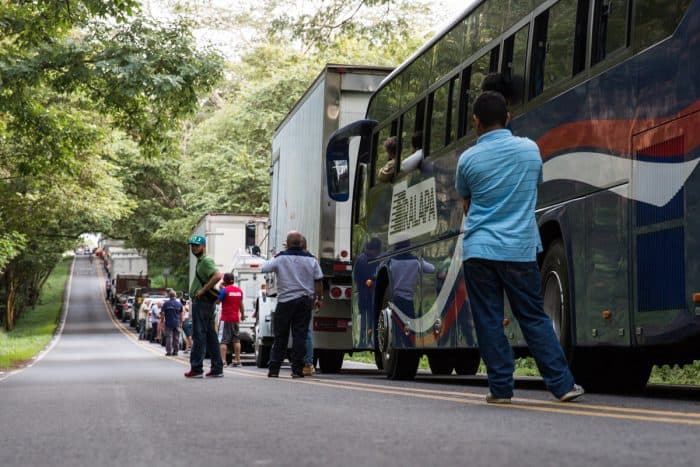 In these provinces, a group of protesters decided to block roads to the capital to protest tax reform and protect themselves from police.
As reported by the MEP, protesters with the National Association of Educators (ANDE) and the Association of Teachers of Second Education (APSE), detained and harassed students, teachers and MEP officials, forcing them to airlift the torch Cartago.
The Education Minister, Edgar Mora, acknowledged these reports and noted that this was the first time the torch's route was interrupted in since the tradition started 54 years ago.
"It is a lie that there were no deliberate acts to delay, delay, interrupt and use this patriotic symbol in a different way than we have used it for years," Mora said.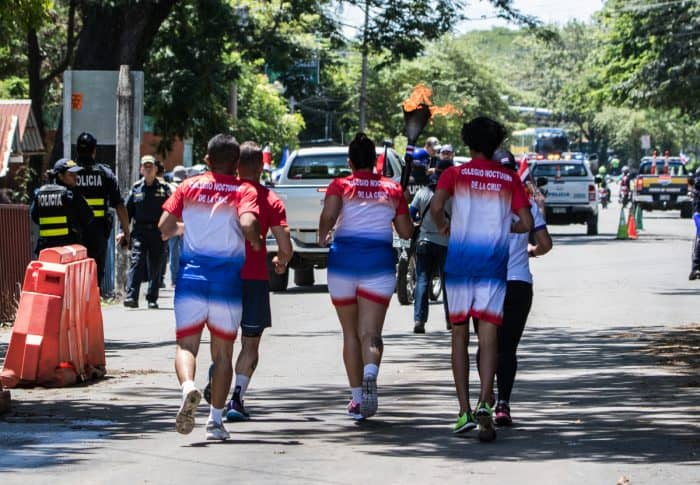 The torch will end up in San José on Sept. 15, the Independence Day of Costa Rica, Nicaragua, El Salvador, and Guatemala.
The future of Central America is uncertain. The region is home to some of the most violent cities in the world. Nicaragua is engulfed in a dictatorship. Costa Rica, a beacon of stability in the region, is facing an economic crisis.
Central America, a territory that was celebrating its liberation and independence 197 years ago, is filled with people fighting for freedom and peace again.
It seems like a cycle that will never end.