This report is sponsored in part by: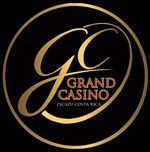 SANTA ANA, San José — Here on the edge of urban boom and bucolic bliss, there are a dozen decent hotels and probably 100 restaurants to choose from.
The best of the hotels are notable for their design, location, artwork and views, the restaurants for their food, ambience and service — and both for their overall guest experience.
We spent over a month exploring the lodging options in this area and growing fat on all the good food. Here are The Tico Times' top picks for five good hotels and five good restaurants in a range of prices in the Santa Ana area.
HOTELS
Studio Hotel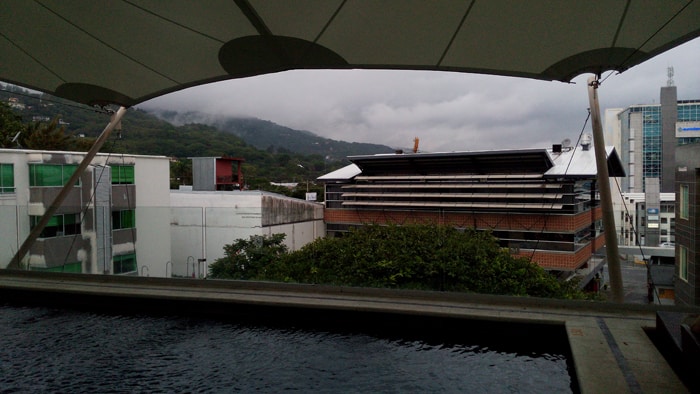 Step into this ultramodern, 5-star hotel and you'll think you're in an art gallery. Stunning paintings by Costa Rica's greatest masters cover every wall and striking sculptures adorn the common spaces. The paintings alone, mostly modern in style and mostly portraits (and nudes), set the place ablaze with colors and shapes. Many of them are huge, and they're not just in the lobby — they line every hallway and stairwell. You could spend an hour just walking around staring at the art.

General Manager Aldo Annese, whose family owns the hotel and whose father collected most of these paintings, said an ex-minister of culture, Carlos Francisco Echeverría, did a curation and evaluation of the collection and said it's "equal or superior in importance and quality to the Museum of Costa Rican Art."
Rooms are also of standout quality, with modern furniture, flat-screen TVs and cozy beds smothered in 10 (ten!) pillows. On the top floor, the third, there's a large, shade-covered swimming pool with nice views looking east. There's a gym and eight conference rooms, including one that can seat 150 people. Rates are quoted at $100 to $150 double, tax and breakfast included. But when I visited the prices quoted to all at the front desk were $70, the same as on Expedia. That's a major bargain for a hotel of this quality.
Hotel Alta Las Palomas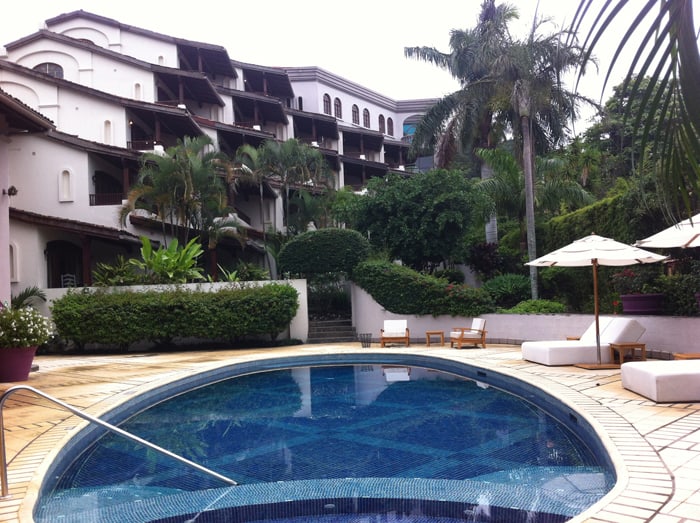 Here you may feel transported to an old Mediterranean castle, with its grand ceilings and arched doors, though the playful light purple that dominates the color palette reminds you that this is a very 21st-century place.
The Alta was built on such a steep hill that when you enter the lobby from the parking lot, you're already on the third floor, with two floors below and two floors above. The challenge for celebrated Costa Rican-German architect Rolf Ruge was what to do with the long downhill that leads from the lobby to the restaurant and swimming pool. His excellent idea was to recreate a pedestrian street in a Mediterranean village, like something out of Italy or France, with a series of rounded stairs leading down, surrounded by charming Old World décor.
A guanacaste tree said to be 200 years old dominates the gardens at the foot of the pool — a popular spot for weddings and other romantic occasions. Elevators connect the five floors, but you may prefer to take the big, rounded stairs for the sweeping interior views they afford. Arches are everywhere, from the hallways to the hotel room doors to the interior doors and even showers, alluding delightfully to another place and time. Prices are around $200 a night, with a special $198 "romance package" that includes a room for two, a three-course dinner, a glass of wine, tapas at sunset and breakfast. Don't forget to bring the ring.
Aloft San José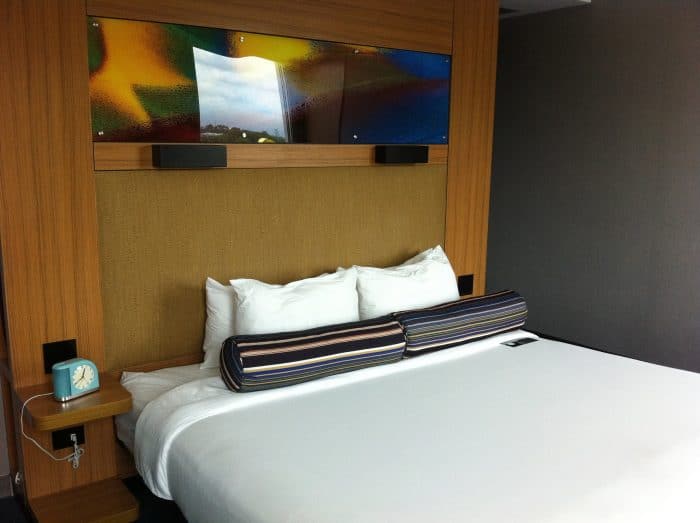 This 4-year-old, 4-star hotel on the Lindora road breaks the mold for originality, with a colorful, musical vibe from the moment you enter the lobby, which looks like it was designed by eccentric geniuses on happy pills.
Paper soccer balls were hanging from the ceiling when we visited, in honor of a fútbol tournament, over a lounging area facing a stage where bands sometimes play live music. There's a pool table to the left, and a swanky bar in the rear called Wxyz. The reception desk is oddly round, the furnishings modern and multi-colored. It feels like a space where millionaires could have a fun business meeting, or where you could release a busload of 4-year-olds into a big romper room.
The 150 rooms on the seven floors here are unorthodox yet ultramodern, skipping the traditional but little-used closet in favor of more innovative use of space. The main room is dominated by one king bed or two queen beds, and there's a desk overlooking a window, with fabulous views from the upper floors. Standard rates are $109 to $115 double, plus tax, with special prices on weekends for Costa Rican citizens and residents: $79 plus tax. You may find lower rates on expedia.com or booking.com.
Hotel Luisiana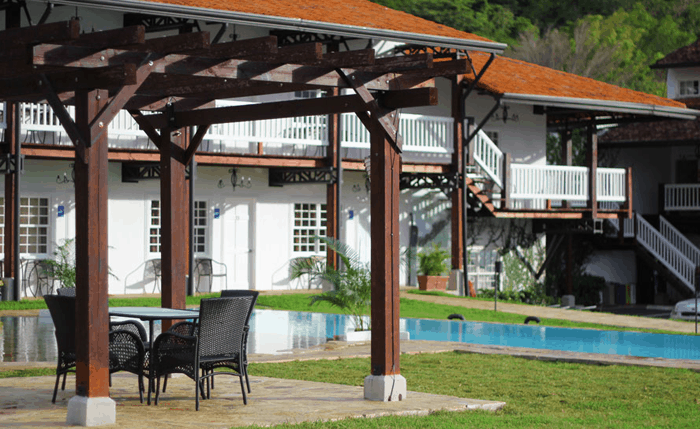 Originally a horse-breeding farm and a home owned by people from Louisiana, this hotel is an excellent value in a centrally located yet semi-rural location. Rooms have all the touches for which you would expect to pay twice the price: A/C, minibar, smart TV, large desks (some of them rolltops), and free international calling to North America, Europe and even parts of Asia.
The three-story hacienda-style buildings have red tile roofs and are supported by large wooden posts, with wrought-iron chandeliers in exterior corridors and what resemble old-fashioned multi-paned windows. The free-form pool has a large, shin-deep area perfect for toddlers, alongside a decent-sized lap pool. And just behind the hotel is a big expanse of green hills, though it's only eight miles to the airport.
Published room rates are $55–$85 double, plus tax, though the hotel offers deals on expedia.com as low as $36.
Holiday Inn Express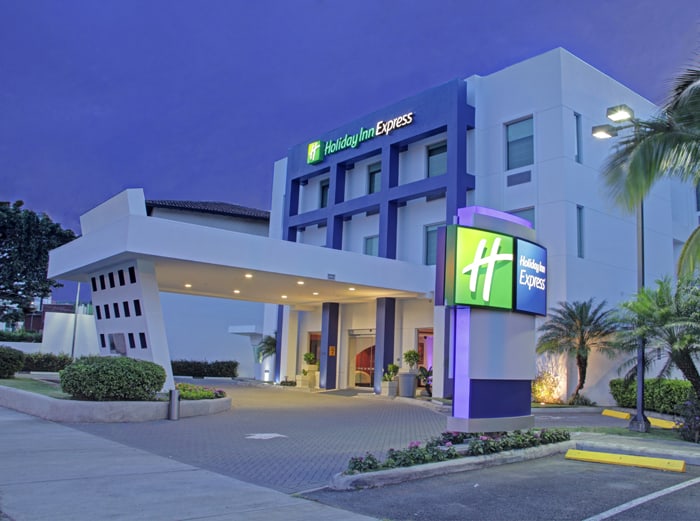 The Holiday Inn Express, just off the bustling Lindora road, is one of the most-booked hotels in Santa Ana and is a solid mid-price option for travelers flying in or out of Costa Rica, as well as people doing business in the area.

It has all the comforts of its counterparts in the U.S. (plus palm trees): heated pool, gym, free Wi-Fi, air-conditioning, hair dryers and irons, all for $69-$99 plus tax on weekends, $89-$119 on weekdays, depending on the season. (Hotel prices in Santa Ana are often higher on weekdays because of the high volume of business travelers, but this is good news for international tourists, who often fly on weekends.)
The "Express" part means you give up a few luxuries: There are no bellboys, no room service, no bar, and the restaurant serves only breakfast (which is included), but it's a one-minute walk to an open-air mall next door that is packed with excellent restaurants. This hotel may not be the place to go for Costa Rican-style nature and solitude, but as an airport stopover it offers hundreds of shops, restaurants, bars and other businesses within walking distance, and it's an eye-opening window into the urban boom in Costa Rica that you won't see at the beach.

RESTAURANTS
Bacchus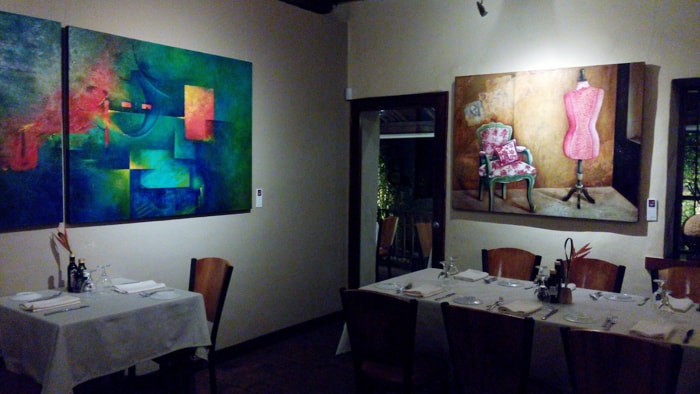 Bacchus is a treat for the senses in more ways than one. Housed in a historic 1870 adobe home called Casa Quitirrís that has been declared part of Costa Rica's architectural heritage, the restaurant is decorated with splashy modern art for an intriguing blend of old and new.
Bacchus describes its menu as "a culinary voyage through Italy," featuring homemade pastas, lots of seafood, imaginative salads and a long wine list. The most popular dishes are oven-roasted octopus with spaghetti, mussels, white wine and garlic (c14,500), and pan-fired seabass with shrimp, mussels, octopus and white wine and parsley (c15,800). We had them both, and they were great.
If you want, you could top that off that a crepe filled with Nutella, whipped cream, toasted hazelnuts, cherry compote and chocolate sauce (c4,700). This is a place to splurge, and the romantic ambience makes it a good choice for a date night.
Pikeos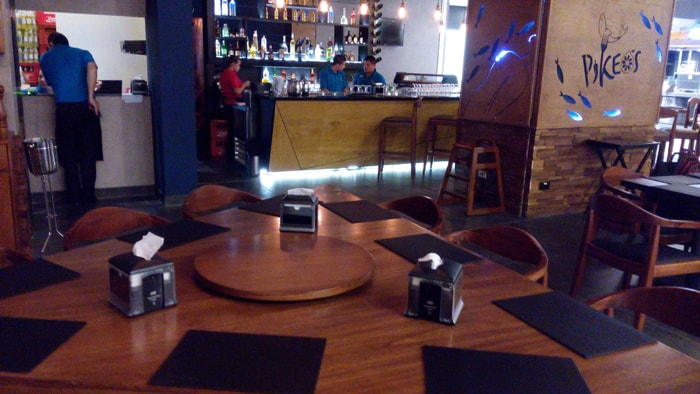 There's been a bit of a shake-up among Peruvian restaurants here, with the Pikeos brand recently acquired by the family that owns the La Fonda Azteca chain of excellent Mexican restaurants. With one Pikeos already open in Curridabat, the family opened another on July 15 in the new Terrazas Lindora mall in Santa Ana, and it's outstanding.


The décor is sleek, the furniture is modern, the bar is beautiful, and the food is overseen by a chef with 25 years' experience at Pikeos Machu Picchu (from which the new owners bought the brand). "Pikeos" means food to share, and perhaps the standout dish, for up to five people, is the ₡49,990 "Pikeos Tai Pa" (which means "abundance"): grilled shrimp, jumbo shrimp, seabass, tenderloin, chicken breast, mussels, octopus and black clams, marinated in olive oil, oregano and parsley.
"We have the best of both worlds: the authentic Peruvian cuisine and the fusion, the mix of flavors," manager Alejandro Miguel García said. You can get the party started with one of six cocktails made from pisco, a traditional Peruvian brandy, and you can't go wrong with the classic pisco sour: pisco, egg whites, lime, sugar and cinnamon. For a fine finish, try the suspiro limeño, or Lima merengue, an iconic Peruvian dessert made of condensed milk, whipped cream, pisco and cinnamon.
Naans & Curries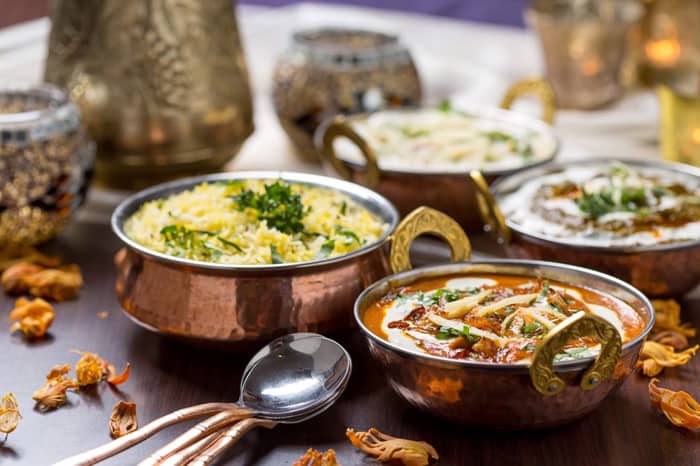 Sometimes you just need a little chicken tikka masala with basmati rice (hold the beans). One billion Indians can't be wrong.
This place gets it right, as it has demonstrated by being rated No. 1 on Trip Advisor of 68 restaurants in Santa Ana — a significant accomplishment for an eatery that has nothing to do with the cuisine of Costa Rica. Naans & Curries is the brainchild of Kapil Gulati, who was born in Punjab, grew up in New Delhi, came to Costa Rica and started missing the food he grew up with. So after long tasting sessions in India, he brought in six good chefs to tend his two restaurants, and started importing all the ingredients he would need from India, the U.S. and Canada.
"It's up to the level of any upscale restaurant in India," Gulati said. The most popular dish here is butter chicken, followed by the lamb. When the restaurant offered an all-you-can-eat Father's Day special for $35, with a multi-item menu fit for a raj, it was so popular it was brought back and is now offered every day. But you'll get plenty to eat for only $8, ordering from the lunch menu.
Carnes Don Fernando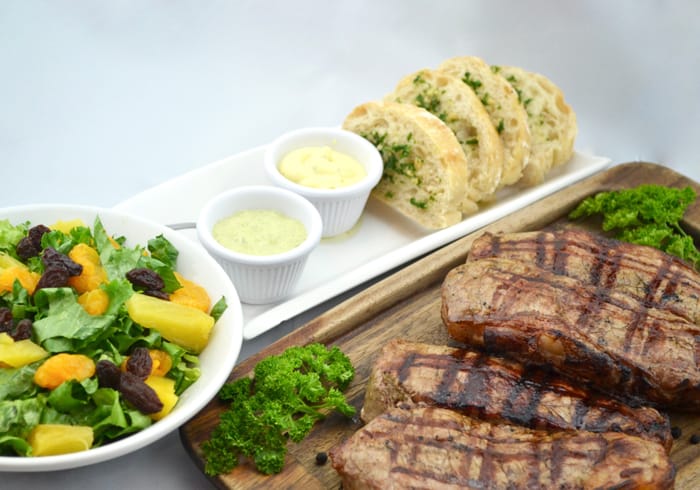 It's all about the beef at Carnes Don Fernando, a unique enterprise that raises all of its own cattle and sells its beef at butcher shops next door to its steakhouses. It has carnicerías at five locations, of which four are attached to restaurants, including one on the Lindora road in Santa Ana.

One extraordinary concept here is that restaurant guests choose the actual cut of meat they want from a display case in the dining room, which has cuts of tenderloin, ribeye, New York, sirloin and churrasco (strip loin). The meat is then cooked on an open grill in the dining room and served with the side of your choice (like the very tasty chipotle mushrooms).
"Something very important is that the meat of Don Fernando doesn't have antibiotics and doesn't have hormones," said Jose Carlo Jiménez, manager of marketing. "It's 100 percent natural. We make sure the beef isn't fed with any type of hormone to increase its growth or its productivity." In addition, the company has been awarded Blue and Green Banner certifications that recognize its sanitary water management. And the 120-hectare company farm in La Fortuna, which has nearly 1,000 head of cattle, has been recognized by the Environment Ministry for waste-management practices that contribute to carbon neutrality.
Tap House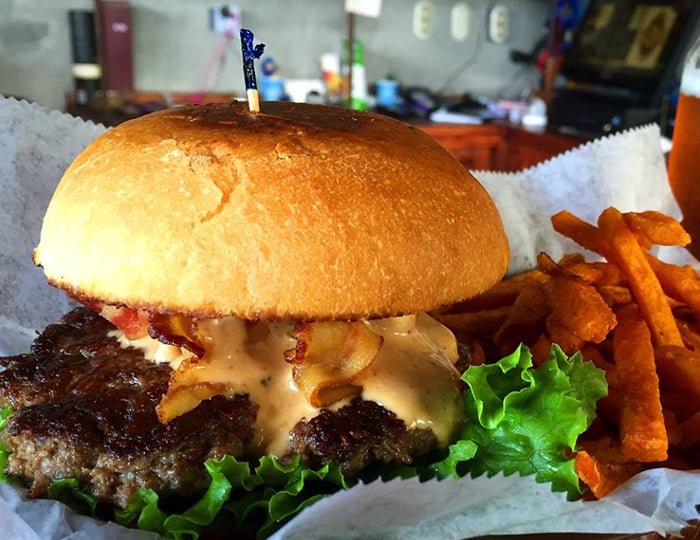 With two Santa Ana locations, this ode to Texas barbecue joints has become a popular choice for both Ticos and foreigners. The menu offers several American staples that can be hard to find in Costa Rica.
Dishes like the rib platter, the French dip sandwich, and chicken fried steak are as good an homage to U.S.-style barbecue as you'll find anywhere in Tiquicia. The pulled pork sandwich is a favorite among locals, combining perfectly cooked meat with a tangy sauce on a white bun.
Tap House also boasts one of the largest beer selections in the area, featuring microbrews from all over Costa Rica on its taps. As bars go, Tap House is one of the few in the Central Valley that provides both good food and a broad selection of drink.
The Tico Times paid full price for all hotels and meals.
Michael Krumholtz contributed to this report.
This article concludes a series on "Costa Rica's Least Known Greatest Places," sponsored by Hotel Alta Las Palomas, a boutique luxury hotel between Santa Ana and Escazú, featuring the award-winning La Luz Restaurant. Contact Hotel Alta at info@thealtahotel.com or at 2282-4160.
Contact Karl Kahler at kkahler@ticotimes.net