Turrialba Volcano started its latest series of eruptions this month and the internet has been spewing misinformation ever since.
Rumors swirled about lava pooling at the volcano's crater, misattributed photos from other volcanic eruptions sprouted on Facebook and WhatsApp, and word spread of a conspiracy to silence a group of Japanese geologists who warned that the "big one" was finally about to arrive. The Tico Times spoke with two volcano experts about Turrialba's recent activity and debunked some of the most far-out rumors.
A Facebook user identified as Alejandro Ramirez posted a message alleging that a group of "Japanese experts" had been kicked out of the country by Costa Rican authorities because they told the government that an upcoming eruption by Turrialba Volcano was going to set off a magnitude-8.5 earthquake. For reference, Chile's devastating 2010 earthquake had a magnitude of 8.8 on the Richter scale.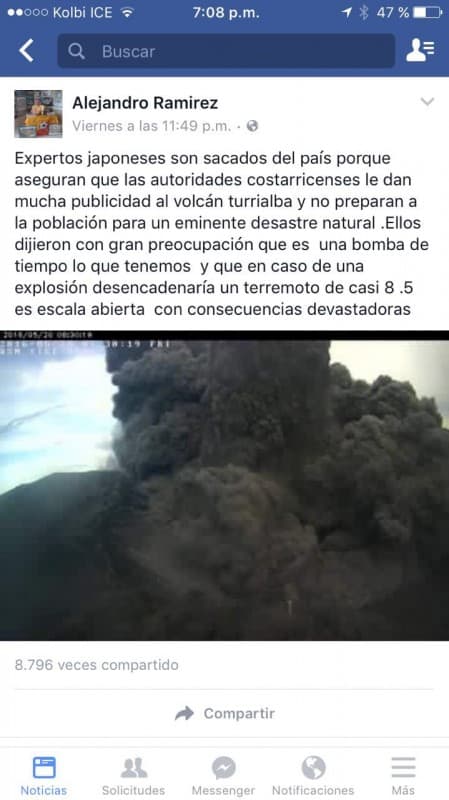 Volcanologists María Martínez and Gino González both agreed that the claim was "impossible" and "absurd."
Yes, it is possible for a volcano to set off an earthquake. Magma inside the volcano can swell and crack the surrounding rock, or heated steam can build up pressure that is released suddenly, both possibly creating small earthquakes. Martínez, of National University's Volcanological and Seismological Observatory of Costa Rica, said quakes between a magnitude of 2 and 4 could happen as a result of activity inside the volcano, but Turrialba doesn't have the potential to create something as dramatic as an 8.5-magnitude temblor.
The volcanologists agreed that there isn't enough magma inside Turrialba to cause something so destructive. The magnitude of an earthquake that size would "rip Costa Rica in two," González joked.
González of the Geophysical Research Center at the University of Costa Rica said rumors about lava in the crater, as another Facebook user claimed this week, are also untrue.
But false alarms don't mean people living here shouldn't be prepared. Homes should be stocked with clean drinking water, non-perishable food that could last for three days, proper respiratory masks, batteries, a flashlight, a radio and a first aid kit in the event of an emergency, according to the National Emergency Commission. When cleaning ash, people should use damp cloths and water, not brooms. The commission also recommends having an escape route in mind.
The commission also says people should wear long pants and shirtsleeves to protect their skin from ash. Martínez noted that fresh volcanic ash is abrasive, corrosive and acidic. She said people should not try to apply it to their skin for cosmetic or other reasons. Turrialba is not a cheap facial, people.
That is not Turrialba…
Besides rumors of impending doom, supposed photos of Turrialba Volcano have been circulating on social networks. Here's a rundown of some of the most common misidentified eruptions posing as Turrialba:
This is Russia's Sarychev Volcano erupting in June 2009.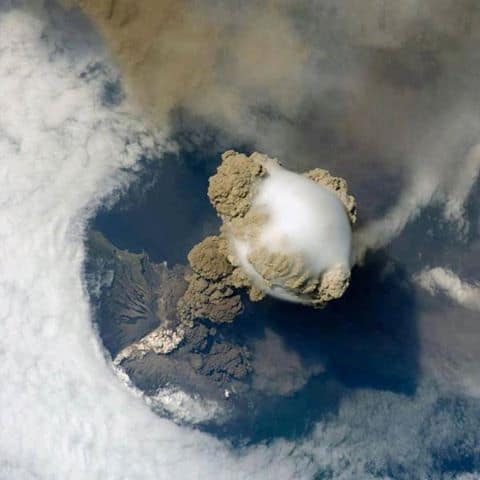 This is Indonesia's Mount Sinabung photographed erupting in November 2013.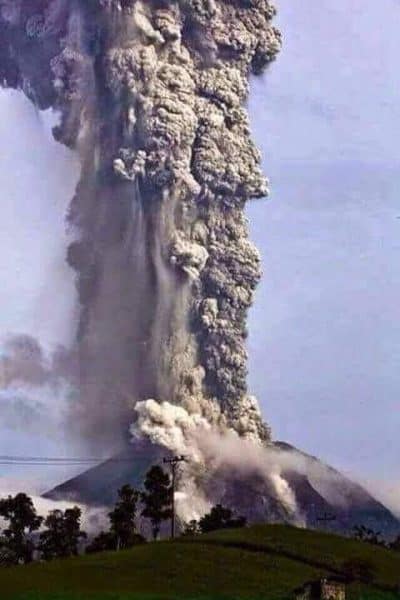 And this is Mexico's Popocatépetl Volcano erupting on Feb. 26, 2015.
https://www.facebook.com/OVSICORI/photos/a.120485684655365.9814.106757629361504/1006075906096334/?type=3&theater
Have a Costa Rica myth you want busted or a story you want fact-checked? Let us know at jillrep@ticotimes.net or on Facebook or Twitter.