EDMONTON, Canada – The summer solstice drenched this far northern outpost in more than 17 hours of sunlight each day this past weekend, perhaps a symbolic forerunner to brighter days for the U.S. women's football team.
This is not to say the U.S. squad has been swathed in darkness during the World Cup campaign. They did, after all, finish atop a difficult group to remain embedded among the favorites ahead of the knockout stage of this month-long tournament. The next obstacle is upstart Colombia in the Round of 16 on Monday night at Commonwealth Stadium.
But from the beginning of this adventure, a 3-1 victory over Australia that was more arduous than the final scoreline suggested, the U.S. has not looked comfortable with themselves.
They have enjoyed fine moments — a good half here, a scoring spell there, dense defense throughout — but not the complete performance that punctuated much of their 25 years of excellence.
They have gotten by. If not careful, though, they soon could be saying goodbye.
Everything seemed in place for a run to the July 5 final in Vancouver: an emotional wave supplied by thousands of traveling fans, a mostly healthy roster, experience and positional depth. Through the group stage, though, the U.S. failed to exhibit special qualities that portend a championship.
Acknowledging their shortfalls, Coach Jill Ellis and the players have leaned on the old cliché that it's better to be playing best at the end, not the start. Fair enough, but they have made only incremental strides. They have been good but not great.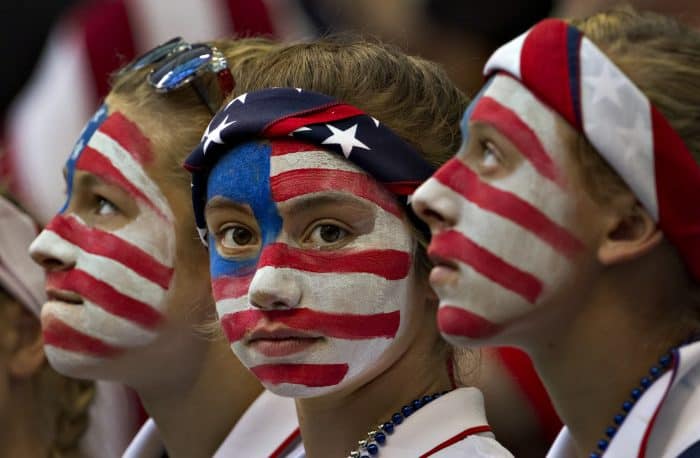 True, their path here was more problematic than Germany's, France's, Brazil's or Japan's. But they also were outplayed in the first half against Australia before rallying in the second. They sputtered through a scoreless affair with Sweden and cheated defeat thanks to Meghan Klingenberg's goal-line clearance. Abby Wambach's volley subdued Nigeria.
Based on history, rankings and reputation, the U.S. has the cleanest path among the favorites to reach the semifinals. On paper, Group D, the so-called Group of Death, posed greater threats than the first two rounds of the knockout stage: By defeating Colombia, they would face an inexperienced Chinese side in Friday's quarterfinal in Ottawa.
The Colombians, who stunned France en route to their first advancement in a major international tournament, are not the slightest bit in awe of their highly decorated opponents. In recent days, they have spoken in bold, confident terms.
American swagger has been more intimidating than their actual play. And because that play is not at full capacity, the U.S. team is bracing for a determined insurgence.
"Colombia is a fantastic team," Ellis said. "They've got a lot of technical players, a lot of special players. It's a thoughtful transition; they try to pull you apart. It's going to be a great challenge for us."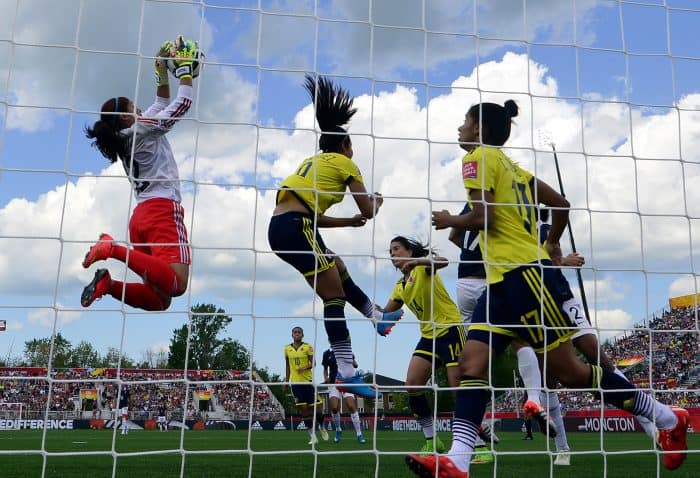 Ellis's comments reflect her respect for Colombia's accomplishments and perhaps restraint about her own underperforming team. She realizes that, despite the massive disparity in program resources and tradition, this is not going to be easy.
Aside from an emboldened foe, the U.S. again will confront their own limitations. Through three matches, they have been defined by Hope Solo's exceptional goalkeeping and Julie Johnston and Becky Sauerbrunn's seamless partnership in central defense; by Megan Rapinoe's energy and ingenuity on the left wing; by a void of creativity in central midfield; and by a rotating set of five forwards.
Without nuance and surprise, new ideas and unpredictability, opponents are better prepared, if not fully equipped, for the trial.
The U.S. has conceded just one goal but hasn't scored in the run of play since Rapinoe's late clincher against Australia. Since then, the lone goal came off a set piece near halftime against Nigeria: Wambach's leaping one-timer off Rapinoe's corner kick.
Goal production has been a concern for months: five scoreless performances in 14 matches since December, an alarming figure given the wealth of attacking riches. The longer they go without scoring or maintaining the lead, the tighter they become. And lesser opponents have seized upon those faults.
The U.S. program has not failed to reach the semifinals of a major tournament: five Olympics and six previous World Cups. And in all likelihood, the second-ranked U.S. will break from their shell, cast aside Colombia and China and forge a showdown with the top-ranked Germans in the semis in Montreal next week.
Through hard times, they have always found a way, whether with ruthless domination or late-game persistence (i.e. Wambach's unfathomable equalizer against Brazil in the quarterfinals four years ago in Germany).
This squad, though, remains functionally incomplete. And unless Ellis uncovers the answers soon, the World Cup trophy is likely to remain overseas for another four years.
© 2015, The Washington Post