In the U.S. city of Baltimore on Thursday, an undocumented mother from Mexico named Jessica Mejía, 31, was praying that President Barack Obama's executive action would protect her from deportation along with several million other illegal immigrants.
Mejia said her greatest wish is to have a work permit — and to become legalized like her boyfriend, who was granted "deferred action" on deportation two years ago, and their 5-year-old son, who was born in the United States
"This is my great hope," said Mejía, who went to a branch office of the CASA de Maryland immigrant advocacy group in anticipation of Obama's announcement.
"If I can get a work permit, I can complete the picture of my life. I can study art. I can do more and know more people, not just my boyfriend and my son," she said. "It would change everything in my life."
But in Washington's Lafayette Square, where a group of "Dreamer Moms" has been fasting across from the White House for more than two weeks, undocumented immigrant María Reyes, 68, was crushed when she asked Rep. Raúl Grijalva, D-Ariz., whether there was any hope that she and the others would be included.
Grijalva sighed and shook his head.
"It's a step, in general, but the goal we are seeking will not be realized," he said in Spanish.
Reyes, a Mexican who lives near Oakland, California, has two children who came to the United States illegally and were given temporary relief through Obama's 2012 Deferred Action for Childhood Arrivals program. But that was not enough to protect her entire family, she said. Now, she said, it seemed that Obama's new announcement would also fall short.
"It's a small bandage for a large wound," Reyes said.
Mejía and Reyes were among the winners and losers in the executive action that Obama outlined Thursday night. As the White House gradually released details ahead of the announcement, it appeared that Mejía could qualify for a three-year deportation reprieve that will be granted to parents of children who are U.S. citizens or legal permanent residents. And Reyes and other parents of the 600,000 "Dreamers" granted reprieves by Obama's 2012 executive action will not receive legal status.
Related: Obama: US will make immigration 'more fair and just'
In the hours before Obama's announcement, millions of undocumented immigrants across the Washington region and the nation awaited the news with equal measures of excitement, anxiety and confusion.
They gathered outside the White House and in Latino community centers from Los Angeles to Miami to Hyattsville, Maryland, speculating endlessly over the still-unreleased details of his plan.
Many remained torn between hope and defeat, wondering whether they would qualify for an executive action that could literally transform their lives.
What minimum age would the president set for U.S.-born children who could confer legality on their parents? How many years would he require parents to have lived in the United States? What new age limit would he set for the Dreamers — those who arrived illegally as children? What kinds of documents would they need to prove their case?
For some immigrants such as Marío Juárez, 40, a painter from Guatemala, the answers to those details was irrelevant, because there is no chance he can qualify for relief.
On Thursday morning, Juárez was one of a dozen men in thick jackets and scarred workboots waiting for day-labor jobs in a parking lot in Arlington, Virginia. All had come from Central America and Mexico, and many had lived and worked in the United States for years.
All of them knew about the president's imminent action — and all of them knew it would have no impact on them.
"I'm happy for all those families who will be able to stay together now, but there are a lot of guys like me who came with the same dream. Now we're being left out," said Juárez, who has spent the past 12 years working odd construction jobs and sending money back home to his wife and three children.
Recommended: Ellis Island in reverse: Where deportees go when they get home to Guatemala
A few feet away, José Medina, 62, nursed a cold cup of coffee. He said he had fled El Salvador in 1990 and obtained temporary protection as a war refugee but lost it because of paperwork problems and never found a way to become permanently legal.
"It's hard being alone here," Medina said, mentioning that his sister in Maryland had become legal but that she had not been able to help him."If people are criminals they should be deported, but not if they do honest work," he added. "We are all out here on the corner because we don't have work permits. Now maybe we never will."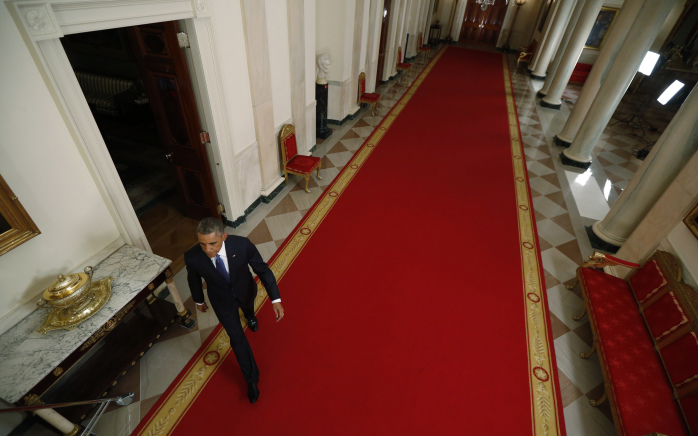 See also: Remembering the Jesuits: Seeking justice in El Salvador after a quarter-century
According to several recent surveys of the undocumented immigrant population, about 3.7 million adults live with U.S. citizen or resident children, and 6.5 million live with no children at all. Of those, several hundred thousand may qualify for protection as "childhood arrivals," a category Obama expanded.
But several million, such as Juárez and Medina, will fall outside the tent, either because they never sought to obtain permanent legal status or tried and failed. In interviews Thursday, several day laborers in Arlington, Virginia and Hyattsville, Maryland said they had not been able to parlay temporary refugee status into permanent residency. Others said they had children born in the United States but were divorced or estranged from the mother.
A few of the laborers, especially those who had joined unions or other groups, said they had been closely following the news of Obama's pending action but did not yet know the details. Some were still holding out hope of being included.
"I wish the president would help all 11 million of us, not just 5 million, but something is better than nothing," said Antonio Chávez, 52, a Salvadoran construction worker who has been in the country for 20 years but had lost his original refugee protection long ago because of legal complications.
One immigrant who has little doubts of qualifying is Rosario Reyes, 36, of Gaithersburg. She is the mother of a Dreamer, Ricardo, 19. and a U.S.-born child, Victor, 6.
After days and nights of fasting with other Dreamer Moms in Lafayette Square, she said she planned to stay there and watch the president's speech on her mobile device. But even as she smiled with happiness, her expression changed as she glanced at Maria Reyes and another protester sitting on a bench.
"I am also sad because so many don't have citizen children like I do. It's not fair," she said.
One of the women, Karina Núñez, said she immigrated from Uruguay and settled in Connecticut with her two grown children. Because neither one of them was born in the United States, she will not be eligible for legalization under the details of the executive action.
"What is the message they are sending?" she said. "Have your kids here? I pay taxes, and I should have the same rights."
Immigration activist Francisco Díaz did not hesitate to question Grijalva about the president's action when he approached the small group of immigration demonstrators in front of the White House.
"What will happen with Secure Communities?" he asked. The controversial program calls for local law enforcement to help identify immigrants for deportation and forward their information to federal authorities. It is designed to target violent criminals and repeat offenders, but critics have said it's been used to incarcerate and deport those accused of minor infractions. The Obama administration revamped the law this year, but Díaz said the program continues to wreak irreparable havoc on immigrant families across the country.
"It will be eliminated," Grijalva said, eliciting muffled claps from the gloved hands of the Dreamer Moms gathered near him. "It has brought about more problems than solutions."
Díaz, 42, who lives in South Florida, followed up with another question, asking the congressman how he felt about the action.
"For me, I don't know whether to be happy or…" Grijalva started saying when Díaz interrupted: "Es agridulce," he said. "It's bittersweet."
The congressman shook his head.
© 2014, The Washington Post