MANAGUA, Nicaragua – An interoceanic canal in Nicaragua will be built via Lake Nicaragua, also known as el Gran Lago Cocibolca – Latin America's second-largest lake after South America's Lake Titicaca – and its tributaries, the Nicaraguan government and Chinese concessionaire HKND announced on Monday.
"The canal will cross Nicaraguan territory from east to west with a total estimated length of 278 kilometers, including a 105-km stretch in Lake Nicaragua," canal engineer Dong YungSong said during a meeting with government officials and academics in Managua.
The route will begin at the mouth of Brito River, on Nicaragua's southern Pacific coast in the department of Rivas and near the country's border with Costa Rica, and will continue through Lake Nicaragua and tributaries Tule and Punta Gorda, which empty into Nicaragua's southern Caribbean, he said.
Dong said the route was selected because it would cause the least amount of environmental disruption and would facilitate the creation of a 400-square-kilometer artificial lake linked to Punta Gorda River, in the Caribbean zone. That would supply the water for the canal without disrupting Lake Nicaragua, which spans more than 8,000 square kilometers, he added.
"The operation of the canal will not cause significant changes to the water level of Lake Nicaragua, nor will it affect the supply of water for productive use by residents in the basin," Dong said.
The route was approved "unanimously" by the Great Canal Commission, which is headed by Manuel Coronel Kautz on behalf of the Sandinista government, according to Telémaco Talavera, an adviser to President Daniel Ortega.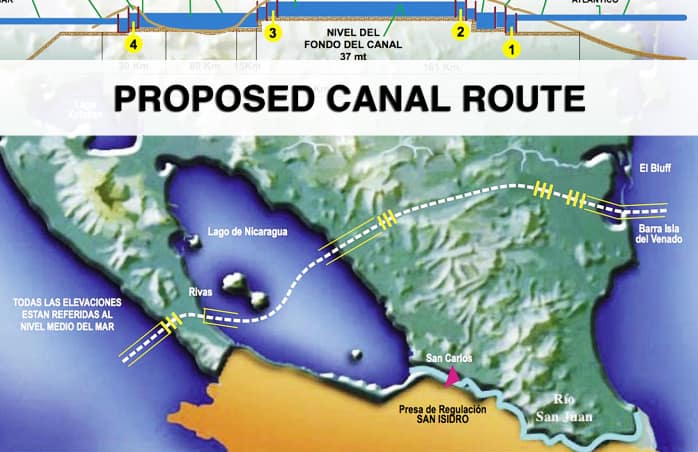 The Ortega administration on June 14, 2013, granted a canal construction concession to Wang Jing, president of HK Nicaragua Canal Development Investment Co. (HKND). The canal, an ambitious project, would rival Panama's and capture 3.9 percent of global maritime cargo, including Super Post Panamax ships.
Wang, who arrived in Nicaragua on Saturday, acquired exclusive rights to design, develop, finance, build and operate the canal for 50 years, with an option to extend the contract for 50 more years. The cost is estimated at approximately $40 billion – four times Nicaragua's gross domestic product.
HKND plans to start work on the project at the end of this year, and has promised a modern design that will not "be damaged by earthquakes" or volcanic eruptions, which are frequent in the country, Dong said.
Lake Nicaragua includes the largest volcanic lake island on the planet, Ometepe, home to more than 35,000 residents and two major volcanoes, Madera and Concepción.
HKND's proposed route also will pass near Solentiname archipelago, a group of islands located in the lake's southeastern section, where poet and priest Ernesto Cardenal founded 30 years ago an artist center.
Two ports will be built parallel to the canal on both the Pacific and Caribbean coasts, as well as a Free Trade Zone stretching nearly 30 kilometers with suburban residential areas to house some 140,000 residents.
Plans also include an international airport in the north of Rivas department, a tourism complex and several highways to "revitalize the transit network" that will disappear when the canal is finished.
Other infrastructure planned includes a power plant and 41 depots for sediment dredged from rivers.
HKND said it would not build a railway network, which was originally included in previous designs.
The company, however, did not make public the results of technical, environmental and social viability studies.
Ortega's administration has said the canal will spark annual economic growth of up to 11 percent, which will help in poverty alleviation programs. Nearly half of Nicaragua's six million residents live in poverty.