U.S. Army Specialist Iván López, the soldier suspected in a deadly shooting rampage at Fort Hood, is a father of four children and a former police officer who served 10 years on the force in his native Puerto Rico before taking leave to join the Army.
López, 34, is now believed to be the gunman who killed three and wounded many others at the sprawling Army post in central Texas. The spree only ended, authorities said, when López was confronted by a military police officer. He put his hands up, then pulled a handgun and killed himself with a shot to the head.
On Thursday, both investigators and López's own family were struggling to understand what had driven him to such a violent and destructive end.
Friends described López as introverted and quiet, a talented percussionist from a musical family. He had joined the Puerto Rican police force as a young man, in part to join the police department's band. The department was still expecting him to return to police work after spending four years in the Army.
At Fort Hood, officials saw López as a "low-risk" soldier whose behavior raised no obvious red flags. He had married for a second time and lived with his wife and a young daughter in an apartment near the base.
López had troubles. He had returned from a short tour in Iraq and shifted from one base to another in the U.S. He was taking medications to help with depression and anxiety. He had been crushed by his mother's sudden death last year and was unhappy that the Army had given him so little time off to grieve.
But, apparently, nobody except López himself saw what it was all adding up to.
"They are going through an incredibly difficult period," said Glidden López, 26, a friend speaking on behalf of Iván López's family in Puerto Rico.
Investigators are still trying to learn more about the motives for Wednesday's rampage. At this point, López seems very different from the gunman in two other shooting sprees on military posts. Army Maj. Nidal Hasan, who killed 13 people at Fort Hood in 2009, had communicated with al-Qaida leaders overseas. Aaron Alexis, the civilian contractor who killed 12 people at the Washington Navy Yard last year, was a loner with a history of bizarre outbursts.
López had no apparent connections to terrorism. And, at least on the surface, he was not a man apart. López posted photos of himself and his children at an amusement park on Facebook. When he posted a picture of himself in uniform last year, 55 people "liked" it.
"Oh my God. . . . I can't believe it," said Phanie Somar, a friend of López and his wife from their time in El Paso. Until a reporter called on Thursday, Somar did not know López was involved in the Fort Hood attacks. "He's very friendly, too. He's sweet."
López grew up in Guayanilla, a small town on Puerto Rico's southwest coast. The town's current mayor, Edgardo Arlequín, was the director of a local band for schoolchildren when López joined. That was about 1990, the year López turned 11.
The mayor said that López came from a musical family; his father and brother both played guitars in the local Catholic church.
"Ivan was quiet, … introverted, calm," Arlequín said in Spanish in a telephone interview. He said he knew López for several years and had never seen him show anger with another student. "Never. Never. I never saw him get in a fight."
What stood out, Arlequín said, was López's talent as a musician: He was a percussionist, and a very fast learner. When López left Guayanilla, Arlequín said, he had "become an excellent human being."
In 2000, around age 21, López joined the island's main police force. On Thursday, Puerto Rican police officials said they were still trying to find detailed records of his career. They said it was likely that López began as a patrol officer.
Then, at some point, he joined the police force's band. As a member of the band, López would have spent much of his time practicing and performing, said Officer Ángel Miriani, a spokesman for the police force. But, Miriani said, the members of the band are still police officers, and they can be called out to reinforce units in other parts of the island.
"The record is clean," Miriani said Thursday, talking about López's disciplinary files. "We looked for disciplinary problems, and all show up clean."
In 2010, police said, López joined the U.S. Army, and took a leave from the police.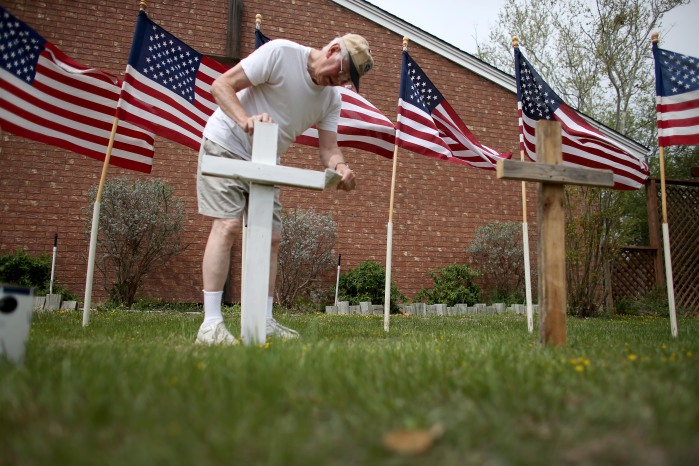 When he entered the military, López was a divorced father of two young children, who both remained in Puerto Rico. All the rest of his immediate family, including a sister, brother and mother, were in Puerto Rico as well.
While stationed in Fort Bliss in West Texas, López met a woman named Karla, a pretty, dark-haired El Paso Community College student, in a nightclub. López and Karla began dating exclusively, said Somar, their friend from that time.
The couple got married four months later, Somar said, in June 2010. That was soon after Karla learned she was pregnant.
Karla, originally from Durango, Mexico, dropped out of school and gave up her architecture studies to take care of their new baby, Angelique Marie, Somar said. When López was moving to another assignment on another base and leaving Fort Bliss, Somar said, Karla and their baby, whom they call Angie Marie, moved in temporarily with her parents outside El Paso. Family members in Puerto Rico said that López now has another child in the United States, for a total of four.
In 2011, López spent four months in Iraq, serving as an infantryman. Military officials say there is no indication that he was injured in combat during that tour.
Last October, after López had returned to Fort Bliss, López's mother died suddenly in Puerto Rico. Glidden López, the family spokesperson, said that Iván López had remained close with his parents, calling them regularly.
He returned to Puerto Rico for the funeral, but only briefly. A military official familiar with his leave said López was granted emergency leave for his mother's funeral, and the Army also agreed to let him delay his truck-driver training at Missouri's Fort Leonard Wood from October until November to accommodate his trip.
To friends, López seemed deeply affected by his mother's deal, and complained about the Army's handling of his leave.
"It was a difficult process for him to get leave to come home," Glidden López said.
In February, Iván López was transferred to Fort Hood, in central Texas. He was assigned to the 13th Sustainment Command (Expeditionary) as a truck driver. Friends said that his family joined him in March.
During a Congressional hearing Thursday, Army Secretary John McHugh said the gunman — he did not use López's name — had been prescribed "a number of drugs," including Ambien, a sleep aid. After giving the soldier a full psychiatric evaluation last month, Army officials detected no indications "that there was any sign of likely violence, either to himself or to others," McHugh told a Senate panel Thursday.
"The plan forward was to just continue to monitor and treat him as deemed appropriate," McHugh added.
© 2014, The Washington Post