Costa Rica needs to beat Paraguay tonight. Is it possible I'm overstating the importance of this friendly? Possibly. But a victory tonight would go a long way to reinvigorate a Tico squad that has looked miserable for the past four months, and only has three more before the World Cup begins in Brazil.
Moreover, this looks to be the only time Costa Rica's best players will be on the pitch together until they board the plane for South America. The Paraguay game marks Costa Rica's final home match (called "la despedida" or "going away match") before the World Cup. The stars, who missed the previous friendlies, are ready to go. The team ought to feel motivated to leave the country on a high note. If Costa Rica can't spark some enthusiasm tonight, the next three months will feel like a tedious slog toward inevitable defeat.  
The rival Latin American squads meet at 8 p.m. at the National Stadium in La Sabana, in western San José. The game won't be televised in the U.S., but will be available on channels 6 and 7 in Costa Rica. Here are the most important questions that "La Sele," as the men's national team is known, will try to answer tonight in its final home clash. 
1. Can Costa Rica score a damn goal?
The Ticos have been shut out in their previous three international friendlies (1-0 to South Korea; 4-o to Chile; 1-0 to Australia). All three of those matches took place away from Costa Rica. However, the team was undefeated at home during its World Cup qualifying campaign last year. 
That final game of qualifying — a 2-1 win over Mexico in the National Stadium in October — marks the last time Costa Rica scored. La Sele plays like a completely different team at home. Eventually they'll have to figure out how to score on the road if they plan on being competitive in Brazil, but returning home might provide the boost necessary to get the team on the right path again. It's back to basics tonight as Costa Rica tries to relearn the art of getting the ball into the net.
2. Which players have the best chance of actually scoring?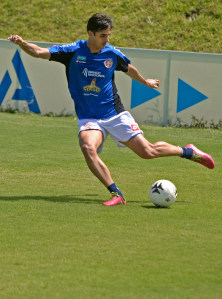 Here are the three most likely names to tally Costa Rica's first goal in almost five months.
Choice #1: Bryan Ruíz – Snubbed in England, team captain Bryan Ruíz returns to Costa Rica with a chip on his shoulder and on a hot streak. Ruíz was hardly given a chance to contribute to his Premier League team Fulham before the club shipped him off to the Netherlands in January. In the Dutch League, the forward is showing doubters what he's capable of in the right setting. He's scored in three straight games for PSV Eindhoven. Ruíz also opened the scoring in that Mexico game back in November. His recent success makes him our best bet to score tonight.
Choice #2: Álvaro Saborío – He has had a reputation as a choke artist on the international level. But he's also the last Costa Rican to score for the national team, notching the game-winner against Mexico in October. Saborío, last year's Latin Player of the Year in Major League Soccer, doesn't seem rusty after a long layoff, either. With the MLS season about to start up again, Saborío scored last week in a preseason game for Real Salt Lake.
Choice #3: Joel Campbell – The 21-year-old wowed the world last week with a wonder goal for his Greek team against Manchester United during a Champions League match. The youngster has the talent to eventually be one of the best players from the Americas. Though in international play, he's still best known for a pathetic dive during a qualifying match against the United States.
3. After his recent golazo, does Joel Campbell have an encore in store?
Campbell has had a stellar campaign for Olympiakos in Greece. His goal against Manchester United was just the icing on the cake. He's looked good throughout his time there, and seems prepared to join Premier League team Arsenal next year. Like I mentioned above, Campbell is not the best goal scorer on La Sele, but he is the team's most exciting player. Can he astound once more against Paraguay?
4. Can Costa Rica dominate a crappy Paraguay squad? 
Paraguay is in rebuild mode. In 2010, the team reached the quarterfinals of the World Cup in South Africa (while Costa Rica failed to qualify). Four years later, Paraguay is out of the World Cup and is the worst team in South America. That doesn't mean the Paraguayans will be pushovers, but this is not a game a World Cup-qualifying team should lose. If Costa Rica wants to inspire confidence, the Ticos should dictate the pace of this game from start to finish. If they can't, Costa Rica's bleak chances to advance out of the group stage of the World Cup become even more dispiriting.
Paraguay holds the all-time edge against Costa Rica. The Ticos have two wins, three losses and a draw against the South American squad. The national teams haven't met since 2010 (a 2-0 Paraguay victory).
5. Will the stadium even be half-filled?
Costa Rica officials have been promoting this game as the official goodbye party of the national team, but it seems like fans might flake on the occasion. As of Tuesday morning, only 7,000 tickets had been sold out of 30,000. Apparently sales have gone better today, but this won't be the raucous send off that La Sele would have preferred.
A follow-up question might be: How cheap can you buy scalped tickets outside the stadium tonight? The answer: Probably real cheap. A good deal shouldn't be hard to find.
6. Can anyone replace Bryan Oviedo?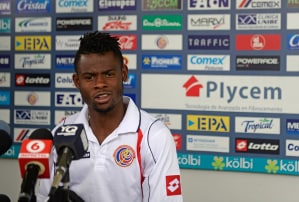 The Costa Rican midfielder suffered a horrific leg break in late January while with his English club Everton. Some thought the injury ended his chance to play in the 2014 World Cup. However, Oviedo seems to be recovering quickly and he has a decent shot of returning just in time for games in Brazil. Until his return is confirmed, Costa Rica will need to find an adequate substitute for arguably the national team's best player. Waylon Francis, of the MLS's Columbus Crew, will try to prove he can get the job against Paraguay. 
A few more roster additions also will attempt to show tonight that they deserve a permanent position on the World Cup team. We'll see if reserves like John Jairo Ruíz, José Salvatierra and Marco Ureña have anything to offer head coach Jorge Luis Pinto. Management considers the team about 80 percent complete. The 23-man roster must be set by June 2.
6. Will the suddenly brilliant Keylor Navas allow a goal?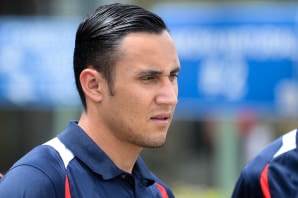 If Costa Rica struggles to score again, La Sele should at least feel confident that it won't give up a goal on its own end. Goaltender Navas is the team's fastest rising star. Statistically, he's the best goalie in Spain's fierce national league. He's breaking records and receiving lucrative offers from top clubs in Europe. (Navas currently plays for Levante.) This will be Navas' first international match with all the new hype surrounding him. The attention on him will only mount in Brazil. Let's see how he handles the pressure against Paraguay.
7. How 'bout those new unis?
On Monday, Costa Rica and sponsor Lotto revealed the team's World Cup uniforms. The consensus from fans? Ugly with a capital U. (I feel they're merely boring). Could all the vitriol be misplaced aggression after watching the team flounder for several months? Probably. Costa Rica will wear the new home uniforms for the first time tonight, and perhaps those jerseys will look better under the bright lights at La Sabana. Perhaps they'll look better after a win.