Ruling party candidate Johnny Araya clings to a small lead, according to a poll released on Tuesday night, a day before a polling blackout rule kicks in. Costa Ricans will vote for the country's next president on Sunday. 
The poll from the University of Costa Rica's Center for Research and Policy Studies (CIEP) showed National Liberation Party candidate Araya with 17.4 percent of the projected vote. José María Villalta of the leftist Broad Front Party polled at 14.4 percent. Luis Guillermo Solís, of the left-leaning Citizen Action Party, saw his numbers increase to 11.6 percent.
Undecided voters still represent the largest portion of voters surveyed, at 33.4 percent, which increased from 24.5 percent registered in the last UCR poll. The poll, published by the weekly Semanario Universidad, surveyed 800 Costa Rican voters between Jan. 20-27. It has a margin of error of 3.46 percent.
When combined with recent surveys in January (Unimer and CID-Gallup), the takeaway is that a runoff between Araya and Villalta remains likely. If no candidate fails to capture 40 percent of the vote, the top two vote-getters will face a runoff in April.
The survey is likely the last one of the election season, after La Nación inexplicably quashed its final poll, scheduled to be published on Wednesday.
The UCR poll also asked about hypothetical runoff scenarios. In a runoff between Araya and Villalta, the ruling party candidate was projected to win with 39.5 percent compared to Villalta's 35.9 percent.
Solís supporters should be feeling some momentum heading into the final few days before the election. The UCR poll showed the PAC candidate in third place for the first time during the entire campaign season. He jumped ahead of Libertarian Movement Party candidate Otto Guevara, whose numbers fell into the single digits at 7.3 percent.
Solís told The Tico Times today that he attributed his improved standing among voters to "a combination of factors, beginning with the debates; then, it's work by our people in the field and on [social] networks."
If Solís can complete the comeback, he's favored in all runoff scenarios, according to Semanario Universidad. In fact, those scenarios have Solís beating his potential opponents by approximately 20 percent of the vote. 
The poll also showed Villalta losing in a second round match-up against Guevara by more than 10 percent. A hypothetical Araya-Guevara runoff demonstrated a statistical tie.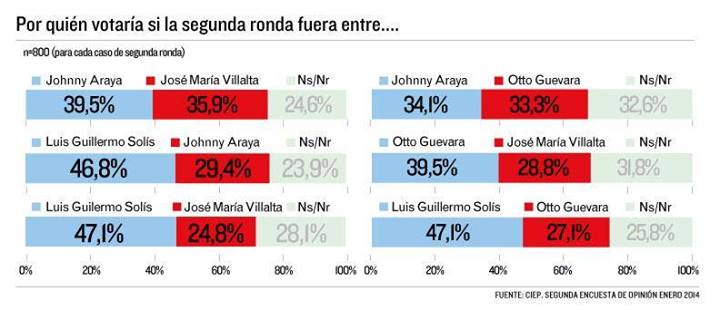 The top two candidates also dropped when compared to the last UCR poll. A week ago, Araya had a projected 20.4 percent of the vote, while Villalta had 15.3 percent and Guevara and Solís were in a statistical tie with 11.2 percent and 9.5 percent, respectively. 
Solís' numbers doubled in a poll yesterday, too. However, the push still might be too late. Polls throughout this month have indicated Araya and Villalta are moving towards a runoff.
On Tuesday, CID-Gallup showed Araya with 35.6 percent, Villata with 21 percent, Guevara at 17.6 percent and Solís at 15.6 percent.
In that poll, close to 20 percent of voters remained undecided.