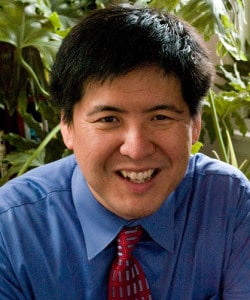 U.S. polling expert Sam Wang called it strange to hear that a leading newspaper in Costa Rica conducted a poll and didn't publish the results because it was too close to Election Day. He said polls that run closest to the election are often more accurate and the most useful.
Wang, who runs the Princeton Election Consortium, has a towering reputation as a poll analyst. In 2012, Wang accurately predicted the presidential results in all 50 U.S. states and in the 10 competitive Senate races. His track record with poll predictions dates back to the 2000s.
His comments refer to La Nación's decision to cancel its final presidential election survey, conducted by the polling firm UNIMER.
The newspaper has expressed support for UNIMER's methodology (although the firm has had some big misses in the past). Instead, Editor-in-Chief Yanancy Noguera said the decision was made because there appeared to be too many undecided voters, and the poll wouldn't accurately reflect what will happen at the polls.
The Tico Times contacted Wang, and explained the current controversy. Via email, Wang responded:
My longtime experience is opinion polls most accurately reflect the eventual election outcome if they are conducted within the seven days before the election. It is strange to hear of a poll conducted, then not published. It is this poll that is the most useful one.
Wang explained polls are key to analyzing what's happening in an election. He likened ignoring a poll to "not looking at the thermometer when you feel cold."
Poll suppression in the United States
The incident is reminiscent of a recent U.S. controversy, where left-leaning polling firm Public Policy Polling (PPP) chose not to run a poll that showed two Democrats losing state elections in 2013.
PPP didn't reveal it had suppressed the poll until after the election – when Democrats had lost – proving the poll correct. The firm said it chose not to release the poll because they didn't believe it was accurate, similar to the reasons La Nación gave in a Tuesday editorial.
Political commentators jumped on PPP for suppressing the poll. That included statistical expert Nate Silver who called the move a "very bad and unscientific practice," and he accused PPP of not publishing the poll because they didn't like the results. During a heated back-and-forth with the polling company, Silver wrote: "we publish ALL results".
He added if you have any doubts, "express your cautions in your write-up of the poll. Don't suppress the data."
That advice would seem appropriate for La Nación today.
@ppppolls: Yes, so express your cautions in your write-up of the poll. Don't suppress the data.

— Nate Silver (@NateSilver538) September 11, 2013