Costa Rica confirmed 75 new cases of the coronavirus over the past day, totaling 1,871 cumulative known cases, the Health Ministry announced Wednesday afternoon.
One-hundred and five people have been classified as recovered under Costa Rica's new definitions that qualify certain patients based on time rather than a negative test.
Costa Rica has 960 active cases and 899 recoveries.
Twelve people have died in Costa Rica after contracting the coronavirus. Twenty-two people are hospitalized with COVID-19, two more than Tuesday. Three people are in intensive care, one more than Tuesday.
The data mean Costa Rica has 2.35 coronavirus deaths per 1 million people.
Outbreaks in agriculture companies
The Public Security Ministry (MSP), in conjunction with the Health Ministry, shuttered eight agriculture companies in the Northern Zone that were operating without necessary sanitary permits, Health Minister Daniel Salas said Wednesday.
A ninth business — where 21 workers have tested positive for the coronavirus in Los Chiles — must close for 30 days.
"We will remain in the area in constant monitoring," said Public Security Minister Michael Soto. "We call on farm owners and agricultural companies to respect the guidelines; otherwise we will take the corresponding actions."
MSP is continuing targeted operations in the Northern Zone to contain the outbreak in that region.
"This is one of them most important actions we can be taking," Salas said.
Salas also referred to a 50-person party hosted last week in the canton of Alajuelita. At least 17 people who were at that gathering have since tested positive for SARS-CoV-2, Salas said, and one of those is hospitalized.
Active coronavirus cases in Costa Rica
The Health Ministry said earlier this week that approximately 90% of cases have had their epidemiological nexus identified.
Twenty-nine new cases were reported Wednesday in the canton of Los Chiles. Seven were reported in Alajuelita.
The below map has been updated through June 17, 2020: 

`The below chart was last updated June 16.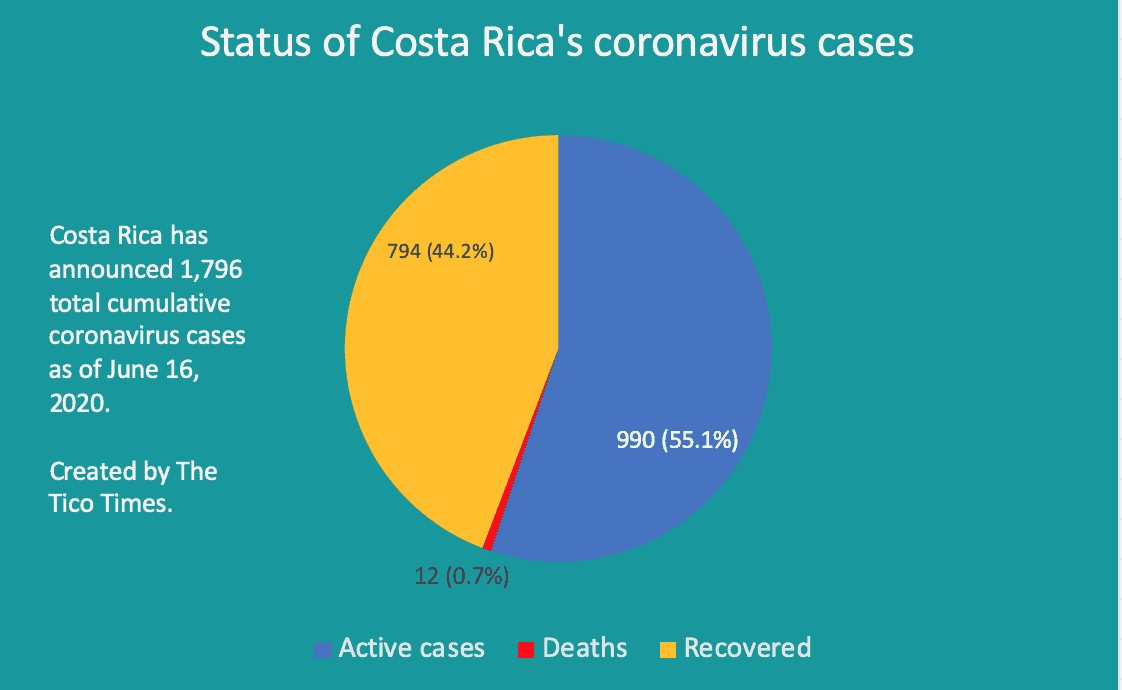 Timeline of COVID-19 in Costa Rica
Costa Rica is enforcing nationwide driving restrictions until at least June 20. Click here for full details.
If you believe you may have contracted the coronavirus or have questions regarding the virus, contact Costa Rican health authorities by dialing 1322.