Costa Rica confirmed 52 new cases of the coronavirus over the past day, totaling 1,157 cumulative known cases, the Health Ministry announced Wednesday afternoon.
The 52 cases are the largest day-over-day increase Costa Rica has recorded during the coronavirus crisis. The majority are located in the northern part of the country, the Health Ministry said, and new restrictions targeting affected areas were announced Wednesday.
Three more people have recovered from COVID-19, leaving Costa Rica with 685 total recoveries and 462 known active cases.
Ten people have died after contracting the coronavirus. Twenty-one people are hospitalized with COVID-19; five people are in intensive care.
Costa Rica has processed a total of 27,882 diagnostic tests for SARS-CoV-2 (564 more than Tuesday), which corresponds to 5,455 tests per 1 million people. The country has averaged 362 daily tests over the last five days.
New health measures announced
The National Emergency Commission has announced an orange alert for the following districts:
Cariari (canton of Pococí)
Penas Blancas (canton of San Ramón)
Cañas and Bebedero (canton of Cañas)
Las Juntas (canton of Abangares)
Beginning at midnight and for 14 days, businesses in those districts will only be allowed to operate on weekdays from 5 a.m. to 5 p.m. On weekends, only pharmacies, supermarkets and health services can operate.
Additionally, in those districts, a nighttime driving restriction will be enforced from 5 p.m. to 5 a.m. on weeknights. This takes effect beginning Thursday, June 4.
"What happens in these districts can have national repercussions," said Health Minister Daniel Salas."
The stricter driving restrictions do not apply to Routes 1 (General Cañas Highway), 6 (Cañas-Upala) and 142 (Cañas – Tilarán – La Fortuna), important throughways in the region.
Other regional restrictions enforced tonight
Starting Wednesday, Costa Rica will enforce additional regional nighttime driving restrictions near the country's northern border with Nicaragua.
The measures are meant to help authorities prevent irregular immigration.
In the following cantons and districts, driving will not allowed from 5 p.m. to 5 a.m. beginning today and until further notice:
La Cruz: Restrictions apply to the entire canton.
Guatuso: Restrictions apply to the entire canton.
Upala: Restrictions apply to the entire canton.
Los Chiles: Restrictions apply to the entire canton.
Río Cuarto: Restrictions apply to the entire canton.
San Carlos: Restrictions apply to districts of Aguas Zarcas, Cutris, Pital and Pocosol only.
Guácimo: Restrictions apply to district of Duacarí only.
Pococí: Restrictions apply to districts of Colorado and La Colonia only.
Sarapiquí: Restrictions apply to districts of Llanuras del Gaspar and Curuña only.
Siquirres: Restrictions apply to districts of Pacuarito and Reventazón only.
Outside of the aforementioned cantons and districts, nationwide driving restrictions apply as detailed here.
In addition to the driving restrictions, the Public Security Ministry is limiting non-essential navigation on the following waterways:
Medio Queso River and Frío River.
The channels of Tortuguero, Colorado and Sarapiquí.
"These provisions aim to apply more rigorous measures in those areas to mitigate the progress of COVID-19 and to protect the health of the population," said Michael Soto, Minister of Public Security, on Tuesday.
Costa Rica is enforcing border restrictions, banning foreign visitors until June 30.
Active coronavirus cases in Costa Rica
The largest number of new cases on Wednesday were recorded in the cantons of Pococí (12), Desamparados (5) and San Ramón (5).
Este es el detalle del estado del COVID19 en Costa Rica al día de hoy 03 de junio de 2020. Más información en nuestras redes sociales y página web.
Somos fuente oficial de datos. pic.twitter.com/uewD5BgWt5

— Ministerio de Salud de Costa Rica (@msaludcr) June 3, 2020
The below chart was last updated June 1: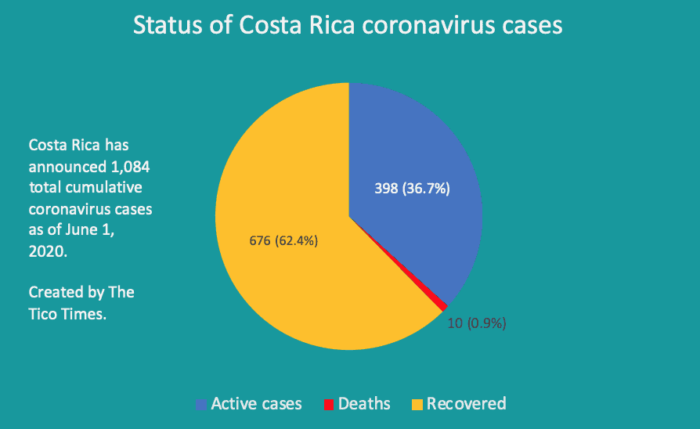 Timeline of COVID-19 in Costa Rica
Costa Rica is enforcing nationwide driving restrictions until June 20. Click here for full details.
If you believe you may have contracted the coronavirus or have questions regarding the virus, contact Costa Rican health authorities by dialing 1322.