On Aug. 15, Costa Rica celebrated Mother's Day!
Motherhood can take many forms. There are no set rules to what or who we call a mother, because every story is different. Here at the Toucan Rescue Ranch, that is especially the case. We receive so many orphans of all species, under such a variety of circumstances, that motherhood is not confined to the sex or species of the caregiver or surrogate mother.
The more well-known orphans are the sloths, which require a long-term commitment by our veterinarian and animal-care staff (Sloth Team) to raise them properly for release, but we don't just receive orphaned sloths. Abandoned or orphaned tamanduas, porcupines, armadillos, possums, squirrels, kinkajous, parakeets, and many other species of animals arrive weekly on our doorstep, and the Sloth Team goes into action. It's easier, of course, if the babies are healthy, because raising them successfully is always challenging. If the newly arrived orphan is not healthy, the challenge is greater. In addition, the goal is to raise, rehabilitate and release all the animals that we can, so raising a baby to be wild is a critical factor.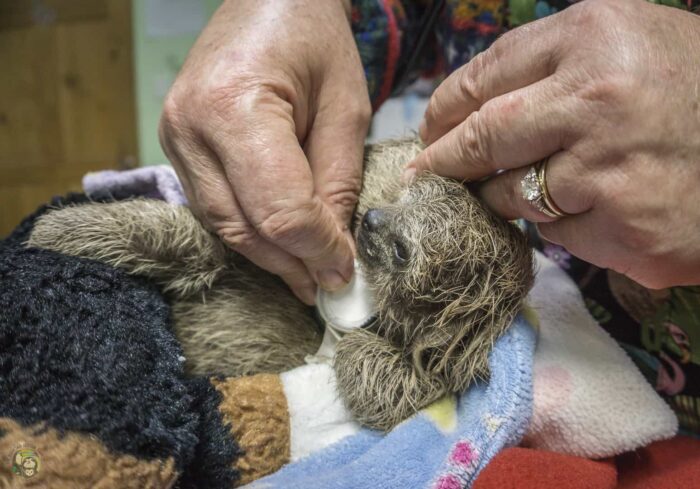 Many of the babies also require round-the-clock feeding, so it can be an exhausting job, but one that our staff takes on anyway.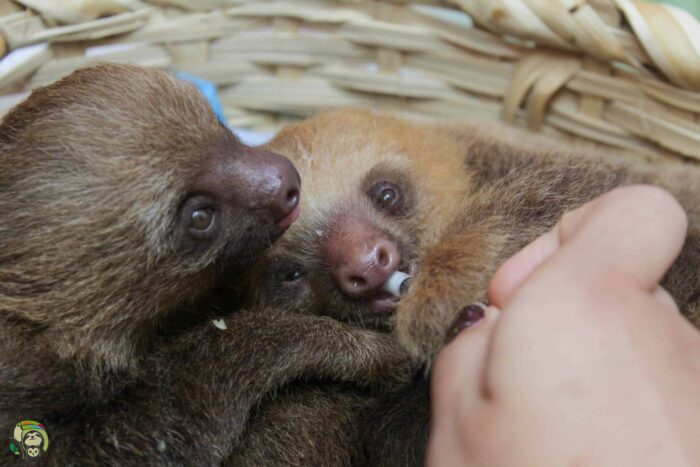 Along with the wild orphans brought in, we also must raise some of the baby chicks from resident birds who cannot be released due to permanent injury or having been former pets. While we encourage birds to raise their own chicks, some just don't have the instinct to do so successfully, so we are forced to raise them ourselves. Once again, the challenge is not only to raise a fragile baby bird, but to raise them so they can be released back into the wild, with no interest in human interaction.
All the babies eventually end up in large pre-release enclosures, where they have little interaction with humans. Sometimes aversion training is used to make them afraid of humans. This involves the Release Site staff going into their enclosure, waving nets, making lots of loud noises, and even playing 'predator noises'. This is done repeatedly until the young animals begin to react negatively to their human caretakers. Once it's determined that they are ready to be released to the wild, without any interest in being close to humans, we feel like we've done the best we can.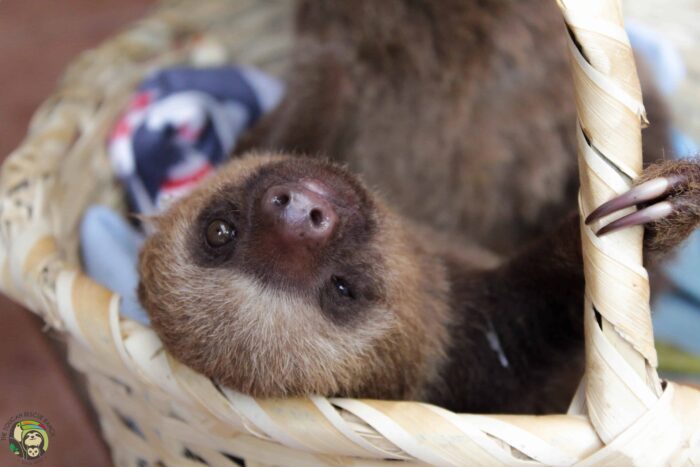 When those of us who have mothered an animal get to participate in their release or get word of a successful release of those who we raised, we are filled with pride, knowing we've made a difference. Then, we start all over with new arrivals. It's a never-ending cycle and one that we will never tire of doing – baggy eyes included.
But that's what being a mother is all about: seeing the little ones journey off on their own!
— Denise Gillen is a Toucan Rescue Ranch Wildlife Nanny 

This article was produced by The Toucan Rescue Ranch. The Toucan Rescue Ranch specializes in helping wild animals recover so that they can be reintroduced into the wild. For more information or to donate, visit the Toucan Rescue Ranch website.