President Carlos Alvarado said Tuesday night that his administration has reached an agreement with the transportation sector to end road blockades throughout Costa Rica.
The announcement came a day after Alvarado authorized a Public Security Ministry operative to act against groups blocking important national throughways.
President Alvarado's statement read as follows:
We reached an agreement: the blockades in the different parts of the country are lifted and a dialogue forum will be established to deal exclusively with issues of the transport sector.

We are a country of peace, where dialogue has always been and remains the way in which we solve the problems we face. Costa Rica is capable and today, especially, we verify that.
"We apologize to the people of Costa Rica and the productive sector for the damage caused," said Marvin Castillo, spokesperson for the Cargo Transporters Union.
Though a Tuesday morning operativo had cleared a majority of the blockades, a few were recreated later that afternoon and evening.
In San Carlos, the Security Ministry says a bridge that had been closed by protesters with a pile of gravel caused delays for an ambulance transporting an infant in critical condition.
And in San José on Tuesday night, a University of Costa Rica (UCR) student group organized a protest that backed up traffic on Route 39, known as Carretera de Circunvalación.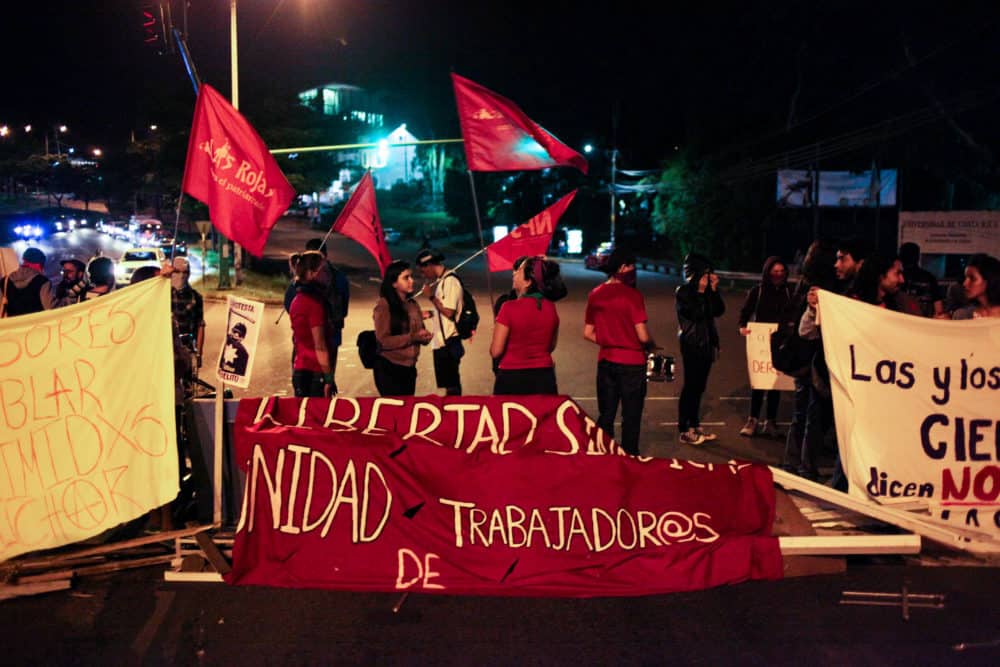 According to Carolina Funes, one of the organizers, the blockade was set up primarily in solidarity with the demonstrators whose own protests had been shut down by police. 
It's unclear whether ¡Ya Basta!, the UCR student group, or other sectors will continue roadblocks Wednesday.
Footage from Repretel at 11:30 p.m. Tuesday showed continued disturbances in Limón 2000, though initial reports suggested these were not related to previous protests.
Costa Rican truck drivers had been objecting to a new value-added tax, which applies a 13% duty to services that had previously been excluded.
Jacob Spetzler contributed to this report. This story was updated at 11:35 p.m. Tuesday.