As someone who has worked for a sea turtle conservation program in Florida, I don't generally advocate the harvesting of any endangered species' young. Even so, I've made an exception to my moral rule for the sustainable harvest of sea turtle eggs in Ostional, in Costa Rica's northwestern province of Guanacaste.
I make this exception because there's a key difference in how sea turtles nest on Playa Ostional and other beaches in Guanacaste. Whereas sea turtles on U.S. beaches nest sporadically for about six months of the year, sea turtles in Ostional come to the beach in mass nesting events known as arribadas.
Arribada comes from the Spanish word for "arrival", which is an understatement for what happens on the beach. Olive ridley sea turtles show up in droves to nest in the dark, volcanic soils, and the beach becomes crowded with thousands of nesting turtles. Sadly, scientists estimate that about 30 percent of the eggs laid during arribadas are actually destroyed by subsequent turtles digging them up. The unique nesting behavior of olive ridleys, coupled with the dangerous and intimidating poachers who were descending on Ostional's beaches and threatening locals, catalyzed support for sustainable egg harvesting in the 1980s.
Costa Rica's government and the women-run Ostional Integral Development Association (ADIO) created a plan for the first sustainable egg harvest. It allowed for the collection of eggs that would have been destroyed by the next round of nesting turtles anyway. Harvest is only legal during a mass-nesting event by someone who is a member of ADIO.
Community members also agreed to work to protect the turtles and their eggs from illegal poachers, as well as from flocks of tourists that descend upon Ostional to view arribadas.
WATCH: Sea turtles come ashore to nest by the thousands at Costa Rica's Ostional beach
One study found that egg harvesting had become Ostional's most important economic activity. The study also concluded that benefits from the program were appropriately distributed and that many community members felt that their standard of living had improved because of the egg harvesting program. More than a decade later, another study investigated how the Ostional egg harvesting program has held up over time. The results suggest that it's one of the few successful conservation and development programs that exist.
Today, it remains the only place in the world where people can legally harvest sea turtle eggs under specific conditions. Ostional shows us that sustainable use can coexist with endangered species conservation.
It's important to note that it's not all rainbows, waterfalls, and baby sea turtles in Costa Rica. Poachers, who have sometimes been linked to drug trafficking and organized crime, remain a serious threat not only turtles, but to those protecting them.
In 2013, 26-year-old sea turtle conservationist Jairo Mora was kidnapped and murdered by poachers while working on the beach near Limón. A year later, the international sea turtle community was outraged when the seven men tried for his murder were acquitted due to reasonable doubt, discarded evidence, and an ineffective investigation. When the verdict was overturned on appeal and the case retried, four of the men were convicted of murder and sentenced to 74 to 90 years in prison.
Marine conservation award to be named after murdered conservationist Jairo Mora
While this small sliver of justice provides solace for Mora's family and the conservation community, it doesn't change the fact that poaching is still a very real threat on some of Costa Rica's beaches.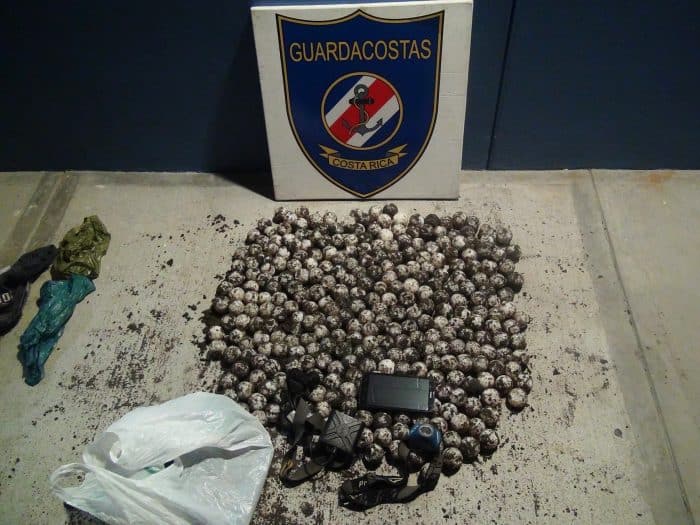 But what Ostional shows us is that we can change the paradigm around poaching. Since the unique nesting biology of these turtles and the commitment of the community are critical to the success of the sustainable use of sea turtle eggs in Ostional, legal harvest may not work everywhere. Even so, Ostional could be a model for other communities where arribadas take place, such as nesting beaches in Mexico and Nicaragua.
In the meantime, you can make sure that you don't support illegal activities that threaten sea turtles and the people working to protect them. If you're traveling to Costa Rica, or anywhere else in Latin America, it's best to avoid eating sea turtle eggs — even if you're an adventurous traveler with curious taste buds. It's just too difficult to determine if the eggs were harvested legally or illegally.
You may also find sea turtle curios and jewelry in shops when you travel to Latin America and while these may look like harmless "tortoiseshell" pieces, they are actually crafted from dead sea turtles' shells. By not promoting the sale of these items, we can help protect these creatures that have been around for millions of years, and hopefully for millions more.
---
Emily is a graduate student studying Conservation Leadership at Colorado State University.