A new campaign seeks to raise awareness and funds for organizations leading the way in the conservation and sustainable use of Costa Rica's oceans.
The "Protect What You Love" campaign, launched on World Oceans Day, June 8, by the Costa Rica USA Foundation for Cooperation (CRUSA) and its U.S. counterpart, Amigos of Costa Rica, invites Costa Ricans and international visitors alike to consider the ways in which Costa Rica's oceans have enriched their lives, and to give back to leading organizations in the field of Costa Rican ocean conservation and sustainable use.

Sponsored content from the Costa Rica USA Foundation for Cooperation 
"The Costa Rica USA Foundation and Amigos of Costa Rica are proud to promote ocean conservation and draw attention to the outstanding work of Costa Rican initiatives in this field," said David Gutiérrez, president of the CRUSA Board of Directors.
"Costa Rica has entered the surf and turf era of sustainability full throttle, and prospects for mobilizing resources around this approach are exciting," added Muni Figueres, president of Amigos of Costa Rica.
Donors at www.4amigos.org can contribute to a fund that supports a group of leading marine organizations in Costa Rica, including the Costa Rican Association for the Environment and Education (ARCAE), the Costa Rican Fishing Federation (FECOP), the Corcovado Foundation, the Latin American Sea Turtles Association (LAST), Misión Tiburón, Marviva, and the Fundación Neotrópica.
Donors can also choose a specific organization to support.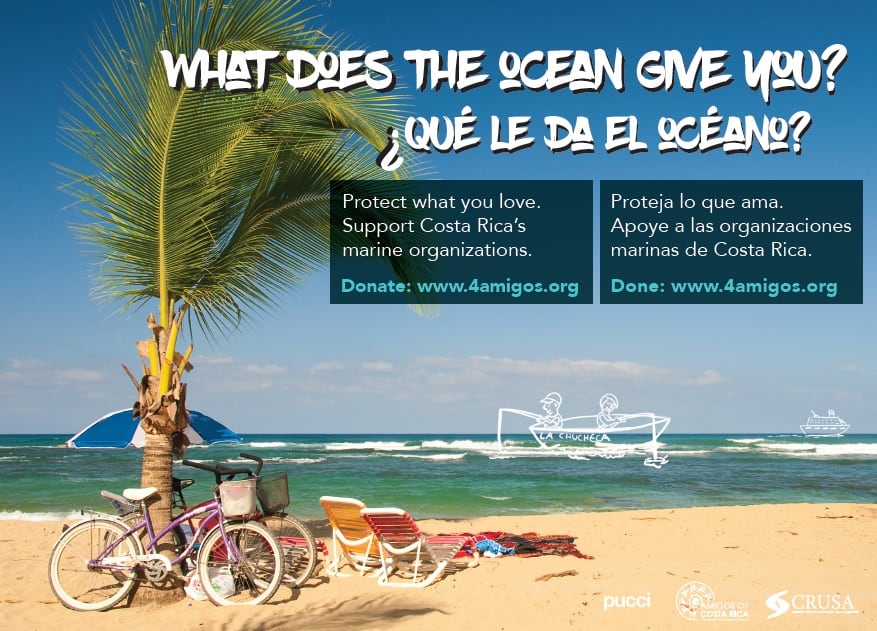 According to Michelle Coffey, Executive Delegate of the CRUSA Foundation, "this campaign is aligned with our support of the 'Plastic-Free Zone' initiative to reduce the use of single-use plastics and their impact on the country's oceans, as well as various government initiatives for Costa Rican ocean conservation announced in the framework of World Oceans Day 2017."
"As visitors to Costa Rica we enjoy many benefits of the oceans. From the delicious ceviche to surfing, fishing, and boat tours, the ocean seems to permeate the tourist's experience in Costa Rica," said Emily Arnold, Executive Director of Amigos of Costa Rica. "It is important that we recognize and support the organizations who are working so hard to maintain Costa Rica's oceans for future generations."
Amigos of Costa Rica makes it possible for donors to make U.S. tax-deductible donations to Costa Rican nonprofits.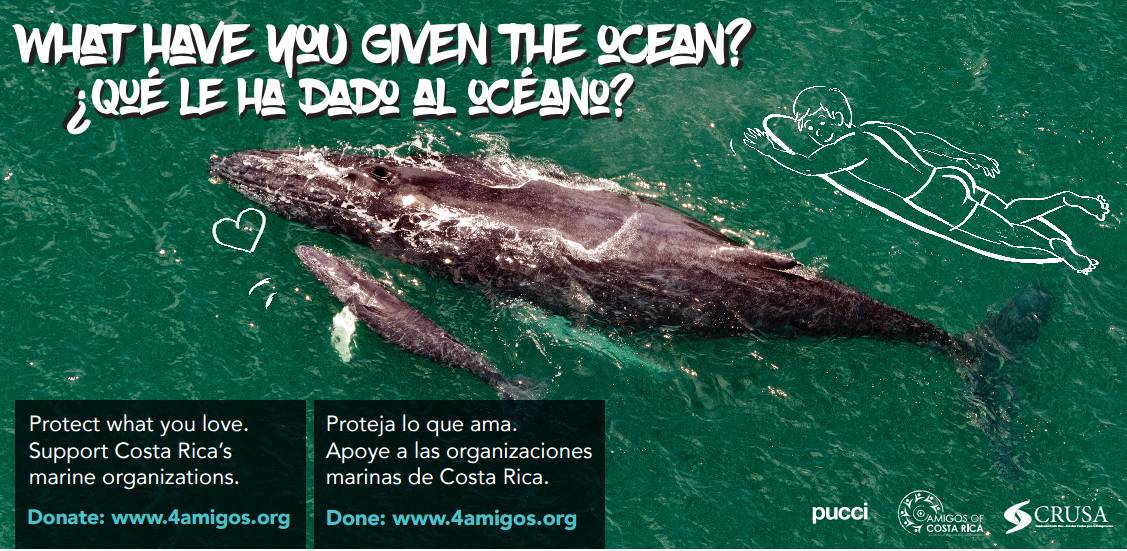 PUCCI photography donated images for the campaign, which is on display at Juan Santamaría International Airport through the end of August. Marine organizations interested in applying to join the campaign can write emily@amigosofcostarica.org for more information.
Beneficiary organizations of the oceans fund include: