President Luis Guillermo Solís visited the areas surrounding Poás Volcano National Park and urged the population to follow suit in order to support local businesses, which are seeing drastic drops in their sales due to the volcano's ongoing activity.
Solís's issued the petition during a tour of communities near the volcano on Sunday and Monday, following one of the most violent explosions recorded at 10:12 p.m. on Saturday.
Following the explosion, the National Seismological Network and the Volcanological and Seismological Observatory of Costa Rica, received reports of ash fall and sulfur smell in various communities. Most of these are located in the provinces of Alajuela and Heredia, including Fraijanes, Poasito, Zarcero, Alajuela Central and Varablanca.
The president recalled on Monday that the issuing of a Preventive — Green— Alert does not keep tourists from visiting sites outside the 3.5-kilometer (2.2 miles) restricted area around the volcano. He also said that emergency agencies are taking all necessary measures to keep the population informed about the volcano's activity.
Community tour
In a Facebook Live video, Solís said on Monday that [the community of] "Poás needs us, and starting today we will launch actions to support them."
Solís recalled that a long weekend is coming up because of Labor Day on May 1, and that "all the warmth of these people, plus the nature, souvenirs and food options of this area will be waiting for visitors" on those days.
He even switched to English for the last part of his message, inviting foreign tourists to visit the area. Solís sent them "a warm invitation" to come and "enjoy the beauties of this area." See the video:
https://www.facebook.com/luisguillermosolisr/videos/vb.199246583438202/1659231137439732/?type=3&theater
Business owners have told tourism chambers in recent days that they have been forced to lay off part of their staff; some are even considering closing for good as a result of the decrease in visitation following the closure of the National Park.
Solís and First Lady Mercedes Peñas talked to businesses owners, tourists and residents; they also ate at local restaurants and bought several products at the many area shops.
Agriculture and Livestock Minister Luis Felipe Arauz and the president of the National Emergency Commission Iván Brenes also joined the president.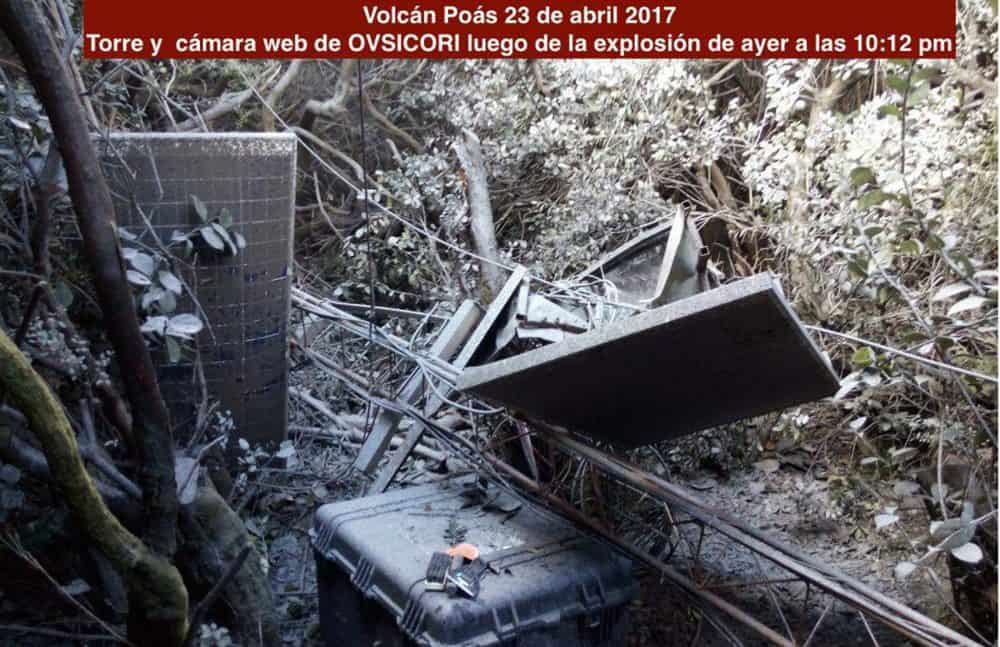 Damaged equipment
The explosion on Saturday hurled incandescent rocks and gases that smashed the windows of a park office and prompted the evacuation of all park rangers.
The strong explosion also damaged solar panels, a tower and a webcam from OVSICORI.
Spewing of incandescent material and gases continued on Sunday and Monday, but with smaller explosions.
"We also observed a gas plume and vapor trails above the crater's lagoon," the RSN reported.
OVSICORI staff recovered the equipment and are working to repair them in order to get the live feed from the crater back as soon as possible.
Watch a video of the explosion that disabled OVSICORI's webcam on Saturday:
https://www.facebook.com/OVSICORI/videos/vb.106757629361504/1294740760563179/?type=3&theater