Poás Volcano closed indefinitely; Turrialba keeps spewing ash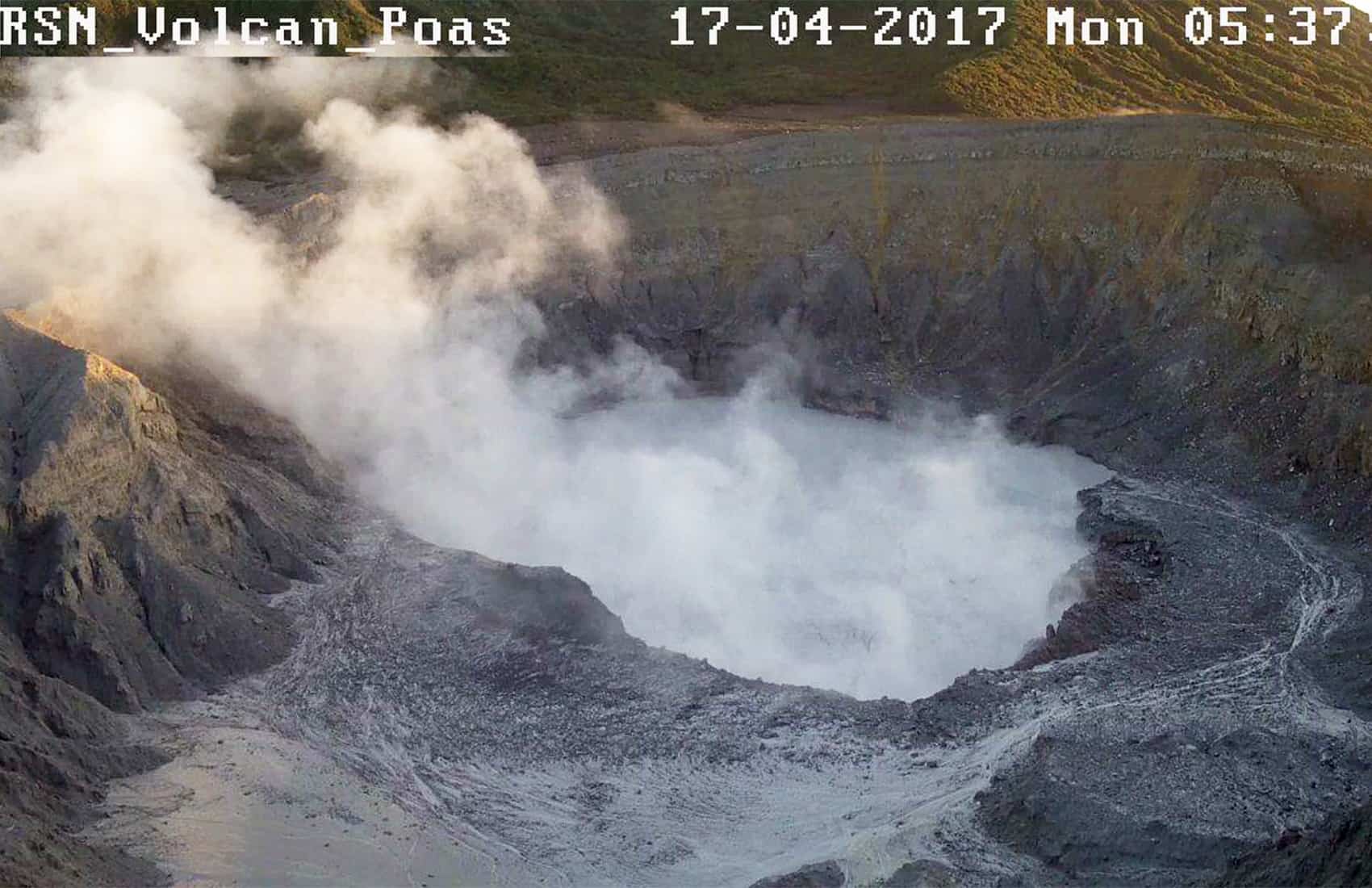 Visitor access to Poás Volcano will remain closed indefinitely due to continuing gas and vapor eruptions that in some cases are hurling rocks through the air, national park administrator Redy Conejo Aguilar said on Monday.
Eruptions over the weekend formed a white plume of up to one kilometer (3,280 feet) above the crater. The two strongest eruptions occurred between 8:40 and 9 p.m. on Sunday, Conejo reported.
Conejo told The Tico Times that the explosions on Sunday destroyed the dome around the crater's famous lake and hurled rocks more than a kilometer through the air.
Experts from the Volcanological and Seismological Observatory of Costa Rica and the National Seismological Network (RSN) conducted an inspection of the park and found rocks ranging from 40 centimeters to 2 meters (1.3-6.5 ft) in diameter.
Some of these rocks fell on the tourist trails and even reached the viewpoints. Some others broke the concrete floor and bent the tubes of the viewpoints' metal fences.
The largest rock found so far — 2 meters across— landed about 30 meters (98 ft) from one of the tourist trails, Conejo said. The rock fell onto a water pipe and broke it.
"It is impossible for us to allow the entrance of tourists under these conditions. We will not expose visitors, nor park staff, to an imminent danger," he said.
Poás, located 47 kilometers (29 miles) northwest of San José, is the second most-visited national park in Costa Rica.
Conejo also said that besides falling rocks, gas emissions are very strong as well and are carrying particles that can pose human health risks.
He added that the popular park cannot be reopened to the public until two conditions are met: experts must confirm that conditions in the volcano are stable and safe, and park staff must conduct a damage assessment and repair all infrastructure damaged by falling rocks and sediment.
Blás Sánchez, a geologist with the National Emergency Commission (CNE), said on Monday that people in communities near Poás have noted a strong smell of sulfur, but reports of falling ash are still rare. However, the clear risks in the area around the crater has led the CNE to maintain a 5-kilometer perimeter, he added.
The CNE established checkpoints last week at some roads near the park entrances and National Police officers are warning visitors. The agency has since relocated these checkpoints to improve access to local businesses that rely heavily on tourists drawn to the area by the volcano.
Turrialba Volcano keeps spewing ash
Meanwhile, Turrialba Volcano, located some 70 kilometers (43 miles) northeast of San José, is also showing constant activity. CNE's Sánchez confirmed that Turrialba keeps spewing "mostly vapor, sulfur-rich gases, and ash."
On Monday morning the plume of vapor rose about 500 meters (1,640 ft) above the volcano's summit and was seen to be heading south of the crater.
Sánchez emphazised that there is no a connection between the magmatic chambers of Poás and Turrialba volcanoes; their activity is unrelated.
You may be interested