Turrialba Volcano continued spewing ash and gases on Thursday in what the University of Costa Rica's National Seismological Network (RSN) volcanologist Mauricio Mora called one of its longest eruptive events this year.
The ash spewing at Turrialba, located some 50 kilometers (30 miles) northeast of the capital San José in Cartago province, began shortly after noon on Monday. Ash and vapor formed a column that varies in height from 500 meters to 2,000 meters (1,640 feet to 6,560 feet) above the crater, RSN reported.
Eruptions at Turrialba last week caused the Juan Santamaría International Airport in Alajuela, outside of San José, to close for nearly 24 hours. The airport has remained open this week although some flights were delayed Thursday morning.
https://www.facebook.com/OVSICORI/videos/vb.106757629361504/1097172543653336/
The National Meteorological Institute reported that wind is currently carrying ash mainly towards the northern areas of the Central Valley.
On Thursday, RSN received reports on its social media profiles of persistent ashfall in communities in the northern parts of Cartago, San José, Heredia and Alajuela provinces.
The National University's Volcanological and Seismological Observatory of Costa Rica (OVSICORI) also noted that some people are reporting ashfall in various areas of the Caribbean province of Limón, mostly in Guápiles.
In addition to ashfall, people said they smelled sulfur in the air north and east of the capital, in Coronado, Moravia, Tibás, Zapote, Curridabat and Montes de Oca, and also in Cartago and Heredia provinces.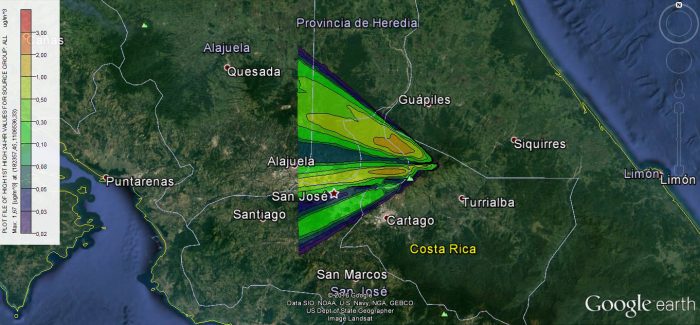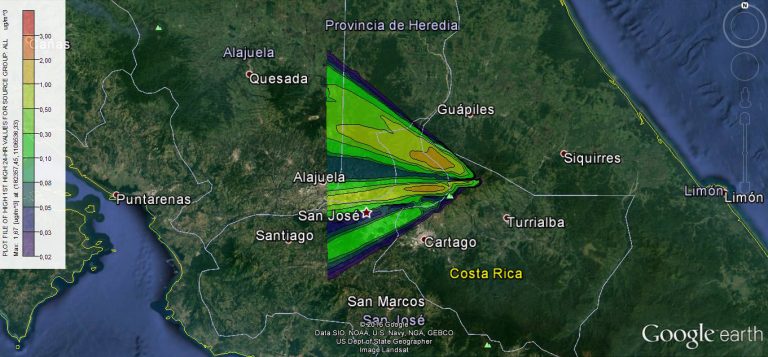 Ashfall to continue
The RSN's Mora said that an increase in the size of the main crater at Turrialba, in both depth and breadth, is the reason for the high amount of materials being expelled by Turrialba in recent days.
"This is part of the normal evolution from one eruptive cycle to another," he said.
Instruments at the volcano also recorded incandescent materials coming out of the crater and falling in areas close to the crater. Despite rumors to the contrary, experts said the material would not reach populated areas of the Central Valley.
Volcanologist Guillermo Alvarado said it is possible that Turrialba continues to spew ash for an extended period of time, just as Irazú Volcano did between 1963 and 1965.
Flight delays
Persistent ashfall so far this week has not prompted the closure of airports as it did last week
Some airlines, however, decided to delay flights in order to wait for improvements in weather conditions.
Aeris Holding Costa Rica, the company that operates the Juan Santamaría International Airport (SJO), the country's largest international terminal, said Thursday that the airport is operating normally.
AERIS spokeswoman Silvia Chávez said only two airlines, Copa and Delta, opted to delay flights on Thursday morning at SJO.