JACÓ, Puntarenas – Anthony Fillingim trotted towards the sea with his surfboard under his arm, headphones over his ears, and a mob of people behind him.
Flag-carrying teammates and eager members of the crowd swarmed in a circle around Fillingim on the shore before the current national champion dove into the water and began his heat against three other surfers.
Midway through the heat, he was trailing Japan's Masatoshi Ono. But then Fillingim caught a long wave that he concluded with a 360-degree, in-air rotation, throwing the crowd onshore into a frenzy and helping solidify his first place finish in the heat.

With that, Costa Rica opened its title defense at the 2016 ISA World Surfing Games in Jacó on Sunday.
"I was a bit anxious in the beginning because we were talking about who was going to be the first one and boom, I found out last night it's me," Fillingim said. "I tried to do what coach told me, which was to get out on a first wave, not do anything crazy, and then set up scale from there."
Fillingim's excellent round, which earned him a 13.24 total score for his two best waves, seemed to set up his teammates during Round 1 of the Men's Open.
Scoring the World Surfing Games: A guide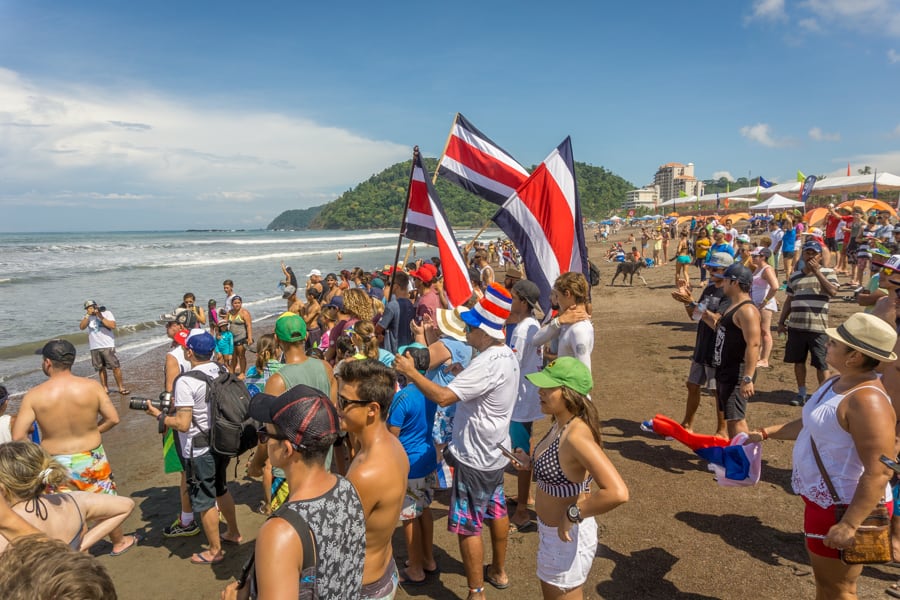 In the ninth overall heat of the day and the second featuring a Costa Rican, the biggest crowd assembled for Carlos "Cali" Muñoz, the country's highest-ranked surfer internationally and its most recognizable surf celebrity. Muñoz did what he normally does, putting on a show for the crowd and scoring the second-highest total of the entire round with a 16.83.
Though waves mostly ranged around a meter tall all day, Muñoz was able to show off his repertoire of crisp cuts and soaring rotations. The 23-year-old rider who has become accustomed to big wave surfing said if Costa Rica wants to get its second consecutive championship, the team will need to be flexible with the conditions.
"The waves were a little small today and hopefully they get a little better in size, but if they're going to be about the same the whole week then we have to adapt and keep surfing them well," Muñoz said in between photo requests from his ever-present swarm of fans.

Muñoz is carrying over a lot of momentum from his spectacular showing at the ultra-competitive U.S. Open of Surf, where he came in ninth place against some of the sport's best. It was his first World Surf League event after a four-month suspension from the international circuit that he said gave him time to come back home and gather himself.
"During my suspension I was able to clear my head a bit," Muñoz said. "It was pretty frustrating to not be able to compete for a while but I spent some time surfing all around the country and now I'm coming back into these events with a new level of confidence."
No rider on the Costa Rican men's side has a better opportunity to take gold than Muñoz.
Last year's Men's Open champion Noe Mar McGonagle followed Muñoz as the third Tico of the day in Heat 13. Though he wasn't able to secure a first place finish against Japan's Takumi Nakamura, he still remains on the favorable side of the double-elimination bracket with his second place finish.
The Pavones native has been in a bit of a slump lately and needs to rebound fast as his second round opponents include France's Medi Veminardi, who topped Muñoz for the highest score in Round 1, and Mexico's Dylan Southworth.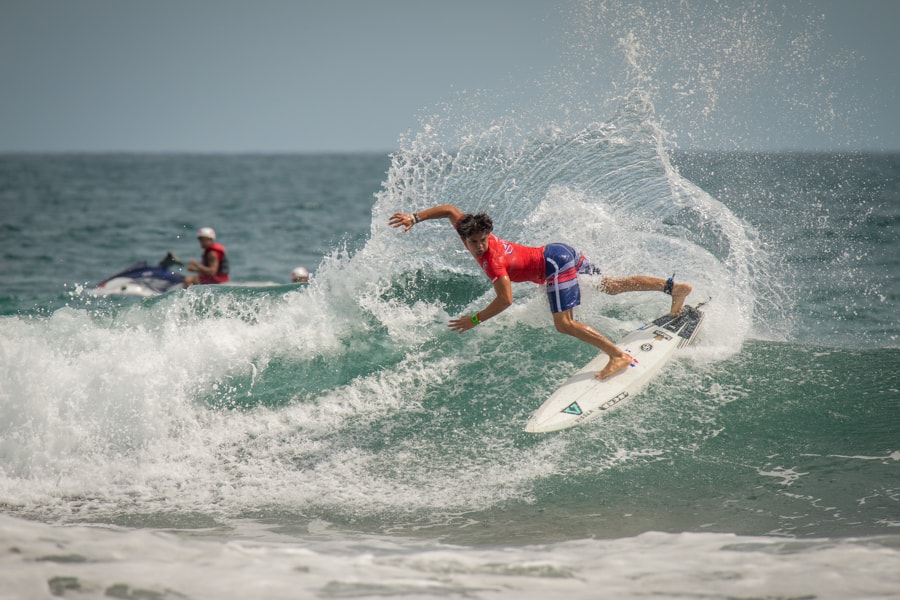 Heat 17 saw the fourth and final Costa Rican of the day, Tomás King, keep the dominant roll on for Costa Rica. The 20-year-old from Tamarindo fended off a slow start to take first place in the heat, edging out Japan's Hiroti Arai by .03 points.
King, the Guanacaste circuit champion, enters the World Games as the team's biggest wild card. The longer he can continue to string together performances like he did on Sunday, the better chance the Costa Ricans have of winning the title again.
The great opening day performances by the men mean Costa Rica avoids having any surfers drop to the repechage bracket, also known as the losers' bracket, where a second bottom-half finish results in elimination.
Action for the Women's Open will start Monday as Tica riders Emily Gussoni and Leilani McGonagle make their debuts in back-to-back heats. The women's side will be much harder to navigate as last year's champion Tia Blanco of the United States and former Championship Tour surfer Pauline Ado of France headline a loaded pool of female competitors.
The Costa Rican Surf Federation said some 30,000 people came to Jacó on Sunday to watch the competition. Unlike the last time Costa Rica hosted the World Surfing Games, in 2009 in Playa Hermosa, organizers were ready for the crowds and traffic was manageable.
The competition runs all week, ending on Sunday, Aug. 14.