A month before this past weekend's Reef Grand Final surf competition in Costa Rica, the 2016 national men's champion had already claimed victory. Anthony Fillingim clinched the title in June in Santa Teresa, where he won the top spot for the fourth time during this year's National Surf Circuit. 
This was a record-setting accomplishment in the history of the Costa Rica Surf Federation. Not only had Fillingim won more dates in one year than anyone before, he also reached the finals podium in six out of the six circuit dates, obtained four perfect 10 scores, including the first perfect 20.00, and became the first national champion to be crowned before the Reef Grand Final. It would have been impossible for any of the surfers below him on the ranking chart to earn enough points at the finals to overtake Fillingim.
Despite this pre-finals win, there were dozens of surfers and SUPers battling it out for championship titles in eight categories in Jacó. Still, a lot of the big names in Costa Rican surfing were missing. Carlos Muñoz and his brother Alberto were busy getting ready for the U.S. Open in Huntington Beach, California. Noe Mar McGonagle was competing in the semifinals of the Vans Surf Open in Acapulco, Mexico. And Jason Torres, Angelo Bonomelli, Luis Vindas, Ramon Taliani, Diego Naranjo, Leo Calvo and Sean Forester were all representing Costa Rica at the Association of Latin American Professional Surfers (ALAS) contest in Nicaragua.
But there were still some big-name competitors for the open division, including 4-time national champion Gilbert Brown of Puerto Viejo, Guanacaste champion Tomás King of Tamarindo,  veteran Jair Pérez of Jacó, up-and-comers Durby Castillo of Pavones and the Tascon brothers, Jefferson and Anderson.
Conditions at the finals were not ideal. Winds shifted frequently, and contestants talked about the difficulty in finding good waves, especially on Sunday.
Carlos Brenes of the Costa Rica Surf Federation said poor waves plagued the circuit at every event this year. "We didn't have luck with waves this year," he said. "However, sometimes when you have bad luck, you get some good luck some other way. The good luck was that the level of the surfing was very high. To be able to surf in any kind of conditions prepares surfers for anything."
Fillingim showed up for an encore participation and, ironically, didn't make the finals. He commented afterwards that the Grand Final had a lot of meaning for the other surfers, giving those like Jair Pérez the opportunity to beat the champion, which he did. "He must be feeling very good," Fillingim said.
The Costa Rica championship title is just the latest in accolades for the 22-year-old from Santa Teresa. Fillingim was the first Costa Rican to win the Latin American championship. He has a silver medal from the World Surfing Games and two gold medals as a member of the Costa Rica national surf team.
Fillingim's drive is unmistakeable. His dad encouraged him to compete when he was 10, having moved from Alabama to Santa Teresa. Fillingim says the waves in the Puntarenas beach town, with their long hollow faces, were perfect for a little kid to learn maneuvers on.
At age 17, Reef signed him to their team on the condition that he compete on the ALAS circuit and win that Latin American circuit within 3 years. He did just that, getting his title in year three. Rusty Surfboards, his other sponsor, provides him 25-35 boards a year from California.
Now, Fillingim hopes to continue a career path with more dates next year in the World Surf League (WSL) Qualifying Series (QS). Last year, Fillingim competed in El Salvador, Brazil and Europe. He said he decided to focus on Costa Rica this year, in part because of a limited budget.
"It worked out well. Being national champion brings me a lot of happiness, I have a lot of respect for myself because of this win," he said.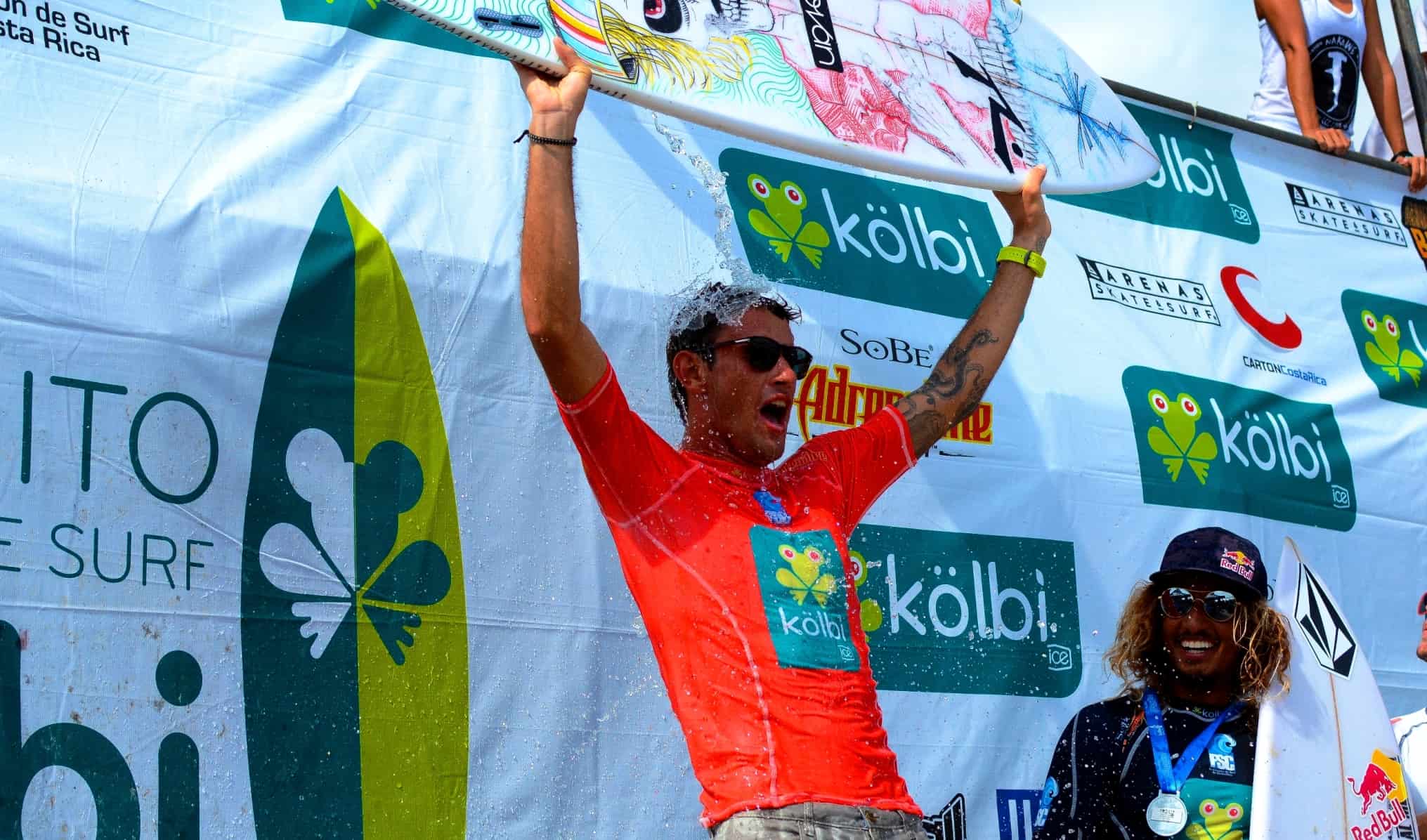 Leilani McGonagle and all the rest
For three years, 16-year-old Leilani McGonagle has been trying to get the Costa Rica national women's championship title. At the same time, the girl from Pavones traveled all around the globe collecting medals in various ISA contests. In 2016, which turned out to be a very competitive year for McGonagle, she finally earned the title that had eluded her.
It all came down to the last minutes of the women's final in Jacó, where neither McGonagle nor the ranking leader Emily Gussoni knew if they'd place high enough to mathematically take it all.  In the end, Lisbeth Vindas won the heat, but even with that, the 12-time national champion Vindas could not overtake her competitors. Gussoni placed second and McGonagle first.
While Gussoni was pleased to be named sub-champion in the women's category, she already had a lot to celebrate when she took the podium as the national junior girls champion. In that division, McGonagle took second.
On the men's side, José Joaquín Lopez, a native Venezuelan who lives in Jacó, took the junior championship title. It was only his second National Surf Circuit in Costa Rica.
Óscar Urbina, won the boys category and was crowned sub-champion in the juniors category. He said he had been doing as much surfing as possible with surfers who are better than him in order to raise his level.
Serena Nava from Playa Grande won the girls national championship — just after celebrating her 14th birthday. It was her first year competing on the circuit. Like Fillingim, Nava clinched her title before the Grand Final in Jacó, but she still paddled out on Saturday and Sunday, taking second place for the weekend event.
After a difficult childhood including stints in foster homes in Texas, Nava moved with her father to Playa Grande four years ago and began working on her competitive surfing skills. "It is so mind-blowing to be champion of the whole of Costa Rica," she said, "I mean, so many places, so many surfers in the contests. I'm lucky to be the one."
Tamarindo's Dean Vandewalle won in the boys grommets category and 12-year-old Lia Hermosa Díaz became the mini-grommets girls national champion. Hermosa's mother, Andrea Díaz, is a former national women's champion, and national women's masters champion.
The national mini-grommets boys champion for 2016 is Axel Castro.
This year at the podium ceremony for the 2016 National Surf Circuit championship, trophies were also handed out to the winners of the 2016 SUP, longboard and masters categories. See all the winners below.
Men's Open
1. Anthony Fillingim (Santa Teresa)
2. Angelo Bonomelli (Puerto Viejo)
3. Anderson Tascon (Herradura)
4. Durby Castillo (Pavones)
Women's Open
1. Leilani McGonagle (Pavones)
2. Emily Gussoni (Jacó)
3. Lisbeth Vindas (Jacó)
4. Zulay Martínez (Tamarindo)
Juniors (boys)
1. José Joaquín López (Jacó)
2. Óscar Urbina (Puerto Viejo)
3. Malakai Martínez (Tamarindo)
4. Dean Vandewalle (Tamarindo)
Juniors (girls)
1. Emily Gussoni (Jacó)
2. Leilani McGonagle (Pavones)
3. Serena Nava (Playa Grande)
4. Zulay Martínez (Tamarindo)
Boys
1. Oscar Urbina (Puerto Viejo)
2. Malakai Martínez (Tamarindo)
3. Francisco Coronado (Brasilito)
4. Aldo Chirinos (Playa Negra)
Girls
1. Serena Nava (Playa Grande)
2. Coral Wiggins (Avellanas)
3. Zulay Martínez (Tamarindo)
4. Paulina Summers (Puerto Viejo)
Grommets (boys)
1. Dean Vandewalle (Tamarindo)
2. Samuel Reidy (Dominical)
3. Kenneth Peralta (Jacó)
4. Aaron Ramírez (Jacó)
Mini-Grommets (boys)
1. Axel Castro (Limón)
2. Kalani Abrahao (Tamarindo)
3. Ziggie Myrie (Jacó)
4. Ethan Hollander (Dominical)
Mini-Grommets (girls)
1. Lia Díaz (Tamarindo)
2. Auxiela Ryan (Puerto Viejo)
3. Danielle Guzmán (Limón)
4. Candelaria Resano (Nicaragua)
SUP Race Men
1. Rolando Herrera
2. Geovani Espinoza
3. JC Demarchevier
4. Michael Gutiérrez
SUP Race Women
1. Daniela Wooster
2. Valeria Salustri
3. Selena Cubero
4. Silvia Ramírez
SUP Surf
1. Erick Antonson
2. Marcel Oliveira
3. Bryan Sandoval
4. José Ruíz
Longboard
1. Adolfo Gómez
2. Alex Gómez
3. Marcel Oliveira
4. Andrés Rojas
Masters
1. Adolfo Gómez
2. Álvaro Solano
3. Cristian Salazar
4. Early Farrier
Women's Masters
1.Verónica Quirós
2. Yenory Godínez
3. Andrea Díaz
4. Florencia Maldonado
Grand Masters
1. Early Farrier
2. Cristian Salazar
3. Adolfo Gómez
4. Gustavo Castillo
Kahuna
1. Craig "Tequila" Schieber
2. Ian Bean
3. Alejandro Monge
Grand Kahuna
1. Craig "Tequila" Schieber
2. Roberto Miranda