SÃO PAULO, Brazil – More than three million Brazilians, according to police, demonstrated Sunday across Latin America's biggest nation to demand the ouster of embattled President Dilma Rousseff.
Chanting "Dilma out!" and draped in the bright yellow and green national flag, protesters across Brazil sought to pressure Congress into accelerating impeachment proceedings against the leftist leader, blamed for a massive corruption scandal and the worst economic recession in a quarter century.
"We are at a decisive moment for our country. We are going to start the change now," said Rogério Chequer, leader of Vem Pra Rua, one of the main organizers of the demonstrations, at the São Paulo protest.
Hélio Bicudo, a prominent lawyer who once supported the government but helped initiate the push for impeachment told the São Paulo protesters: "Brazil can't take being looted and robbed anymore, it can't take more incompetence and corruption."
A big turnout was likely to spur deputies in Congress who had been wavering over whether or not to drop support for the increasingly isolated president.
"This has been a very bad weekend for the government," said analyst Sérgio Praça at the Getulio Vargas Foundation in Rio.
"The demonstrations were very powerful. … It's the worst scenario possible for the government."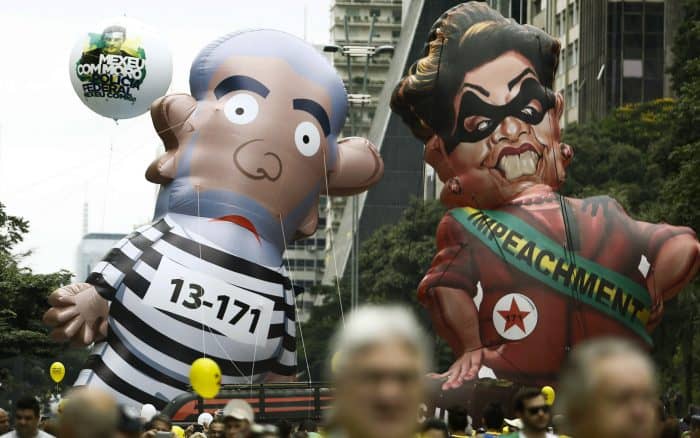 Numbers games
However, as after every large demonstration in this highly polarized country, there were sharply varying estimates of the numbers.
In São Paulo, the most populous city and an opposition stronghold, a sea of people filled the central avenue for a protest that state military police said drew a "historic" 1.4 million demonstrators. On previous occasions, the military police have been accused of inflating numbers at anti-government protests.
Respected research center Datafolha calculated that the total in São Paulo was only 500,000, although it said that even this would be a record number.
A national police count compiled by news site G1 found that some 1.3 million more protesters attended rallies at some 400 cities around Brazil, not counting São Paulo or a large demonstration in Rio de Janeiro.
Added together, the figures pointed to an overall turnout of around 3.5 million.
Opposition organizers came up with a national figure about double that.
In Rio de Janeiro, which will host the Summer Olympics in August, protesters singing and dancing to samba songs swarmed along the beachfront avenue in Copacabana. The turnout was impressive, but the organizers' claim that one million attended there appeared far-fetched. There was no police estimate for Rio.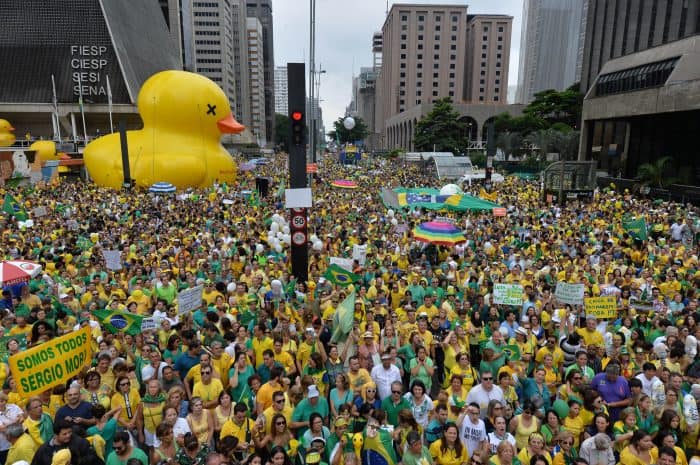 Lula in trouble
Rousseff and her Workers' Party are struggling to hold on to power in the face of a probe into a massive bribes and embezzlement scandal at state oil company Petrobras.
Prosecutors' highest-profile target is Rousseff's key mentor in the Workers' Party, ex-president Luiz Inacio Lula da Silva.
Prosecutors have filed money laundering charges and requested he be put into preventative detention. Lula vigorously denies the allegations.
Rousseff is also presiding over a stinging recession, with the economy shrinking 3.8 percent last year and the country losing its investment grade credit ratings.
With divisions intensifying across the country, there had been fears of violence.
But in São Paulo, many protesters brought their children, as if on a family outing, while in Rio demonstrators paused between singing samba tunes to buy coconut water from street hawkers.
Still, there was no disguising the anger.
"We need to get rid of Dilma, the Workers' Party, the whole lot," said Rio resident Maria do Carmo, 73, who was carrying a Brazilian flag. "It's not their time anymore."
Many protesters held placards depicting Rousseff and Lula as prisoners, while others praised the chief investigating judge in the Petrobras scandal, Sergio Moro, as "Our national pride."
"I want Dilma's impeachment now," said Gaudino Inacio, 70, at the São Paulo demonstration. "She's useless because she is unable to govern the country. After, we can have new elections."
Congressional allies defecting?
A bid was launched in Congress late last year to impeach Rousseff over allegations that her government illegally manipulated accounts to boost public spending during her 2014 re-election campaign.
The impeachment procedure has stalled, but looks set to pick up again. And analysts said deputies will have watched turnout on Sunday closely before deciding which way they should vote.
Judging by the police figures, that turnout exceeded anything seen in the past — amounting to a humiliating vote of no-confidence in Rousseff's administration.
The biggest anti-government protest last year, in March, included an estimated 1.7 million people across Brazil, with a million in São Paulo alone. Some 1.2 million people attended another six months later.
In any case, Rousseff's problems are rapidly piling up.
With Lula fighting for his political life, Rousseff is at risk of losing a vital ally, while a leaked report in a Brazilian magazine suggests that she too may be accused in the Petrobras probe.
Now a new threat is looming over Rousseff — the potential exit of the PMDB party from a shaky coalition with her Workers' Party. Party members agreed on Saturday to decide in 30 days.