SÃO PAULO, Brazil – Hundreds of supporters of Brazil's charismatic ex-President Luiz Inacio Lula da Silva gathered outside his house in São Paulo Saturday to show their resolve, a day after his dramatic and polarizing detention for questioning in a corruption probe.
President Dilma Rousseff, Lula's successor and protege in the ruling leftist Workers' Party, was reported by Globo news site to be en route to visit.
Until now, Brazil's massive anti-corruption scandal has unfolded mostly in the civilized surroundings of courtrooms and lawyers' offices. But Friday's brief detention of Lula pushed debate ever further into the volatile setting of the street.
Opponents and supporters of Lula and Rousseff scuffled in São Paulo on Friday. Late in the day, opponents organized on social media to lean out of windows in São Paulo, Rio de Janeiro and the capital Brasilia, shouting and banging pots in celebration.
The opposition blames Lula for the gargantuan corruption network uncovered at state oil giant Petrobras, which was systematically plundered during much of his presidency, with bribes funneling into the pockets of high-ranking politicians, including from the Workers' Party.
The opposition likewise blames Rousseff for a brutal recession in a country that just a few years ago was the darling of emerging markets, even if those troubles are partly due to plunging commodities prices.
The sight of armed police at Lula's home has given opponents a boost as they seek to reignite a stalled impeachment drive against Rousseff and prepare for nationwide demonstrations on March 13.
"The opposition will move with greater strength, with new impetus to try and force out Rousseff," said São Paulo-based political analyst André Cesar.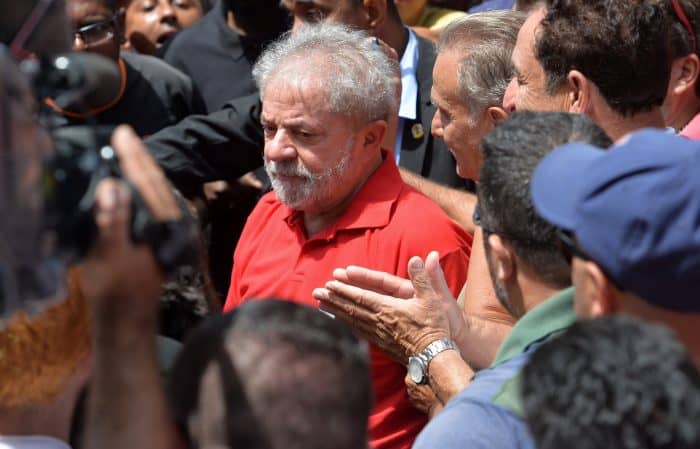 Lula strikes back
Lula, still a powerful speaker at 70, is also spoiling for a fight.
"If they want to defeat me, they will have to face me in the streets of this country," the fiery trade union veteran told a crowd of supporters hours after being released from police questioning.
Dismissing the corruption allegations as lies and calling the police operation a "show," Lula gave a speech in which he alternately wept, made the crowd laugh and vowed no mercy.
"From this Monday, I'm ready to travel throughout the country. If someone thinks they can shut me up with persecution and accusations, well, I've survived hunger and those who have survived hunger don't give in," he said.
After a seemingly endless deluge of bad news for Rousseff and her government, Lula sought to steady nerves and look forward to presidential elections in 2018 when he could attempt to return to power.
"If they need someone to animate our troops, then I'm the animator," he said.
What next?
Risk consultancy Eurasia Group called Friday's drama "a tipping point" that will energize both the government's leftist power base and the pro-impeachment forces.
"In the very near term, we expect a highly polarized environment to ensue," Eurasia Group said.
With figures last week showing the economy shrank a whopping 3.8 percent in 2015, ever-rising unemployment and inflation, and the taint of the Petrobras scandal, Rousseff is already fighting for her political life. Lula's deepening problems make her position more fragile still.
Although Rousseff has not been implicated directly in the Petrobras scandal, she was chairman of the company during much of that period and her fate remains tied to that of her mentor.
Prosecutors have not charged Lula, but say they suspect that he took bribes from contractors embezzling Petrobras in the form of a luxury apartment, speaking fees and other "favors."
To the opposition, Lula's guilt is clear. At demonstrations, they parade a blow-up doll of Lula dressed in prison garb, often sparking fist fights with infuriated Workers' Party loyalists.
Rousseff, though, accused prosecutors of overreach with their decision to take an ex-president into custody when he has previously cooperated willingly with investigators.
On Saturday, the judge leading the Petrobras probe, Sergio Moro, appeared to seek to calm down the furor, underlining that the operation aimed "solely to clarify the truth and did not mean anticipation of the ex-president's guilt."