The second term of President Dilma Rousseff has been overwhelmed by twin crises — an economy crippled by recession and a political establishment under siege by a massive corruption investigation. The probe of Lula, an iconic figure who chose Rousseff as his successor, escalates almost two years of mounting tension.
Rousseff isn't directly implicated in the latest investigation, which focuses on favors Lula and his family allegedly received from companies involved with Petrobras, the state oil company at the heart of the corruption probe. But she is under intense attack for a range of reasons and Lula remains the soul of her Workers' Party, known as the PT. His questioning raises the temperature a week before pro-impeachment protests scheduled for March 13.
"We're going to have an escalation of tension once again, and no one is really in control," said Riordan Roett, director of Latin American Studies at Johns Hopkins University's School of Advanced International Studies. "Everyone is worrying what shoe is going to drop next, and in Brasilia, there are lots of shoes in the air."
The week began with the resignation of Justice Minister José Eduardo Cardozo amid criticism from the PT that he wasn't doing enough to control the investigation. By the time he stepped down on Thursday, there were reports of plea bargain testimony from a PT senator recently released from jail and put under house arrest.
The alleged plea, from Senator Delcidio Amaral, is more dangerous for Rousseff since she is personally implicated, according to two people participating in the government's response to impeachment. The investigation of Lula emboldens the opposition and makes Rousseff's ouster much likelier than it was a month ago. Eurasia, the political risk firm, puts the chance now at above 50 percent.
"This makes a coalition against impeachment more difficult," Rafael Cortez, political analyst at Tendencias Consultoria Integrada, said in a phone interview.
Impeachment doesn't happen easily, however. The lower house hasn't formed the congressional committee that will present a recommendation on the impeachment request opened on Dec. 2. That report must be confirmed by both the lower house and the Senate in a process that may take months.
Rousseff aides dismiss the possibility that the president would step down of her own accord, and she has said publicly she will defend her mandate. But last weekend when she decided to remain on a visit to Chile rather than return for PT anniversary celebrations, it was clear that Rousseff feared being booed by her own party. Her support appears to be at rock bottom in spite of a recent poll showing an improvement in her approval rate.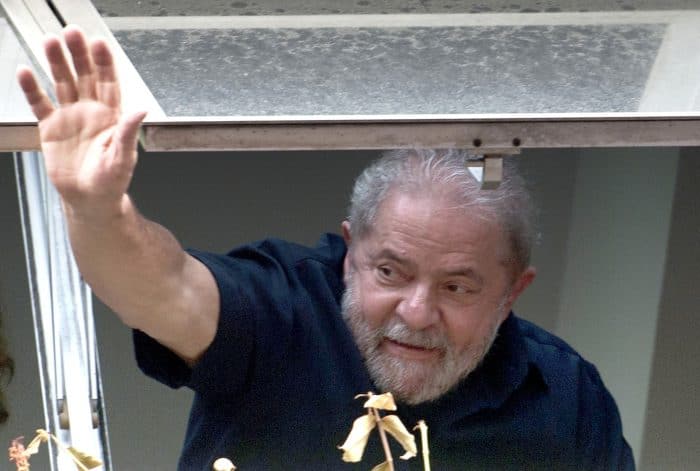 If Rousseff is removed by impeachment, Vice President Michel Temer of the Democratic Movement Party would take over. Temer canceled public events planned for this weekend after Friday's police operation targeting Lula.
Temer's party, known as the PMDB, will hold its national convention in Brasilia March 12, the day before the planned protest. The party isn't expected to take an official position on impeachment, though individual legislators are free to support it.
Separately, Brazil's electoral court is analyzing a request to annul Rousseff's 2014 reelection, which would also remove Temer as vice president. If this happens before 2017, new elections will be called.
The arrest last month of João Santana, the mastermind of Rousseff's 2010 and 2014 presidential campaigns, gave the opposition more ammunition for its challenge of Rousseff. Santana's arrest in the corruption allegation ended two months of relative calm for Rousseff and breathed new life into calls for her ouster.
PT congressmen and party leaders lost no time Friday calling on the party's faithful to defend Lula from what they called a "politicized" police action. The outrage from leftist leaders is not only to defend the legacy of the PT's 13 years in power but also to preserve the future of a party planning to rally around Lula again in 2018 to once again run for president.
Though the threat is real, the PT won't go down without a fight, José Guimaraes, leader of the government in the lower house of Congress, said in an interview.
"Now we go to the streets to prevent this coup," Guimaraes said. "This spectacle threatens the democratic order."
Mario Sergio Lima contributed.
© 2016, The Washington Post