BRASÍLIA, Brazil – A defiant Brazilian President Dilma Rousseff on Friday branded impeachment proceedings a "coup" and vowed to fight for her political life by every means possible.
Rousseff, who faces being removed from power less than a year into her second term because of alleged illegal accounting practices, said the country could not afford impeachment.
"For the health of democracy, we must defend against the coup," the leftist president said. "I am going to defend my mandate with all possible means provided to me in our state of law."
"No to the coup," shouted aides in support of Rousseff, who spoke during a meeting with public health care workers. "Stay Dilma," said placards carried by supporters.
Experts are divided over Rousseff's chances of survival. A two-thirds majority is needed in both houses of Congress to bring her down and on paper, at least, she can easily muster enough support.
Her Workers' Party is also asking the Supreme Court for an injunction against the impeachment process, which was triggered Wednesday by Rousseff's archenemy, lower house speaker Eduardo Cunha.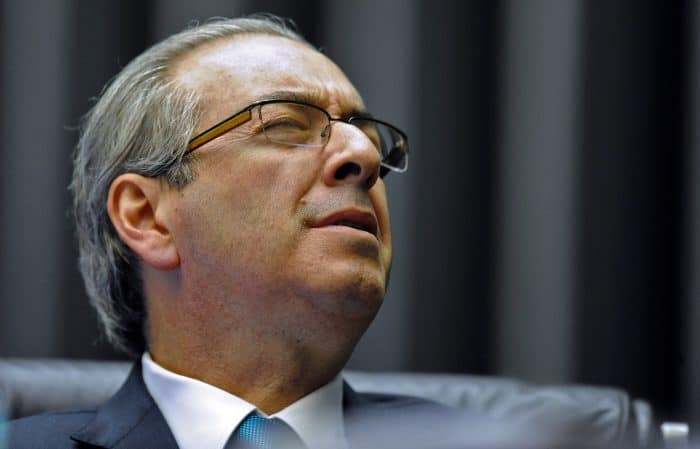 However, Rousseff is widely blamed in Brazil for the country's deep recession. She has also been tainted by an enormous bribes and kickbacks scandal in which several top Workers' Party figures — as well as many others, including Cunha — face charges.
With only 10 percent voter approval ratings, she risks seeing allies in Congress slip away, especially since a large part of her support comes from a sometimes uneasy alliance between her Workers' Party and the PMDB, experts say.
A question of timing
Analysts say impeachment could take as long as six or seven months. With Christmas holidays coming up, followed by the carnival in February, there are even more reasons why the lumbering process could drag on.
Rousseff supporters would like it to go as quickly as possible, hoping that she can have her authority restored and that languishing economic reforms aimed at restoring the battered budget will finally be pushed through Congress.
"We've got to resolve this," her influential predecessor in the presidency, Luiz Inacio "Lula" da Silva, said, calling for the congressional recess that usually runs between Dec. 22 and Feb. 1 to be scrapped.
According to O Globo newspaper, the opposition would lose the battle if a vote was held in the lower house today, with only 182 deputies in favor, far below the needed 342.
However, opposition leaders believe that time is on their side.
One key unanswered question is the position of Rousseff's vice president, Michel Temer, who is from the alliance PMDB party and stands to profit if she were ousted, as he would then become interim president.
He has given no public indication of whether he'll stand by Rousseff, leading to speculation in the capital Brasília, since without the PMDB Rousseff's chances of success would abruptly diminish.
Unconfirmed media reports that Aviation Minister Eliseu Padilha, a PMDB member, has tendered his resignation were interpreted as a warning.
"The exit of Padilha, who has always been one of Vice President Temer's main allies, is a clear signal that the PMDB is starting to abandon the Dilma government," said Paulinho da Força, a deputy from the right-wing Solidariedade party.
Politicians are also expected to pay attention to pressure from the street, with a season of protests widely predicted.
"It's very probable that demonstrations will be called to pressure Congress to vote for impeachment," said Rubens Figueredo, a political science professor at São Paulo University. "The start of this process together with the worsening of the economy is bad for the government."
Opposition activists are already organizing nationwide rallies for Dec. 13. On Friday, the pro-Rousseff union CUT gathered in Brasília.