Brazilian prosecutors dealt another blow to former President Luiz Inacio Lula da Silva, accusing him of hiding assets from authorities just days after a separate probe unleashed a new round of political turmoil in the country.
The São Paulo state prosecutor's press office on Wednesday confirmed the charges, declining to provide additional details. Newspaper O Globo reported they are for money laundering and hiding assets, such as ownership of a seaside triplex apartment in the city of Guaruja. Prosecutors will hold a news conference Thursday, the paper said.
The Lula Institute that the former president founded said in an emailed statement he hasn't committed any crime. According to Brazilian law, a judge would have to accept the charges for Lula to be formally indicted.
Brazil's political tensions are threatening to spill out into the street as prosecutors zero in on Lula. His protege, President Dilma Rousseff, meanwhile, is herself fighting off impeachment proceedings. Lula was accused last week of giving out favors in return for corporate donations and speaking fees, prompting allies and opponents alike to call for demonstrations. Senator Aecio Neves, the runner-up in the 2014 presidential election, yesterday called on Rousseff to resign.
Wednesday's charge "tightens the noose further around Lula, and by implication Dilma as well," said Gabriel Petrus, a political analyst at business consulting firm Barral M Jorge. "If he goes down, she may fall as well."
See: Lula's detention rattles Brazil as heat on Rousseff increases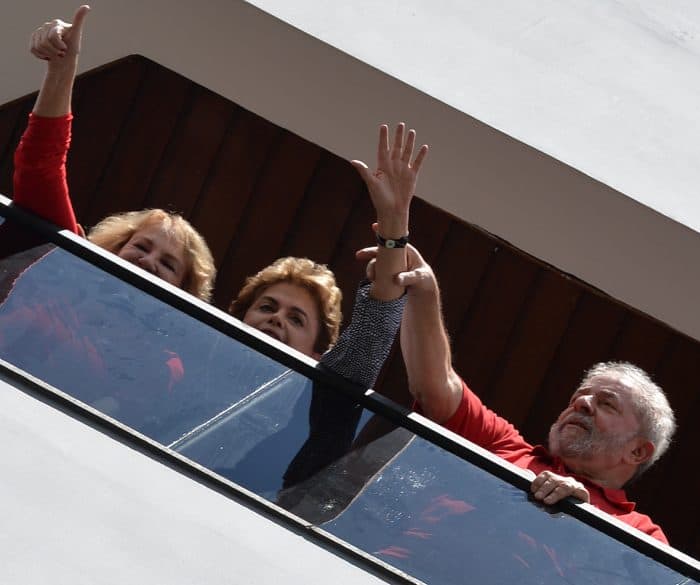 Commodity slump
The Lula Institute said that the prosecutor responsible for the charges, Cassio Conserino, is biased. Congressman Wadih Damous from Lula's Workers' Party said in a statement that Conserino was acting irresponsibly and should be removed from office.
The shock waves ripping through Brazil's political establishment come as the broader economy struggles to cope with a drop in commodity prices. Gross domestic product will shrink 3.3 percent this year after falling 3.8 percent in 2015, marking Brazil's most protracted downturn in over a century, according to analysts surveyed by Bloomberg.
Investigators are focusing on Lula and other high-ranking politicians and business executives as part of a widespread corruption probe known as Carwash. Lula has repeatedly denied any wrongdoing. While Rousseff hasn't been implicated in any investigation, a potential arrest of Lula, her mentor, could eventually jeopardize her political survival.
Impeachment threat
The charges against Lula and other Workers' Party loyalists also threaten to undermine their legacy and set the stage ahead of local elections later this year. The Workers' Party has governed for the past 14 years: from 2002 when Lula's administration was credited with successfully staving off a default; through the commodity boom and one of the most wealthy periods of the country's history; and until the recent economic stumbles.
Rousseff critics have called for nationwide protests on March 13, with some of their leaders vowing to stage the largest anti-government marches yet. As of Thursday morning, about 300,000 had signed up on a Facebook page pledging to take part in opposition marches. Opposition parties have also obstructed voting in Congress this week to pressure the lower house speaker to restart impeachment proceedings that have been stalled for months.
Rousseff is facing increased pressure from some aides and allies as well, as they call on her to shield Lula by appointing him as a minister in her government, according to a person familiar with the discussions. Under Brazilian law, only the Supreme Court can authorize the investigation, imprisonment and trial of cabinet members. Lula's detention last week was ordered by a federal judge in Parana state.
The turmoil in Brazil hasn't scared off investors, who are betting the scandals could bring down the administration and usher in new leadership that is better equipped to pull the country out of its slump. Brazil's stock index rose the most among its global peers in the past week and the real advanced to the strongest level in six months on Wednesday.
Julia Leite and Ney Hayashi contributed.
© 2016, Bloomberg News