LA CRUZ, Guanacaste – Cuban migrants aiming for a new life in the United States but stranded in Costa Rica by a Nicaragua border firmly closed to them expressed mounting anger and desperation on Thursday.
Some of the 3,000 Cubans stymied on the border voiced frustration at the lack of a diplomatic solution for their plight, and a sense of betrayal by Nicaragua, a Cuban ally, over the decision it took two weeks ago to shut them out.
The migrants' numbers are swelling daily by new arrivals. They are being put up in schools, churches and community centers in northwestern Costa Rica, close to the border.
"It was frustrating. Everybody is tense," one of them, a 45-year-old veterinarian named Zelín Tamayo, who left Cuba with his wife, told AFP. "We are being treated well here, but our lives are on hold. We can't work and we can't help our families who remain behind."
The couple are among 300 Cubans sleeping in a school in La Cruz, a town 20 kilometers (12 miles) from the border.
Frustration ran through the Cubans on Tuesday when a meeting in El Salvador of ministers representing Central American countries as well as Mexico, Ecuador and Colombia failed to agree a solution for them.
Costa Rica argued in the gathering that the Cubans should be granted a "humanitarian corridor" to the United States, which has a Cold War-era policy of accepting Cubans who set foot on its soil.
But Nicaragua, which has frayed ties with neighboring Costa Rica over border disputes, roundly rejected the proposal, saying it would not allow "illegal immigration" over its border.
The number of Cubans trying the journey by air to Ecuador then overland through Central America and Mexico to the U.S. has surged this year. There is a fear that thawing American-Cuban ties might spell an end to the U.S. open-arms policy.
Tamayo's wife, Carolina de Armas, said bitterly: "We were confident Nicaragua would let us pass. There's a historic relationship between Cuba and Nicaragua. We didn't expect to be treated this way."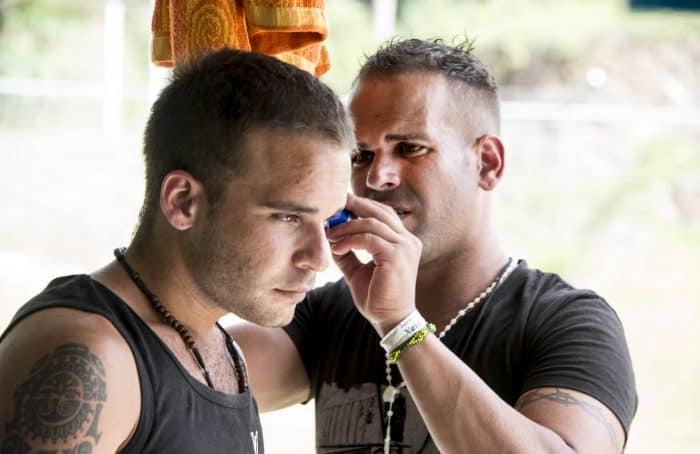 Total desperation
In the makeshift camp in the school, every bit of space under the roof has a foam mattress on the floor for sleeping. A row of chemical toilets and showers with plastic sheeting have been installed by local authorities.
In the courtyard, one of the Cubans cooked a lunch of rice and vegetables over a wood fire.
"I left my 3-year-old son and a wife seven months pregnant. As the days drag on, the little I left them is being eaten away. I need to get to the United States and get working as soon as possible," Yoan Rivera Dominguez, a wood craftsman, said. "There is total desperation among us because we don't know anything. We haven't the least idea how long we have to stay here."
Olga Pérez, a Cuban traveling with a sister, a brother-in-law and two nephews, also emphasized that they needed to continue their journey urgently.
"We need to leave. If someone could give us a boat so we don't have to pass through Nicaragua, we would pay something for that," she said. She left two children in Cuba and her husband is waiting for her in Miami.
"We have hope that the governments will resolve this. We need patience," she said. "Thank God and thank Costa Rica that we are receiving help."