GUATEMALA CITY – Guatemalans began casting ballots in a presidential runoff Sunday, choosing between a comedian with no political experience and a former first lady, amid the fallout of a massive corruption scandal.
Jimmy Morales, a comic actor famous for playing a country bumpkin who nearly becomes president, headed into the vote with a huge lead — 68 percent to 32 percent for former first lady Sandra Torres, according to the final opinion poll.
It has been a remarkable ride for the conservative candidate, who started the race with just 0.5 percent support back in April.
Must read: The military powers behind Guatemala's comedian presidential front-runner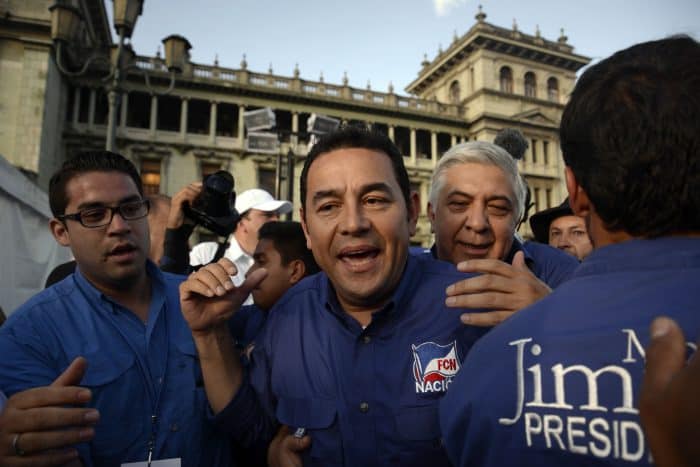 His surge has capped a tumultuous campaign rocked by president Otto Pérez Molina's resignation and arrest on corruption charges on Sept. 3, three days before the first round of voting.
An estimated 7.5 million people are eligible to vote in the second round. Polls opened at 7 a.m. and will close at 6 p.m., with first results expected about three hours later.
Pérez Molina, who is in jail awaiting trial, is accused of masterminding a corrupt network of politicians and customs officials that allowed businesses to pay bribes to get illegal discounts on import duties.
Prosecutors and United Nations investigators say the network collected $3.8 million in bribes between May 2014 and April 2015 — including $800,000 each to Pérez Molina and jailed ex-Vice President Roxana Baldetti.
The scandal, the worst in a string of recent corruption cases, has created an unprecedented climate of outrage in Guatemala, an impoverished Central American country torn by gang violence and still recovering from a 36-year civil war that ended in 1996.
Thousands of protesters, including from the country's large and historically marginalized indigenous population, took to the streets in the weeks leading up to the elections, pressing an ultimately successful campaign for Pérez Molina to quit.
Morales rode that wave of anger to a surprise victory in the first-round vote, claiming 24 percent to 20 percent for social democrat Torres in a crowded field of candidates.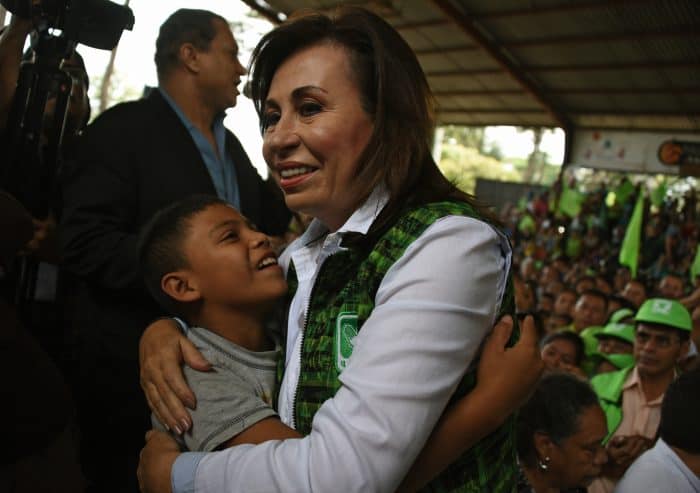 'Spirit of outrage'
The two contenders have radically different styles.
Morales, 46, is all smiles and charisma on the campaign trail, with few concrete policy pledges.
He has though called fighting graft his biggest aim and, on the eve of the vote, said he wanted the U.N. commission on high-level corruption in the country to carry on its work.
Torres, 60, has an image as a steely and uncompromising manager from her time running the government's social programs during the administration of her ex-husband, Álvaro Colom (2008-2012).
She has sought to present a softer side on the campaign trail, but has paid the price of being a political insider in a country fed up with politics as usual.
Corruption has, inevitably, been the dominant topic in the race, crowding out traditional issues like crime, poverty, health and education.
Both candidates signed a document called the "National Alliance for Transparency" on Thursday, promising to crack down on corruption if elected.
The ceremony was presided over by caretaker president Alejandro Maldonado, a former Constitutional Court judge who will serve until the winner is inaugurated on Jan. 14.
The unprecedented protest movement has subsided somewhat since Pérez Molina's downfall, according to political analyst Marco Antonio Barahona.
But, he added, "If we want things to really change, we have to keep alive that spirit of outrage and rejection of the corrupt and damaging practices that have characterized Guatemalan government and society for nearly 60 years."
Guatemala, a country of 15.8 million people, has 7.5 million registered voters.