ROSEBURG, Oregon – The gunman who cut a deadly path through an Oregon college campus appeared armed for an extended siege according to investigators who were probing more deeply into suspicions the shooter may have been driven by religious rage and a fascination with the twisted notoriety of high-profile killers.
What is known so far about the attacker – identified by a U.S. law enforcement official as Chris Harper Mercer – appears mostly as loose strands that suggested an interest in firearms and the infamy gained by mass shooters.
Witnesses also said he seemed to seek specific revenge against Christians, and police examined Web posts that hinted of wider antipathy toward organized faith.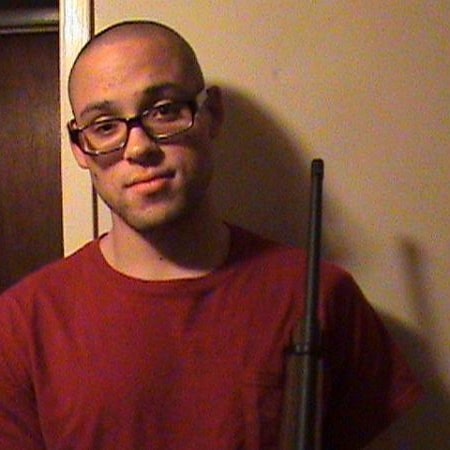 An agent with the federal Bureau of Alcohol, Tobacco, Firearms and Explosives said at a news conference Friday that investigators had recovered 13 weapons, including six at the school. Also recovered there was a flak jacket with steel plates and five magazines of ammunition. The rest of the weapons, and more ammunition, were found at Mercer's home.
But authorities still struggled to build a clearer picture of what drove the California-raised Mercer to stalk rural Umpqua Community College and methodically pick off students and professors Thursday on the fourth day of the fall semester.
When it was over, nine people were dead, plus Mercer, and the college joined the mournful roster of the United States' mass shooting sites – and the backdrop for the latest debate about gun control.
Thursday night, as police picked through Mercer's apartment near campus, hundreds of people joined a candlelight vigil. Some sang along to "Amazing Grace" – the same hymn President Barack Obama offered in June when Charleston was the focus of the nation's grief and questions over another rampage.
This time, Obama said collective grief was "not enough" and made an emotional appeal for a national groundswell toward stricter gun laws.
Watch President Obama's address following the Oregon college shooting:
'You're going to see God'
Witnesses to the Oregon bloodshed described Mercer as questioning people at gunpoint about their religious affiliations, and appearing to single out Christians for killing.
"He said, 'Good, because you're a Christian, you're going to see God in just about one second,' " said Stacy Boylan, recounting the account of his wounded daughter, Anastasia, who underwent surgery to treat a gunshot to her spine.
"And then he shot and killed them," he said.
At least 10 others were admitted for treatment at the Mercy Medical Center, said the chief medical officer, Jason Gray. He said three patients were transferred to larger facilities for more intensive care.
"Disbelief, anger, sadness, resolution" was how Gray described the emotions among the staff scene as the wounded arrived.
Autumn Vicari, whose brother known as J.J. witnessed the shootings, told NBC News about the gruesome selection process Mercer imposed.
According to NBC: "Vicari said at one point the shooter told people to stand up before asking whether they were Christian or not. Vicari's brother told her that anyone who responded 'yes' was shot in the head. If they said 'other' or didn't answer, they were shot elsewhere in the body, usually the leg."
The violence stopped only after authorities exchanged gunfire with Mercer. At 10:47 a.m., the end was announced over the police scanner: The suspect was down.
One victim, Chris Mintz, a former Army infantryman, was shot three times as he tried to block the door and keep the gunman out of a classroom, according to his aunt, Wanda Mintz.
Her nephew was knocked to the floor, looked back up at the gunman and tried to reason with him.
"He hit the ground and looked up at him and said 'It's my son's birthday, don't do this,'" Mintz recounted, after speaking to the mother of Mintz's child, who has been by his side at the hospital. "And the guy shot him at least two more times."
Mintz survived but suffered two broken legs among his wounds and will need extensive physical therapy, according to a GoFundMe page set up to raise money for him.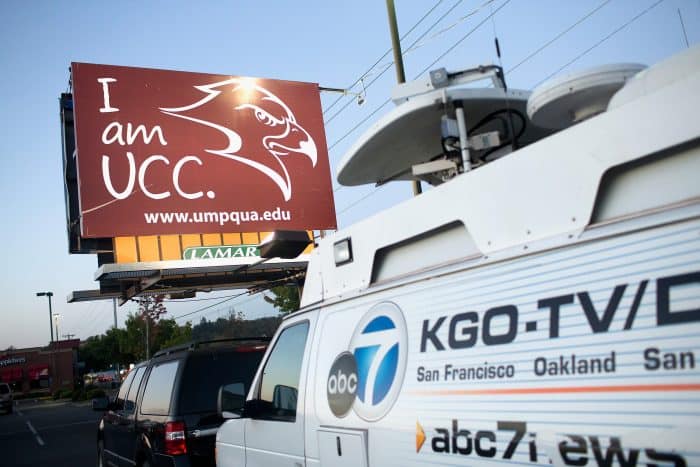 Dark corners of the Web
As with many other shootings, investigators turned to the dark corners of the Web for possible clues on what pushed the attacker to move from words and images to deadly violence.
A Myspace page shows a photo believed to be Mercer sporting a crew cut and holding a rifle. The page includes posts extolling the Irish Republican Army.
Other apparent social media pages linked to Mercer point to an interest in horror films and a possible blog post on Aug. 31 about the gunman Vester Flanagan, who killed two television news employees in Virginia a week earlier while they conducted a live broadcast. Flanagan, a former employee of the station, fatally shot himself after a police chase.
"On an interesting note, I have noticed that so many people like him are all alone and unknown, yet when they spill a little blood, the whole world knows who they are," the post read, according to the Oregonian newspaper.
"A man who was known by no one, is now known by everyone," it continued. "His face splashed across every screen, his name across the lips of every person on the planet, all in the course of one day. Seems the more people you kill, the more you're in the limelight."
"Not Religious, Not Religious, but Spiritual" Mercer wrote on one dating Web site, also listing membership in a group called "Doesn't Like Organized Religion."
Douglas County Sheriff John Hanlin – more out of anger than discretion – said he would not utter the assailant's name. "I will not give him credit for this horrific act of cowardice," said Hanlin, an outspoken critic of state and federal gun control proposals. "Media will get the name confirmed in time … but you will never hear us use it."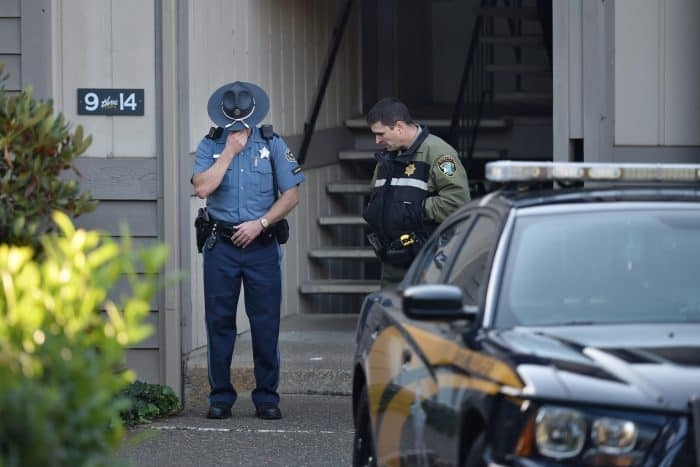 On another front, authorities are investigating a conversation on the message board 4chan posted Wednesday evening. The site is notorious for staging online hoaxes, in addition to cat memes, hackings and Internet attacks.
But the conversation, if authentic, appears to include a warning. "Don't go to school tomorrow if you are in the northwest," the post reads.
School shootings have figured prominently in this series of tragedies, including the 1999 massacre at Columbine High School in Colorado, the 2007 Virginia Tech shootings and the deaths of 20 children in 2012 at Sandy Hook Elementary School in Newtown, Connecticut.
Umpqua, one of 17 community colleges in Oregon, has about 2,000 students and about 200 full- and part-time faculty members. Federal data suggests Umpqua is a quiet campus; the only crimes reported there in recent years have been an occasional burglary and, in 2013, an aggravated assault.
After a 2006 incident in which one student was shot by another at Roseburg High School, local institutions – including UCC – hired security guards, according to the Eugene Register-Guard. Those security guards are unarmed, interim college President Rita Calvin told the newspaper. The campus is a gun-free zone.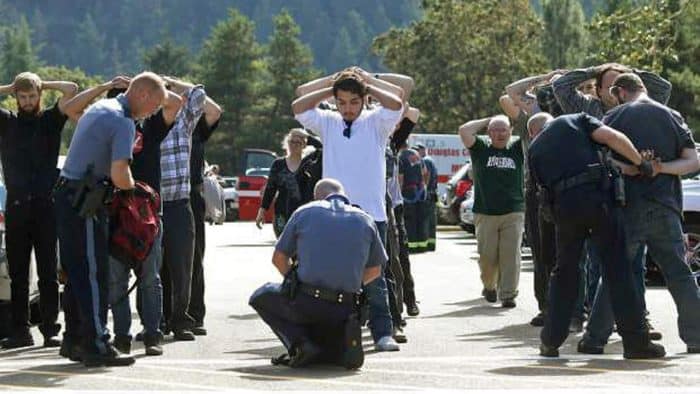 Mercer's background
Mercer was born in Britain and came to the United States as a young boy. In California, he attended the Switzer Learning Center, which describes itself as a setting for students with "moderate to severe learning disabilities, emotional issues, attention problems and behavioral disorders."
Rick Rada, a former classmate, recalled Mercer as quiet, cheerful and calm.
"To me Chris was just an ordinary guy, really. He was one of the silent types like me," Rada told The Washington Post. "But we got along with our teachers. He opened up with the teachers, talked to them, had fun."
Former neighbors in Torrance, California, a beach-side city just south of Los Angeles, told the Los Angeles Times that Mercer liked to practice target shooting and tended to act "anxious or nervous," as Rosario Espinoza put it.
He and his mother, Laurel Harper, mostly kept to themselves, except for occasional disputes over bugs or loud noises. Espinoza's mother, Rosario Lucumi, recalled thinking it "strange" that Harper referred to her son as "baby."
Mercer moved to Oregon with his mother a year or two ago, according to public records. It's not clear if and how he may have been affiliated with Umpqua Community College, though a student told CNN that she took a theater class with Mercer, and a "Chris Harper-Mercer" is listed as a production assistant on the Facebook page of a UCC fall show.
His father, Ian Harper, still lives in Los Angeles. Harper stepped outside his home there briefly on Thursday night to say that he'd spent the day speaking with law enforcement and couldn't answer questions about his son or the shooting.
"Shocked is all I can say," he told reporters. "It's been a devastating day."
Gloria Buhring, a neighbor at the Winchester apartment complex where Mercer appeared to have lived, said police officers swarmed the area Thursday, blocking much of the complex off with police tape.
Buhring didn't know Mercer. But on Wednesday, she returned home to find a previously empty trash container "overflowing with stuff that looked like it had been moved from an apartment," she told The Washington Post. "It looked like somebody had gotten rid of a lot of stuff and left."
Another Winchester neighbor, Bronte Hart, told Seattle TV station KIRO that Mercer would "sit by himself in the dark in the balcony with this little light."
Hart said a woman she believed to be Mercer's mother lived with him and was "crying her eyes out" Thursday.
Steven Fisher, who also lives nearby, described Mercer as "skittish."
"His demeanor, the way he moved, always looking around," Fisher said. "I got a bad vibe from him."
The violence
The violence started just after 10:30 a.m., when students in Snyder Hall – a modest building in the southeast part of campus where science and English classes are held – heard a sudden popping noise.
Some were bewildered by the noises. Sarah Cobb, a 17-year-old who heard the sound from her Writing 121 class in Snyder, recognized them immediately.
"I grew up hunting, so by then I knew what it was," she told The Washington Post. Cobb screamed to her teacher that they all needed to get out, and the instructor opened the door into chaos: students running, a teacher crying, a man screaming for someone to call 9-1-1.
Cobb left her phone, her backpack and all of her belongings in the classroom, and then ran out of the building, tripping her way down the stairs.
"There was so much screaming you knew it was serious," she said. "I was terrified. I was sprinting. You could hear the gunshots echoing in the hall."
The UCC campus remained closed Friday. Around Oregon, flags are being flown at half-staff.
Oregon's governor, Kate Brown (D), said mass shootings "must end," but urged for a pause to the political battles over gun control to give Roseburg time to heal.
"It's very clear these types of tragedies must end, not only here in Oregon, but across the country," she told CNN.
Hoyt is a freelance writer. Brian Murphy, Mark Berman, Susan Svrluga, Abby Phillip, Ellen Nakashima, Darryl Fears and Nick Anderson in Washington contributed to this report.
© 2015, The Washington Post