Thursday was a very special day for Chris Mintz: Oct. 1 was his son's sixth birthday. Though the child was too young to see it, the proud dad posted a happy birthday message on Facebook anyway on Wednesday night.
Hours later, as the former U.S. Army infantryman and Umpqua Community College student confronted a gunman on the rural Oregon campus, Mintz's son was at the forefront of his mind, according to accounts provided by Mintz's family.
Mintz, 30, encountered the gunman as he attempted to block the door of the classroom, his aunt Wanda Mintz told The Washington Post. Her nephew was shot three times, then fell to the ground. In that moment, she said, he tried to reason with the gunman.
"He hit the ground and looked up at him and said, 'It's my son's birthday, don't do this,'" Wanda Mintz recounted, after speaking to the mother of Mintz's son. "And the guy shot him at least two more times."
When Wanda Mintz spoke to her nephew Friday morning he was weak but awake after undergoing surgery for multiple gunshot wounds.
"He just tried to do the right thing," Wanda Mintz said. "That's just how he is. If he sees someone who needs help, he just helps. He just tried to intervene."
Roseburg, Oregon, has now been added to the grim list of U.S. communities devastated by a mass shooting; the incident left 10 dead, including the shooter, and others injured.
And Chris Mintz is now counted among a group of heroes caught in the crossfire while trying to intervene.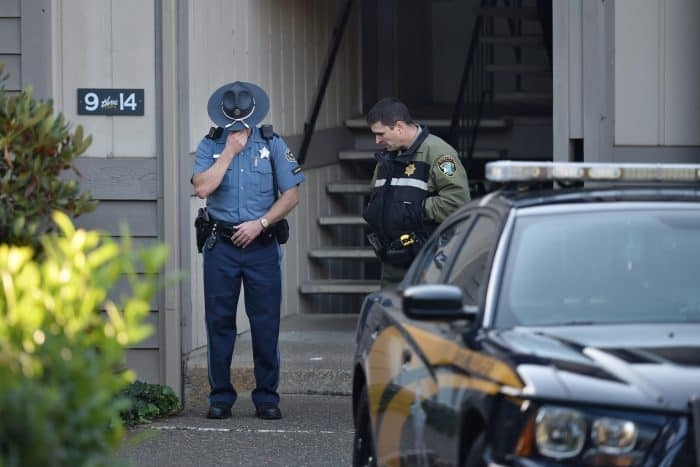 Mintz sustained gunshot wounds to his upper back, abdomen, left hand and upper and lower leg, according to a Facebook post by Jayme Skinner, the mother of Mintz's son.
Both of Mintz's legs were broken during the shooting, according to a GoFundMe page set up by his family to cover medical and childcare costs. Photos on the page show Mintz smiling from a hospital bed. His aunt said Skinner has been by his side.
After spending 6 1/2 hours in surgery, "he is conscious and he understands what is going on," Skinner wrote on Facebook.
"He will have a long road ahead of him of recovery. However, he is one tough dude and he will do just fine," she continued, adding, "Today he became a hero."
Relatives have spoken to Mintz often since the shooting. His uncle Jerry Brown — who along with most of Mintz's family lives in Randleman, North Carolina — also confirmed that Mintz had been shot multiple times while rushing the shooter, and said he was doing well in the hospital.
"We're just so glad that he's okay," Brown said from North Carolina. "He always had determination. In a situation like that, you knew he would be the one to respond."
Mintz was born and raised in Randleman, where he graduated from high school in 2003. He joined the Army and was stationed at Fort Lewis in Washington, where he met Skinner, Wanda Mintz said.
He also has a wrestling and mixed martial arts background, having fought twice on the MMA amateur circuit in 2011 and 2012.
"He was on the wrestling team and he's done cage-fighting so it does not surprise me that he would act heroically," aunt Sheila Brown told NBC News on Friday.
Mintz moved to Oregon six years ago when the North Carolina economy collapsed, Brown said. He had been working in the furniture business and living in a trailer with his young family but wanted something new.
"He's gone out that way for a fresh start," Brown said. "Things were going good out there for him. That's what he was looking for — being with his family, raising his son, being in school."
Mintz's Facebook page is filled with motivational memes, reflections on the importance of faith and photos of him playing with his son.
Wanda Mintz said her nephew's 6-year-old boy is autistic and is too young, anyway, to comprehend what happened to his father, who might need more surgeries and could be stuck in a wheelchair for some time after Thursday's shooting.
"His son will never understand," she said.
As the story of Mintz's courageous actions became national news, a new post popped up on his Faecbook wall:
"This is Chris's friend," it reads. "Chris asked me to thank everyone for their support, he is grateful and keeping our community and all victims in his thoughts."
© 2015, The Washington Post