UPDATE 2: Wed., Aug. 26 at 1:13 p.m.:
The man suspected of killing two journalists as they carried out a live interview in Virginia died Wednesday from a self-inflicted gunshot wound, a local official said.
Vester Flanagan, also known as Bryce Williams, died at a hospital in northern Virginia outside Washington, after the shooting in the state's southern city of Roanoke, Franklin County Sheriff Bill Overton told reporters.
This is the suspected shooter, Vester Flanigan, who is also known as Bryce Williams. He is a former WDBJ7 employee. pic.twitter.com/ngXrqHVLmw

— WDBJ7 (@WDBJ7) August 26, 2015
First update starts here:
The suspect in the deadly U.S. on-air shooting has shot himself, local media is reporting. The alleged suspect, a former journalist at the station, is in critical condition at a local hospital, police say. This was after video of the shooting apparently filmed by the assailant was posted on Twitter and Facebook accounts believed to belong to the gunman, accounts that were later suspended.
The video, posted under the Twitter account @bryce_williams7, shows the shooter brandishing a weapon at WDJB reporter Alison Parker. Shots are then heard, and screams. The video is horrifying and graphic, and we will not share it here. 
Bryce Williams was the name used on-air by the suspect, former station employee Vester Flanagan. 
Original story continues here:
WASHINGTON, D.C. – Two journalists for a local CBS affiliate in the U.S. state of Virginia were shot dead Wednesday during a live broadcast, according to chilling television footage of the incident and their network.
WDBJ journalist Alison Parker, 24, and cameraman Adam Ward, 27, were shot at close range while conducting an on-air interview. The gunman was still at large.
"We do not know the motive. We do not know who the suspect or the killer is," said WDBJ general manager Jeffrey Marks as he confirmed the deaths to viewers.
WDBJ is located in the southern Virginia city of Roanoke.
Marks said Parker and Ward were "both in love with other members of the team" at WDBJ.
The woman that Parker was interviewing on a balcony at the lakeside Bridgewater Resort in the town of Moneta, near Roanoke, was reportedly wounded.
Parker was talking to the woman about tourism development for WDBJ's early-morning newscast when the gunman seemingly closed in from behind.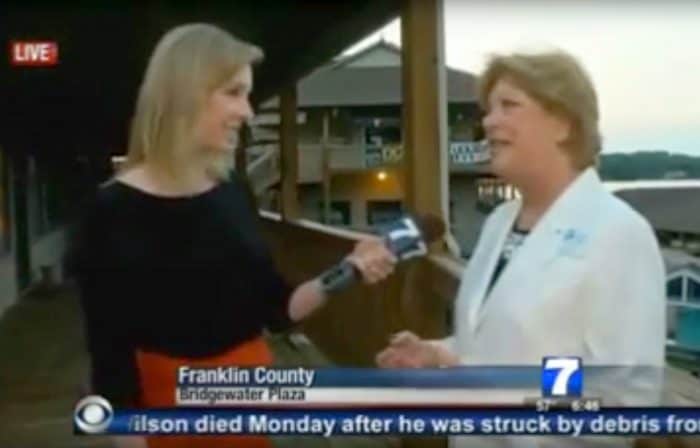 Several shots were heard, as well as screams, as Ward's camera fell to the floor, capturing a fuzzy image of the gunman, dressed in dark clothing.
The station then cut away to a startled anchorwoman back in the studio.
On her Facebook page, Parker — whose birthday was just a week ago — described herself as the "mornin' reporter" at WDBJ with an interest in ballroom dancing.
WDBJ anchor Chris Hurst tweeted that he and Parker were "very much in love," adding: "I am numb."
"She worked with Adam every day. They were a team. I am heartbroken for his fiancee," Hurst said.
Virginia Governor Terry McAuliffe said on Twitter that he was "heartbroken over [the] senseless murders."
Heartbroken over senseless murders today in Smith Mountain Lake. State Police on scene working w/ local law agencies to capture suspect.

— Ralph Northam (@GovernorVA) August 26, 2015
Virginia state police were working with local authorities to capture the gunman, he said.