GUATEMALA CITY – A Guatemalan court indicted former President Otto Pérez Molina on corruption charges Tuesday, days after he resigned over a customs fraud scandal that has stoked outrage in the Central American country. Judge Miguel Ángel Gálvez granted prosecutors' request to try Pérez Molina on charges of customs fraud, racketeering and bribery. He then ordered the former president held in preventive prison pending an investigation, calling the retired general a "flight risk."
Judge Gálvez gave prosecutors three months to continue the investigation, after which the 64-year-old retired general will face trial.
Prosecutors and investigators from a U.N. commission tasked with fighting high-level graft in Guatemala accuse Pérez Molina of orchestrating a scheme in which businesses bribed corrupt officials to clear their imports through customs at a fraction of the actual tax rate.
They say the accusations are based on some 89,000 wire-tapped phone calls.
The scheme — dubbed "La Línea" ("The Line"), for a hotline businesses allegedly called to access a network of corrupt officials — collected $3.8 million in bribes between May 2014 and April 2015, including $800,000 each to Pérez Molina and jailed ex-Vice President Roxana Baldetti, prosecutors allege.
Pérez Molina denies the charges.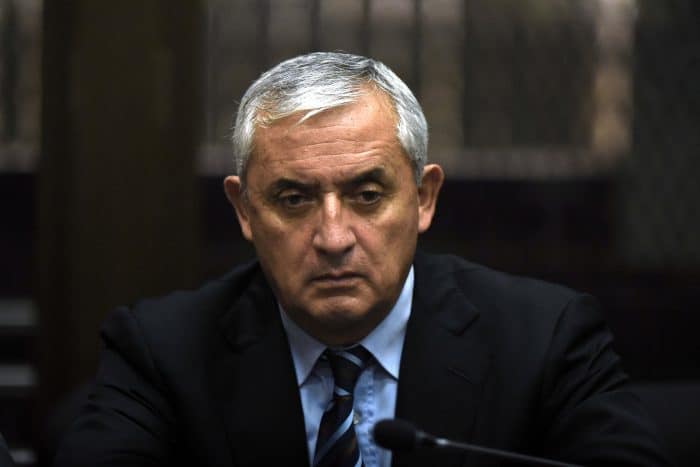 The conservative leader defied months of mass protests calling on him to quit, but was left with little choice after Congress stripped him of his immunity and a judge issued a warrant for his arrest last week.
He resigned Wednesday night and was jailed Thursday after an initial court appearance.
Guatemala meanwhile held general elections Sunday in a climate of widespread disgust with politics.
Comedian and political novice Jimmy Morales won the presidential race, but fell well short of the 50 percent needed to avoid a runoff.
He will face either former First Lady Sandra Torres or millionaire businessman Manuel Baldizón in a second-round vote on Oct. 25.
Newly sworn-in President Alejandro Maldonado, a former Constitutional Court judge, will serve out the remainder of Pérez Molina's term, which ends on Jan. 14.